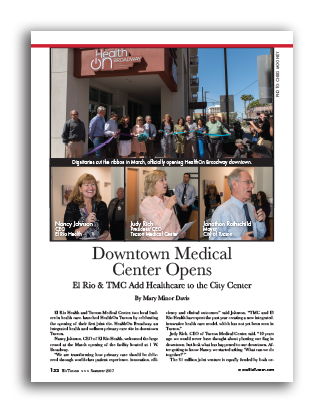 Downtown Medical Center Opens – HealthOn
By Mary Minor Davis –
El Rio & TMC Add Healthcare to the City Center
El Rio Health and Tucson Medical Center, two local leaders in health care, launched HealthOn Tucson by celebrating the opening of their first joint site, HealthOn Broadway, an integrated health and wellness primary care site in downtown Tucson.
Nancy Johnson, CEO of El Rio Health, welcomed the large crowd at the March opening of the facility located at 1 W. Broadway.
"We are transforming how primary care should be delivered through world-class patient experience, innovation, efficiency and clinical outcomes," said Johnson. "TMC and El Rio Health have spent the past year creating a new integrated, innovative health care model, which has not yet been seen in Tucson."
Judy Rich, CEO of Tucson Medical Center, said, "10 years ago we would never have thought about planting our flag in downtown, but look what has happened to our downtown. After getting to know Nancy, we started asking, 'What can we do together?' "
The $1 million joint venture is equally funded by both organizations, Johnson said. TMC and El Rio Health have been working with the city of Tucson, Pima County, Tucson Electric Power and downtown business owners to discern the needs of their employees.
"Our community told us they wanted to access health care where they live and where they work," Rich said. "It made sense to partner with our colleagues at El Rio Health to bring this innovative concept to downtown Tucson."
Anyone can use HealthOn Broadway for primary, integrated and wellness care. Using state-of-the-art technology, patients can check themselves in on kiosks in the waiting room, which also features unique designs and dialogue rooms where patients can talk about their health goals without the sterility of examination rooms. Patients will have access to X-ray tests, laboratory tests, free wellness classes, health education talks, virtual health visits, around-the-clock phone nurse triage, physical therapy and extended hours.
The center is staffed with doctors, family nurse practitioners, a radiology technician, lab assistant, behavioral health consultant and health coaches who are licensed practical and registered nurses. It accepts private insurance, Medicare, Medicaid and, for those with no health care coverage, payment on a sliding fee based on household income. HealthOn Broadway is staffed to accommodate up to 7,000 patient visits per year.
"You'll see that one-stop shopping that El Rio is known for," Johnson said.
Tucson Mayor Jonathan Rothschild said there was one word to describe the new center – "Perfect.
"This is just another piece of downtown's redevelopment. What do you need for a complete community? Downtown living — check. A grocery store — check. And now, healthcare and wellness."
Rothschild said the new center supports more than 10,000 employees working in the downtown area and 5,000 area residents.
Pima County Supervisor Ramon Valadez agreed. "This center now ensures we have healthcare in our community — no matter where you are."
Locally governed and operated, TMC and El Rio Health officials said their organizations are invested in high-quality care, workforce development, economic sustainability and empowerment of people to take care of themselves and live healthily.