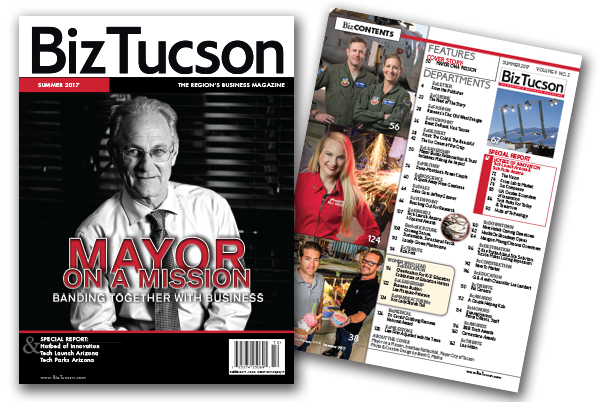 BizTUCSON Summer 2017 Issue
From the Publisher BizTUCSON Summer 2017 Issue  – 
Mayor Jonathan Rothschild is in his fifth year as the elected leader of our city. Rhonda Bodfield reports on the man Tucson Metro Chamber President and CEO Mike Varney calls the "hardest working mayor I've ever met."
Tony Penn, president and CEO of United Way of Tucson and Southern Arizona, said the business community's relationship with the city has improved under Rothschild's leadership. "By showing itself to be a good partner to business – and accountable to taxpayers at the same time – the city has become a better environment for new businesses to plant a flag and for existing business to thrive," Penn said.
Penn cited the recent Bloomberg report that had Tucson as having the country's third-fastest job growth as evidence of the difference. "It's very important that our economy is one that will attract business. I like to say the best remedy for poverty is a living-wage job." Penn was volunteer chairman of the board for the Tucson Metro Chamber during the mayor's first term.
Joe Snell, president and CEO of Sun Corridor Inc., credits the mayor for his commitment to economic development. "Under Mayor Rothschild's tenure, the City developed a comprehensive economic development plan with a focus on talent, infrastructure and business environment. The City recognizes the importance of having a friendly, predictable business environment, a streamlined approach to development services and permitting processes attractive to new and expanding businesses."
Speaking of economic development, Snell and his team scored another big "win" for the region. The Site Selector's Guild held its 2017 conference here this spring. "It's like hosting the Olympics of economic development. Only we don't have to build a stadium," he said, summarizing the impact of hosting the Guild's conference, which was attended by a prestigious group of site selection and economic development consultants utilized by Fortune 500 corporations. Guild President Phil Schneider shares "The Five Key Truths About Site Selectors" with us.
Southern Arizona showcased its most recent "wins" – the relocation of Caterpillar's Surface Mining & Technology Division which will bring 600 jobs, and the expansion at Raytheon Missile Systems which will add 1,900 jobs – as Caterpillar's Ben Cordani and Raytheon's Greg White explained why their corporations chose our region, in a panel discussion.
For a glimpse of the future, check out our Special Report "Hotbed of Innovation," which dives deep into the University of Arizona creating an ecosystem of innovation with Tech Launch Arizona and Tech Parks Arizona. Commercializing technology at this Top 25 research institution is taking off as there are now 50 UA-born startups at various stages of development, from infancy to thriving enterprises. BizTucson welcomes the new UA President Dr. Robert C. Robbins.
Editor Donna Kreutz along with journalists Romi Carrell Wittman and David Pittman take us into the labs, onto to the solar fields and around the globe with the exciting details. If you're looking for the "wow" factor, begin with "Six Companies Out to Change the World," on page 76.
After Raytheon and the UA, Davis-Monthan Air Force Base is the third leg of our region's economic stool. Pittman introduces you to the ultimate "power couple." Base commander Col. Scott Campbell and his wife, squadron commander Col. Kim Campbell could be the most dynamic defense duo you'll ever meet. Start on page 56. You'll love their story.
And on a lighter note, entrepreneurs Jeffrey Kaiserman and Stephen Ochoa, founders of Frost – A Gelato Shoppe, are scooping up the sweet taste of success well beyond their trio of local stores. Their franchise model has expanded nationally and globally. By year's end there could be 18 locations open, maybe more. Intrepid reporter Valerie Vinyard did this chilly investigation into Frost and a half dozen local creameries. Enjoy!
Steven E. Rosenberg
Publisher & Owner
BizTucson