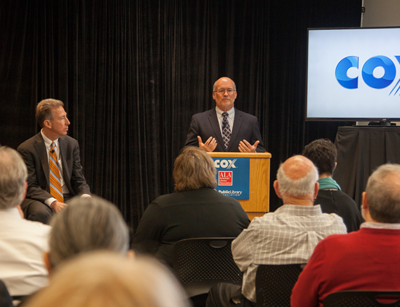 Cox Communications and American Library Association Partner to Narrow Digital Divide for Low-Income Families
Collaboration Expands Reach of Libraries' Resources and Services, Empowering More Families to Compete in Knowledge Economy
Low-income students and their families who lack digital literacy skills and an internet connection at home struggle to keep pace with their peers in the classroom, as nearly all students (96.5% percent) say they are required to use the internet to complete homework assignments outside of school.*  Today Cox Communications and the American Library Association (ALA) announced a new partnership that will strengthen and expand Cox's commitment to connecting low-income students and their families with technology, providing a stronger foundation for success in the classroom, in continuing education and in job opportunities.  Through this new partnership, more low-income families will have access to digital literacy training and resources in their local libraries and online at www.digitallearn.org.
Cox Communications President Pat Esser joined Public Library Association President Felton Thomas, Jr. and local southwest region general manager, John Wolfe, at the Joel D. Valdez Main Library in downtown Tucson, Arizona to make this important announcement. The partnership with Cox and the ALA to expand digital literacy training for students and families is expected to boost educational and career opportunities. Those who receive formal digital literacy training (as opposed to informal assistance from family or friends) are significantly more likely to use the internet to pursue economic opportunities and cultivate social ties.**
"Experience with computers and the internet is necessary for competing in today's digital world," said Esser. "Through our partnership, we will ensure that the libraries never close for our families, expanding the reach of their digital collections and services, and empowering more families to experience limitless learning and full participation in the knowledge economy."
In Tucson; Topeka, Kansas and Baton Rouge, Louisiana, Cox and the libraries will pilot the deployment of enhanced digital literacy training and resources for families and library patrons.  Research will be conducted to measure the outcomes of the pilot.  In all Cox markets across the company's 18-state footprint, Cox and the local libraries will collaborate on digital literacy and internet adoption initiatives, including an advertising campaign on Cox's cross-channel cable lineup.
"Public libraries are a wellspring of possibility. With more than 16,500 physical locations in communities of all sizes across the country, we also make powerful partners in bridging the digital divide," said Public Library Association (PLA) President Felton Thomas. "This new effort with Cox Communications effectively connects in-person digital literacy training with online DigitalLearn resources, extensive community outreach, and evaluation to make a real difference in people's lives."
With home broadband, the library never closes. Home broadband access expands the reach of libraries' growing digital collections and services—empowering more people to experience limitless learning and full participation in the information age.
"America's libraries combine the expertise of our librarians with a robust technology infrastructure and growing digital resources to advance digital opportunity for all in our nation," said ALA President Julie Todaro.  "We look forward to working with Cox to further extend our reach and resources to help more families thrive online."
"Before we had internet service at home, we had to look for internet connections outside our home at places like fast food restaurants, libraries and other public Wi-Fi areas, so my kids could complete their school projects. This made for a long night of homework," said Ivonne Gomez, a parent of three students whose families is enrolled in Cox's Connect2Compete discounted internet service program. "I also take advantage of the internet connection at home to stay on top of my kids' grades, attendance information, and to communicate with teachers. Cox's partnership with the libraries will help ensure all parents and students can take full advantage of the internet in their homes, making their lives easier and helping them to get ahead in the classroom and in the world."
Connect2Compete is a program offering discounted internet service ($9.95 per month) for families with at least one K-12 student living in public housing, qualifying for a free or reduced school lunch through the National School Lunch Program, Temporary Assistance for Needy Families (TANF) or the Supplemental Nutrition Assistance Program (SNAP).  According to a 2015 Cox survey, more than half of students are more interested in school and have improved grades after enrolling in Connect2Compete.  Over the years, there has been no price increases, no activation fees and no equipment rental fees associated with the program.  Last year Cox introduced free in-home Wi-Fi for families enrolled in the Connect2Compete program, making it easier for multiple family members to access the internet connection at the same time.  Families enrolled in Connect2Compete also have free access to more than 500,000 Cox Wi-Fi and Cable Wi-Fi hotspots across the country, in cities like New York, Chicago and Los Angeles.
Through public-private partnerships and a dedicated focus across the entire Cox organization, the company plans to continue leading the way in closing the digital divide in the communities it serves.  Cox has been a leader in efforts to close the digital divide since the company first launched internet service in the late 1990s, and has made steady investments in its programs and initiatives.
Cox Communications Arizona 
Cox Communications is the third largest cable provider and a multi-service broadband communications company in the country, serving nearly 3 million residential and business product subscribers in Arizona (a product subscriber represents an individual service purchased by a customer). In metro Phoenix, Cox serves approximately 2.5 million product subscribers. In Southern Arizona, Cox serves approximately 400,000 product subscribers. Cox's 24,000-mile hybrid fiber coaxial cable network throughout Phoenix and Southern Arizona provides homes and businesses with digital television, high speed Internet, home networking, high-definition television and digital telephone service over its own nationwide IP network. Cox is the third largest private for-profit employer in Arizona.  During the past ten years, Cox has topped numerous J.D. Power and Associates' studies of customer satisfaction, most recently receiving top honors for residential telephone & high speed Internet, and business data services and has received PC Magazine's "people's choice" award for the seventh time. Additionally, Cox High Speed Internet has been ranked #1 for the past nine years on the "Ranking Arizona-Best of Arizona Business" list. Cox Media is responsible for the sale of cable advertising throughout Arizona. Cox Communications is a wholly owned subsidiary of Cox Enterprises and serves approximately 6 million customers nationwide. Additional information about Cox in Arizona is available at www.cox.com/arizona.
About the American Library Association and Public Library Association
The American Library Association (ALA), with more than 57,000 members, is the voice of America's libraries and the millions of people who depend on them. A division of ALA, the Public Library Association, is the largest association dedicated to supporting the unique and evolving needs of public library professionals. More information is available at www.ala.org and www.pla.org.
* According to a study on the digital divide conducted by the Hispanic Heritage Foundation, the Family Online Safety Institute and myCollegeOptions.
**According to an ALA brief on libraries and digital empowerment
# # #
Facebook:
With home internet, the library never closes. Cox is proud to partner with the @American Library Association to expand the reach of libraries' growing digital collections and services—empowering more people to experience limitless learning and full participation in the information age.
Twitter:
Together, @CoxComm and @ALALibrary will empower more people to experience limitless learning and full participation in the information age.