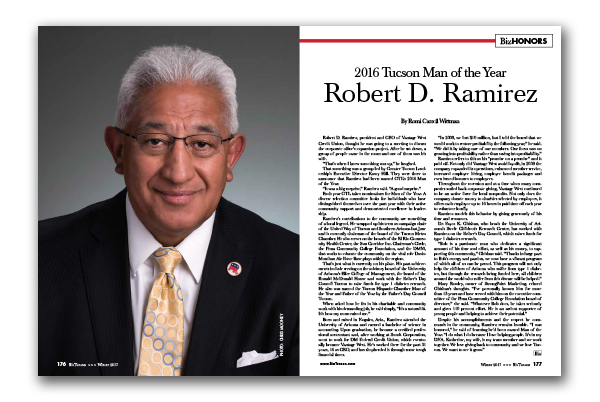 By Romi Carrell Wittman –
2016 Tucson Man of the Year
Robert D. Ramirez, president and CEO of Vantage West Credit Union, thought he was going to a meeting to discuss the corporate office's expansion project. After he sat down, a group of people came in the room and one of them was his wife.
"That's when I knew something was up," he laughed.
That something was a group led by Greater Tucson Leadership's Executive Director Kasey Hill. They were there to announce that Ramirez had been named GTL's 2016 Man of the Year.
"It was a big surprise," Ramirez said. "A good surprise."
Each year GTL takes nominations for Man of the Year. A diverse selection committee looks for individuals who have distinguished themselves over the past year with their active community support and demonstrated excellence in leadership.
Ramirez's contributions to the community are something of a local legend. He wrapped up his term as campaign chair of the United Way of Tucson and Southern Arizona last June and is currently chairman of the board of the Tucson Metro Chamber. He also serves on the boards of the El Rio Community Health Center, the Sun Corridor Inc. Chairman's Circle, the Pima Community College Foundation, and the DM50, that works to educate the community on the vital role Davis-Monthan Air Force Base plays within the region.
That's just what is currently on his plate. His past achievements include serving on the advisory board of the University of Arizona's Eller College of Management, the board of the Ronald McDonald House and work with the Father's Day Council Tucson to raise funds for type 1 diabetes research. He also was named the Tucson Hispanic Chamber Man of the Year and Father of the Year by the Father's Day Council Tucson.
When asked how he fits in his charitable and community work with his demanding job, he said simply, "It's a natural fit. It's how my mom raised me."
Born and raised in Nogales, Ariz., Ramirez attended the University of Arizona and earned a bachelor of science in accounting. Upon graduation, he became a certified professional accountant and, after working at Sundt Corporation, went to work for DM Federal Credit Union, which eventually became Vantage West. He's worked there for the past 31 years, 16 as CEO, and has shepherded it through some tough financial times.
"In 2008, we lost $10 million, but I told the board that we would work to restore profitability the following year," he said. "We did it by taking care of our members. Our focus was on growing into profitability rather than saving into profitability."
Ramirez refers to this as his "promise on a promise" and it paid off. Not only did Vantage West avoid layoffs, in 2009 the company expanded its operations, enhanced member service, increased employee hiring, employee benefit packages and even issued bonuses to employees.
Throughout the recession and at a time when many companies scaled back corporate giving, Vantage West continued to be an active force for local nonprofits. Not only does the company donate money to charities selected by employees, it offers each employee up to 16 hours in paid time off each year to volunteer locally.
Ramirez models this behavior by giving generously of his time and resources.
Dr. Fayez K. Ghishan, who heads the University of Arizona's Steele Children's Research Center, has worked with Ramirez on the Father's Day Council, which raises funds for type 1 diabetes research.
"Bob is a passionate man who dedicates a significant amount of his time and effort, as well as his money, to supporting this community," Ghishan said. "Thanks in large part to Bob's energy and passion, we now have a vibrant program of which all of us can be proud. This program will not only help the children of Arizona who suffer from type 1 diabetes, but through the research being funded here, all children around the world who suffer from this disease will be helped."
Mary Rowley, owner of StrongPoint Marketing, echoed Ghishan's thoughts. "I've personally known him for more than 15 years and have served with him on the executive committee of the Pima Community College Foundation board of directors," she said. "Whatever Bob does, he takes seriously and gives 110 percent effort. He is an ardent supporter of young people and helping to achieve their potential."
Despite his accomplishments and the respect he commands in the community, Ramirez remains humble. "I was honored," he said of learning he'd been named Man of the Year. "I do what I do because I love helping people. It's in my DNA. Katherine, my wife, is my team member and we work together. We love giving back to community and we love Tucson. We want to see it grow."