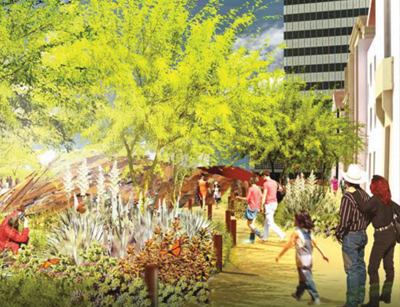 Tucson Medical Center to support January 8 Memorial
Communities build memorials to remember, to honor, to celebrate and to reflect.
As a local community hospital, Tucson Medical Center is humbled to have the opportunity to join with so many in our community to a site that will ensure we never forget the loss that shook our community on January 8, 2011.
TMC's donation to name the memorial walk will help support the construction of a series of memorial gardens in the space west of the Old County Courthouse in El Presidio Park that will serve as a permanent tribute to the victims, but also to the spirit of collaboration that makes this community stronger.
"It is our honor, on behalf of our staff and all of the people we serve, to be in a position to help support the creation of this important space to commemorate this shared community experience that touched – and changed – so many lives," said Judy Rich, president and CEO.
"This memorial will serve as an everyday gathering spot, and a place that we will celebrate our history and our heritage. And importantly, it will serve as a symbol of the better selves we were when we came together – often with people we didn't know – to mourn, to work toward more civil discourse and to embrace the hope and promise of the future."
Dot Kret, president of Tucson's January 8th Foundation, said TMC is a natural partner for many reasons, from its relationship with many of those directly impacted by the events of that day to its ongoing sponsorship of the annual Beyond wellness festival and its creation of the Gabe Zimmerman Triple Crown, a series of three running events to honor the too-short life of the congressional staffer of U.S. Rep. Gabby Giffords.
"As a nonprofit community hospital, TMC has had a longstanding commitment to building community and caring for the health of the people who live here," Kret said. "We are very pleased to join them in establishing this common place that will be a meaningful space of remembrance for those who were touched by the immediacy of the event, as well as those who will come after us."
Tucson Medical Center, licensed at more than 600 beds and employing 3,700 people, has been Tucson's locally governed nonprofit regional hospital for 70 years. TMC is Southern Arizona's leading provider for emergency care and pediatric care (including Tucson's first Pediatric Emergency Department), with top-notch intensive care units for adults, children and newborns. Other specialty areas include women's, maternity, cardiac care, orthopaedic, neuroscience, hospice, surgical, vascular, geropsychiatric care and senior services.