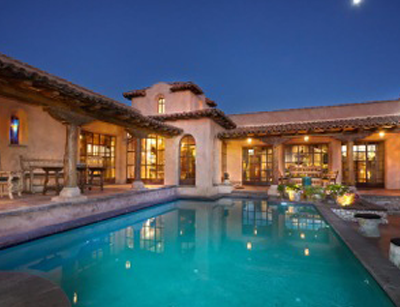 Long Realty's Ferro and Durkin close 2016's biggest sale in Pima County
One of Long Realty's top-performing agent teams ended the year with a bang by closing the sale on a $3.25 million Foothills property. Closed on December 15, the transaction is the highest-price sale in the north Tucson area in the last three years, and the biggest in Pima County this year. The property was originally listed at $3.9 million.
Representing both the buyer and the seller, business partners and REALTORs® Anne Ferro and Bryan Durkin are from Long Realty's Foothills office, where Ferro serves as associate broker.
Located on a 1.67-acre lot at the end of a cul-de-sac in The Canyons, a gated community nestled at the border of the Pusch Ridge Wilderness area of the Coronado National Forest, 7288 N. Cloud Canyon Place was designed by a team headed by renowned architect Larry Pearson and built in 1999. Interior design was by Holler & Saunders Ltd., of Nogales, Ariz., a noted specialist in Latin American and Spanish colonial antiques.
Boasting panoramic city and mountain views, the Spanish colonial-style hacienda features antique, handcrafted and reclaimed materials from around the world, including natural stone, historic timbers and aged hardwood floors. The 6,842 square foot home has three bedrooms and four bathrooms, and includes a great room with a soaring beamed ceiling and an interior courtyard complete with fountain.
"This is an incredible property and a very important sale," said Laura Mance, manager of the Foothills office. "I think it is a sign of increasing movement in the high end, and I'm expecting more good things to come in 2017.
"Anne and Bryan are among our top-performing agents," Mance said. "The way they handled this sale shows why. It's very rare for the same agent or team to represent both the buyer and the seller in a transaction, particularly at this price level. Their tact, expertise, hard work and professionalism made it happen." As measured by sales volume, Long Realty's Foothills office is the top-ranking residential real estate office in Tucson.
Representing high-end properties is not a novelty for Ferro and Durkin. Among the team's current listings are four properties priced well north of the million-dollar mark, and two more that come close. Both agents are members of the company's Luxury Panel, a group of top agents who meet regularly to discuss conditions in the upscale market. Long Realty is also a member of Luxury Portfolio International, a global network of more than 85,000 agents specializing in high-end properties.
For more information, contact Anne Ferro or Bryan Durkin at (520) 918-5493, by email at FerroDurkin@aol.com, or online at anneferro.longrealty.com.