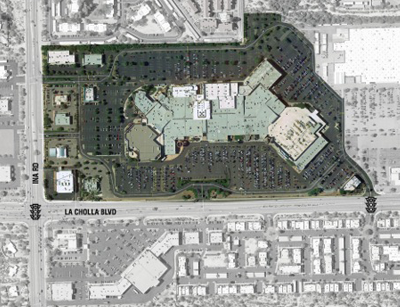 Bourn Companies Acquires Foothills Mall, Again
Tucson based Bourn Companies and FHM Partners, LLC are pleased to announce the purchase of Foothills Mall. Bourn has past experience with Foothills Mall, having acquired it in 1994 when it was at 12% occupancy and selling in 1999 at 95% occupancy after repositioning the Mall into its current format of outlet and promotional retailers, restaurants and a theatre.
"This property is a terrific large-scale in-fill location, strategically located to serve northwest Tucson, including Marana and Oro Valley. This is A+ real estate." Don Bourn said.
The mall has been very successful over the years, yielding high occupancy and sales. In late 2015, Simon Property Group opened Tucson Premium Outlets, causing several users to leave Foothills Mall. Despite the departures, Foothills Mall's current occupancy rate is approximately 73%, with many tenants performing well. These tenants will provide a solid foundation for the redevelopment.
The project is consistent with Bourn's business plan of developing and re-developing large strategic projects that positively impact the community. "We are committed to make a significant investment to create a first-class destination." Bourn said.
The property is located at the northwest corner of Ina Road and La Cholla Boulevard in northwest Tucson and consists of approximately 515,000 square feet on 52 acres.
About Bourn Companies, LLC
Bourn Companies, LLC is a commercial real estate investment, development and services company based in Tucson, Arizona. Since its origination in 1990, Bourn Companies and its predecessors have completed over 4,000,000 square feet of acquisitions and developments, specializing in corporate office buildings, retail shopping centers and unique multi-family residential and hospitality properties. The various business activities of Bourn Companies, LLC are executed through two subsidiaries: Bourn Advisory Services: A specialized real estate services company focusing on asset management, leasing, project management and property management for Bourn-owned assets along with a select number of clients. Bourn Properties, LLC: A real estate investment company that acts as the managing member/general partner for the investment partnerships that it sponsors. For more information, visit www.bourncompanies.com