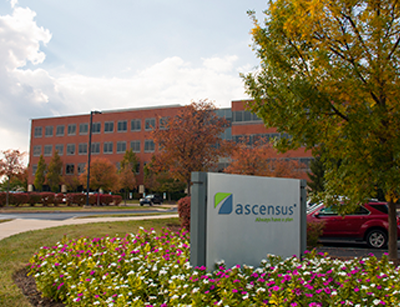 Ascensus Announces Plans for Offices at UA Tech Park
Ascensus, the nation's largest independent retirement and college savings services provider, announced today that it plans to open an office location in Tucson by mid-2017 in the UA Tech Park at Rita Road, a research park owned and operated by the University of Arizona.
Ascensus has experienced significant growth across all business lines, creating the need to augment its facilities and workforce. After a national search, Tucson was selected for its strong labor force and attractive facilities. Additionally, the new location allows for enhanced client service coverage in the Pacific time zones, where the company has many existing client relationships.
The UA Tech Park is a community where innovators and business leaders meet and where emerging companies and technology giants work side by side. Located in a suburban setting on Tucson's rapidly growing southeast side, its campus encompasses 1,345 acres and 2 million square feet of developed space. Tech Park is home to more than 40 companies with nearly 6,500 employees and is one of the region's major employment centers. Tenants contribute $1.75 billion to the local economy annually.
The new Ascensus office space can accommodate about 170 associates, with an option for Ascensus to expand into additional space in Tech Park as more associates are needed. The positions for which Ascensus will be hiring include service center representatives, actuaries, account managers and software developers. Ascensus' expansion into Tech Park will have a projected economic impact of more than $200 million for Tucson and its surrounding communities.
"Tucson is experiencing incredible economic growth as a result of industry-leading companies like Ascensus creating hundreds of high-quality jobs in the region," said Arizona Gov. Doug Ducey. "We could not be more pleased to welcome Ascensus to Arizona and congratulate them on their success."
"Once again, Arizona demonstrates that it has the talent, location and business environment to meet the needs of growing businesses like Ascensus," said Sandra Watson, Arizona Commerce Authority president and CEO. "We thank Ascensus for selecting Tucson after a competitive national search. We also thank Gov. Ducey for his excellent leadership, as well as UA Tech Park, Pima County, the city of Tucson and Sun Corridor Inc. for their partnership in this project."
"We are thrilled to welcome Ascensus and its associates to the UA Tech Park," said Bruce Wright, associate vice president and chief executive officer of Tech Parks Arizona. "We look forward to our future growth together and value the role Ascensus provides to University of Arizona students through their '529' college savings programs. We would like to thank our partners who assisted in the recruitment efforts, including the Arizona Commerce Authority, Sun Corridor Inc., Pima County and the city of Tucson."
"With a population of more than 1 million people, Tucson will allow us to choose from a deep pool of talent in order to continue to build out our service team," said Bob Guillocheau, president and chief executive officer of Ascensus. "Our 1,700-plus associates work hard every day to enable success for our clients, and our expansion to Tucson will help drive continued growth."
About Ascensus
Ascensus is the largest independent retirement and college savings services provider in the United States, helping nearly 7 million Americans save for the future. With more than 35 years of experience, the firm partners with financial institutions to offer tailored solutions that meet the needs of financial professionals, employers, and individuals. Ascensus specializes in recordkeeping, administrative, and program management services, supporting over 46,000 retirement plans and over 3.8 million 529 college savings accounts. It also administers more than 1.5 million IRAs and health savings accounts and is home to one of the largest ERISA consulting teams in the country. For more information about Ascensus,visit www.ascensus.com.
View career opportunities at careers.ascensus.com or on LinkedIn at linkedin.com/company/ascensus. For the latest company news, follow @AscensusInc on Twitter.