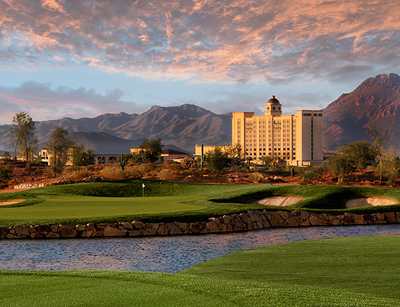 CASINO DEL SOL'S SECOND ANNUAL CHARITY GOLF TOURNAMENT
CASINO DEL SOL'S SECOND ANNUAL CHARITY GOLF TOURNAMENT RAISES $60,000 FOR COMMUNITY NONPROFITS
Golfers raised money to benefit the Southern Arizona Children Advocacy Center and My Girl Power
The Pascua Yaqui Tribe's enterprise, Casino Del Sol held their second annual Charity Golf Tournament on Nov. 9, raising $60,000 to benefit two nonprofit organizations in the community.
"The Pascua Yaqui Tribe and Casino Del Sol are honored to continue our annual Charity Golf Tournament to support nonprofit organizations such as the Boys and Girls Clubs of Tucson in 2015 and the Southern Arizona Children's Advocacy Center and My Girl Power in 2016," said CEO of Casino Del Sol, Kimberly Van Amburg. "We're committed to the Tucson and Southern Arizona communities, and look forward to carrying on this tradition for years to come."
More than 100 participants came out to Sewailo Golf Club at Casino Del Sol for 18 holes of golf, to raise funds for the Southern Arizona Children's Advocacy Center and My Girl Power. Each organization will receive $30,000 to go towards their worthy causes that benefit Tucson's youth.
The Southern Arizona Children's Advocacy Center's mission is to protect and support children through a coordinated response to child maltreatment that includes intervention, assessment and prevention. The mission of My Girl Power is to help increase K-12 girls' engagement levels in sports, arts, science, health, economics, and civics opportunities in their own backyards, to ensure successful pathways to thrive.
"On behalf of My Girl Power, we are so humbled, honored and grateful to have been chosen as one of the beneficiaries of the second annual Casino Del Sol Charity Golf Tournament," said Co-founder and Chair of My Girl Power, Lucy Howell. "We'll be able to do so much for our girls with the generous funds raised at this event."
The Pascua Yaqui Tribe, the Yaqui people through its enterprises, and Casino Del Sol are committed to being a partner in the Southern Arizona community. Through 12 percent municipal funds provided for in the State of Arizona-Pascua Yaqui Gaming Compact, the Tribe and Casino have provided several million dollars to support charitable organizations and organizations that provide crucial services to residents of Southern Arizona over a few short years. Just a few of the organizations the Pascua Yaqui Tribe and Casino Del Sol have funded during the past year include:
American Heart & Stroke Association
American Red Cross
Angel Charity for Children
Boys & Girls Clubs of Tucson
Christina Taylor Green Park Project
Community Food Bank of Southern Arizona
El Rio Foundation
Perimeter Bicycling/El Tour De Tucson
Reid Park Zoo
Ronald McDonald House
Southern Arizona Children's Advocacy Center
Tucson Festival of Books
Tucson International Mariachi Conference
Tucson Ladies' Council
Tu Nidito
Youth on Their Own
For more information about Casino Del Sol and Sewailo Golf Club, visit www.casinodelsol.com or call 1-855-SOL-STAY (765-7829).
About Casino Del Sol
Located in southwest metropolitan Tucson, Ariz., the Pascua Yaqui Tribe is a federally recognized tribe with more than 17,000 enrolled members. The Tribe owns and operates several enterprises including Casino Del Sol, Arizona's only Forbes Four Star and AAA Four Diamond casino resort, recently named in the top 2 percent of Best Arizona Hotels by U.S. News & World Report; Casino of the Sun; AVA Amphitheater, a 5,000-seat open-air concertvenue named Casino Arena/Amphitheater of the Year by Casino Entertainment Awards; Sewailo Golf Club, a par-72 championship course designed by Notah Begay III; and the Del Sol Marketplace. For more information, call 1-855-SOL-STAY (765-7829) or visit www.CasinoDelSol.com. Follow Casino Del Sol on Facebook and Twitter.