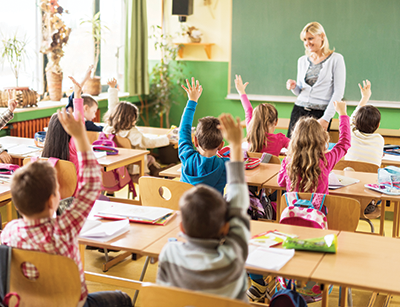 PIMA COUNTY RECOGNIZED FOR IMPROVING OUTCOMES FOR STUDENTS ACROSS REGION
StriveTogether recognizes the Cradle to Career Partnership for demonstrating progress through key indicators
In recognition of its progress in improving educational outcomes for students across Pima County, the Cradle to Career Partnership has earned the "Sustaining" designation from StriveTogether, a nonprofit, national network of 68 community partnerships that works to ensure every child succeeds from cradle to career.
Since bringing together cross-sector partners to improve educational outcomes in 2014, Cradle to Career has tracked improvements through measurable indicators and is demonstrating clear evidence that the community is aligning resources around solutions that work. In the last year, the Partnership published a baseline data report on each of the seven educational outcomes of focus and included data to show where gender and ethnic disparities exist. Leadership from across the community came together and prioritized three areas for immediate focus; Kindergarten Readiness, High School Graduation and Re-Engagement of Opportunity Youth. Networks of practitioners have been organized with clear goals and lines of action to make improvements in these areas.
"We are proud of the gains we've made and excited to celebrate this win with the community," said Cradle to Career's Senior Director Amanda Kucich. "None of this would be possible without the incredible support and hard work of our partners. Together, our commitment to putting children at the center of our work remains as strong as ever."
Cradle to Career started when a group of leaders throughout the Pima County area came together with a common mission: to improve academic success for every child. Thirty-nine cross-sector representatives committed to serve as partners in this work, including school district superintendents, early childhood educators, nonprofit practitioners, business leaders, community and corporate funders, city officials and the university provost and college chancellor.
"Cradle to Career is making significant strides in how partners work together to use data to identify and build on what works in Pima County and ultimately improve academic outcomes and eliminate disparities at scale," StriveTogether Executive Director Jeff Edmondson said. "We congratulate Cradle to Career for the outstanding progress they are making and look forward to recognizing them when they reach more milestones along their journey to enable better, more equitable outcomes for all students."
StriveTogether has developed a method to assess the effectiveness of collective impact partnerships, helping communities stay focused on results and sustain impact over time. This method is a continuum of quality benchmarks, called the Theory of Action, for building and sustaining cradle-to-career civic infrastructure. The Theory of Action has five designations or "gateways" — Exploring, Emerging, Sustaining, Systems Change and Proof Point — that indicate a partnership's progress toward impacting local systems and improving student educational success.
A community moves into a different gateway as quality benchmarks are met in six core cradle-to-career outcome areas, from kindergarten readiness to post-secondary completion. Additionally, community leaders across sectors must demonstrate evidence of changing how systems work in four key areas: shared community vision, evidence-based decision making, collaborative action, and investment and sustainability.
The StriveTogether Cradle to Career Network represents 68 communities and works with over 10,200 organizations across 32 states and Washington, D.C. As part of the network, Cradle to Career has access to resources and tools designed to help communities implement StriveTogether's Theory of Action. This partnership also has a connection with communities throughout the country to share knowledge and learn from successes, failures and insights.
###
About StriveTogether
StriveTogether works with communities nationwide to build the capability of leaders and practitioners across sectors to create a civic infrastructure around shared goals, measures and results in education, supporting the success of every child, cradle to career. Communities implementing the StriveTogether framework have seen dramatic improvements in kindergarten readiness, academic outcomes and post-secondary success. The StriveTogether network of 68 partnerships consists of more than 10,200 organizations, reaches more than 8.2 million students and operates in 32 states and Washington, D.C. For more information, visit www.strivetogether.org.
About Cradle to Career
Cradle to Career is a partnership that believes in setting higher expectations in order to improve educational and life outcomes for the over a quarter-million young people living in Pima County. It's a partnership that brings together resources, courageous leadership and innovation from throughout the community to help students improve in key benchmarks along their pathway to adulthood. The partnership does this through focused data-driven action to improve performance and the scaling of effective practice by aligning resources for what works.