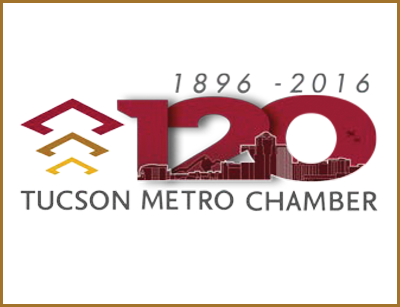 Tucson Metro Chamber Celebrates 120 Years
The Tucson Metro Chamber, the largest and most influential business organization in Southern Arizona, celebrates 120 years of leadership and advocacy in the Tucson area.
The Chamber was founded on October 31, 1896 as the Tucson Grocer's Association and was incorporated with Hugo J. Donau as its first chairman. While the organization's name has changed throughout the past 120 years, the Chamber's mission has remained focused on supporting Southern Arizona businesses, expanding our local economy and making our region a better place to live.
"This milestone, which by itself is an achievement for any business, or organization, is one we can all be proud of. Guided by our mission to serve as Tucson's premier business advocacy and community development organization, the Chamber demands that we give our best as individuals and collectively as a team. The Chamber stands committed to fostering partnerships among like-minded business professionals with a common goal of continued economic expansion for Southern Arizona." states Robert D. Ramirez, 2016-17 chairman of the Tucson Metro Chamber Board of Directors.
To memorialize this significant milestone, the Tucson Metro Chamber is hosting the Time Capsule Open House celebration on Thursday, November 17 at the Tucson Metro Chamber office, 465 W. St. Mary's Rd.
Join the Chamber to reflect on its history and to look forward at its priorities and program of work to lead and advocate for a successful community. Festivities will begin at 4:00 p.m. with a ribbon cutting ceremony. Connect with Chamber leadership, investors and members of the community while enjoying live entertainment, food and beverages.
The Tucson Metro Chamber is collecting items to be placed in a sealed time capsule that will be opened in 30 years, on the Chamber's 150th anniversary. Bring your historical documents or physical items, not to exceed 2″ x 3", for consideration.
For more information on the Time Capsule Open House, visit www.tucsonchamber.org.
"Chambers of commerce are the organizations that allow job creators in cities across the country to pool their collective thinking and mobilize their vision for building better communities. Looking back on the 120 years that the Tucson Metro Chamber has played that role in Southern Arizona it is quite evident that the Chamber gets things done. It is also quite interesting that the major themes through the decades have changed very little — transportation, infrastructure, economic expansion and education have dominated the Chamber's program of work. The urban statesmen in Tucson and Southern Arizona have a proud history of achievement and will undoubtedly leave their mark on the next 120 years." says Tucson Metro Chamber President & CEO Michael Varney.
About The Tucson Metro Chamber The mission of the Tucson Metro Chamber is to lead and advocate for a successful community. The Chamber is an investor-based business advocacy and economic expansion organization that represents more than 1,500 businesses, employing more than 160,000 employees in the greater Tucson area.
###