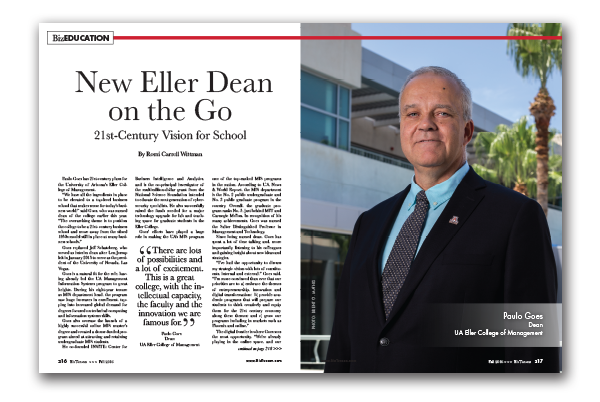 Paulo Goes – New Eller Dean on the Go
By Romi Carrell Wittman –
Middle School Creates a 'Village' for Young Students
Paulo Goes has 21st-century plans for the University of Arizona's Eller College of Management.
"We have all the ingredients in place to be elevated to a top-level business school that makes sense for today's business world," said Goes, who was named dean of the college earlier this year. "The overarching theme is to position the college to be a 21st- century business school and move away from the siloed 1950s model still in place at many business schools."
Goes replaced Jeff Schatzberg, who served as interim dean after Len Jessup left in January 2015 to serve as the president of the University of Nevada, Las Vegas.
Goes is a natural fit for the role, having already led the UA Management Information Systems program to great heights. During his eight-year tenure as MIS department head, the program saw huge increases in enrollment, tapping into increased global demand for degrees focused on technical computing and information systems skills.
Goes also oversaw the launch of a highly successful online MIS master's degree and created a donor-funded program aimed at attracting and retaining undergraduate MIS students.
He co-founded INSITE: Center for Business Intelligence and Analytics, and is the co-principal investigator of the multimillion-dollar grant from the National Science Foundation intended to educate the next generation of cyber-security specialists. He also successfully raised the funds needed for a major technology upgrade for lab and teaching space for graduate students in the Eller College.
Goes' efforts have played a huge role in making the UA's MIS program one of the top-ranked MIS programs in the nation. According to U.S. News & World Report, the MIS department is the No. 2 public undergraduate and No. 3 public graduate program in the country. Overall, the graduate program ranks No. 5, just behind MIT and Carnegie Mellon. In recognition of his many achievements, Goes was named the Salter Distinguished Professor in Management and Technology.
Since being named dean, Goes has spent a lot of time talking and, more importantly, listening to his colleagues and gaining insight about new ideas and strategies.
"I've had the opportunity to discuss my strategic vision with lots of constituents, internal and external," Goes said. "I'm more convinced than ever that our priorities are to a) embrace the themes of entrepreneurship, innovation and digital transformation;  b) provide academic programs that will prepare our students to think creatively and equip them for the 21st century economy along these themes; and c) grow our programs including in markets such as Phoenix and online."
The digital frontier is where Goes sees the most opportunity. "We're already playing in the online space, and our   online MBA program is growing as is our MIS with specializations in big data and cyber security," he said. "I want to take advantage of where we are."
He also sees a lot of possibilities in the Phoenix market and in hybrid online/traditional classes. "I want to develop programs that make sense," he said. "There are lots of possibilities and a lot of excitement. This is a great college, with the intellectual capacity, the faculty and the innovation we are famous for."
Goes said retention of top faculty is a major priority, as is maintaining Eller's world-ranked programs. But he also wants to tell Eller's story to the world. "We have great strengths and create wonderful opportunities of success for our students."
Goes was selected as dean in December after an exhaustive yearlong search. In a statement on his appointment, UA President Ann Weaver Hart said, "Dr. Goes is a wonderful scholar and his leadership of the Department of Management Information Systems has helped build it into an international powerhouse. As a leader and as a faculty member, he is deeply attuned to the needs of business, and his unique perspective will see the Eller College achieve new heights of excellence and impact."
Originally from Brazil, Goes received his Ph.D. from the University of Rochester, and he later worked at the University of Connecticut, where he co-founded a unique university-corporate partnership with General Electric and headed the Center for Internet Data Research and Intelligence Services.
In 2007, he received a phone call about a department head position at the UA and was immediately interested. "There was top-level research going on," he said. "I was really attracted to that."
Goes, his wife and two children made the move to Tucson and fell in love not only with the university, but the community. He said the climate and Latin-infused culture made him and his wife, who is also from Brazil, feel comfortable almost immediately. "I think all the ingredients for a great life are here," he said.