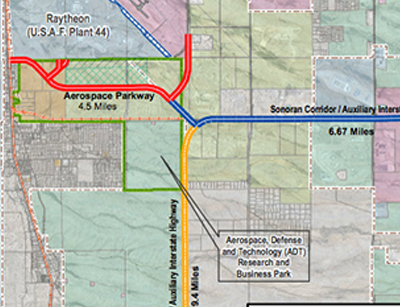 $10 million in Aerospace Parkway improvements
PAG invests $10 million in Aerospace Parkway improvements to help bring new jobs to the region
Pima Association of Governments' Regional Council Chair Duane Blumberg announced today that the Regional Council awarded $10 million in regional Highway User Revenue Funds (HURF) to Pima County over the next few years to widen and extend the Aerospace Parkway to serve local industrial/commercial properties southwest of the Tucson International Airport.
"The PAG Regional Council is committed to ensuring that our communities and the region have the critical infrastructure they need to support businesses and jobs," said Blumberg, who also serves as mayor of Sahuarita. "This investment will provide improved access to industrial space to attract new businesses and jobs in the near term and well into the future."
PAG previously funded the relocation of the Hughes Access Road making it possible to create a buffer zone for Raytheon and ease access to one of the most robust employment centers in the region. "Our strong working relationship among all PAG member representatives has helped to make critical infrastructure improvements and fuel the progress in this area," said County Supervisor Ramón Valadez, who represents Pima County on the PAG Regional Council.
According to Pima County estimates, the Aerospace Parkway improvement project is expected to support expansion and attraction of over 3,500 new high-wage jobs and attract millions in private investment.
Pima Association of Governments is an association of local, state and tribal governments with a mission to build consensus among its members and the public on regional planning for transportation, energy, watershed and air quality. Please visit www.PAGregion.com or www.facebook.com/PAGregion for more information.