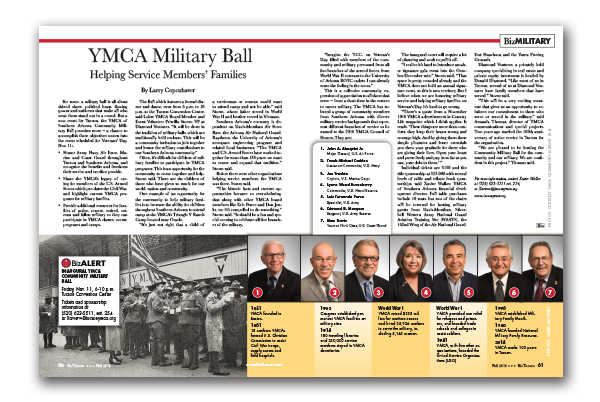 By Larry Copenhaver –
Helping Service Members' Families
For some, a military ball is all about shined shoes, polished brass, flowing gowns and uniforms that make all who wear them stand out in a crowd. But a new event for Tucson, the YMCA of Southern Arizona Community Military Ball promises more – a chance to accomplish three objectives woven into the event scheduled for Veterans' Day, Nov. 11:.
• Honor Army, Navy, Air Force, Marine and Coast Guard throughout Tucson and Southern Arizona, and recognize the benefits and freedoms their service and sacrifice provide.
• Share the YMCA's legacy of caring for members of the U.S. Armed Forces which pre-dates the Civil War, and highlight current YMCA programs for military families.
• Provide additional resources for families of active, reserve, retired, veteran and fallen military so they can participate in YMCA classes, events, programs and camps.
The Ball which features a formal dinner and dance, runs from 6 p.m. to 10 p.m. at the Tucson Convention Center, said Lohse YMCA Board Member and Event Volunteer Priscilla Storm, VP at Diamond Ventures. "It will be done in the tradition of military balls, which are traditionally held on-base. This will be a community invitation to join together and honor the military contributions to our Southern Arizona community."
Often, it's difficult for children of military families to participate in YMCA programs. This is an opportunity for the community to come together and help, Storm said. These are the children of those who have given so much for our world, nation and community.
One example of an opportunity for the community to help military families is to increase the ability for children throughout Southern Arizona to attend camp at the YMCA's Triangle Y Ranch Camp located near Oracle.
"It's just not right that a child of a serviceman or woman would want to attend camp and not be able," said Storm, whose father served in World War II and brother served in Vietnam.
Southern Arizona's economy is dependent on Davis-Monthan Air Force Base, the Arizona Air National Guard, Raytheon, the University of Arizona's aerospace engineering program and related local businesses. "The YMCA and U.S. Armed Forces have worked together for more than 150 years, we want to renew and expand that tradition," Storm said.
Before there were other organizations helping service members, the YMCA was there, Storm said.
"The historic facts and current opportunities became so overwhelming, that along with other YMCA board members like Eric Ponce and Don Jenks, we felt compelled to do something," Storm said. "It should be a fun and special evening to celebrate all five branches of the military.
"Imagine the TCC, on Veteran's Day, filled with members of the community and military personnel from all five branches of the armed forces, from World War II veterans to the University of Arizona ROTC cadets. I can already sense the feeling in the room."
This is a collective community expression of appreciation to all those that serve − from a short time in the reserve to career military. The YMCA has selected a group of community members from Southern Arizona with diverse military service backgrounds that represent different branches of service to be named to the 2016 YMCA Council of Heroes. They are:
1. John A. Almquist Jr. Major General, U.S. Air Force
2. Frank Michael Cadden Lieutenant Commander, U.S. Navy
3. Jon Trachea Captain, U.S. Marine Corps
4. Lynne Wood Dusenberry Commander, U.S. Naval Reserve
5. Luis Fernando Parra Specialist, U.S. Army
6. Edmund G. Marquez Sergeant, U.S. Army Reserve
7. Max Davis Yeoman Third Class, U.S. Coast Guard
The inaugural event will require a lot of planning and work to pull it off.
"I realize it's hard to introduce another signature gala event into the October-December mix," Storm said. "That space is pretty crowded already and the YMCA does not hold an annual signature event, so this is new territory. But I believe when we are honoring military service and helping military families, on Veteran's Day, it's hard to go wrong.
"There's a quote from a November 1918 YMCA advertisement in Country Life magazine which I think applies. It reads, 'These things are more than comforts, they keep their hearts strong and courage high. And by giving them these simple pleasures and lesser essentials you show your gratitude for those who are giving their lives. Open your heart and purse freely and pay, in so far as you can, your debt to them.' "
Individual tickets are $150 and the title sponsorship at $25,000 with several levels of table and tribute book sponsorships, said Xavier Walker, YMCA of Southern Arizona financial development director. Full table purchases include 10 seats, but two of the chairs will be reserved for hosting military guests from Davis-Monthan, Silverbell Western Army National Guard Aviation Training Site (WAATS), the 162nd Wing of the Air National Guard, Fort Huachuca and the Yuma Proving Grounds.
Diamond Ventures, a privately held company specializing in real estate and private equity investment is headed by Donald Diamond. "Like most of us in Tucson, several of us at Diamond Ventures have family members that have served," Storm said.
"This will be a very exciting event, one that gives us an opportunity to reinforce our commitment to those who serve or served in the military," said Amanda Thomas, director of YMCA communications and special projects. Two years ago marked the 100th anniversary of active service in Tucson for the organization.
"We are pleased to be hosting the Community Military Ball for the community and our military. We are confident in this project." Thomas said.
For more information, contact Xavier Walker 
at (520) 623-5511 ext. 254, 
or Xavierw@tucsonymca.org.