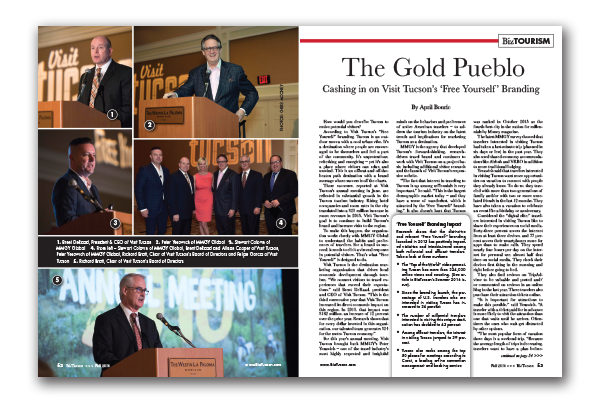 By April Bourie –
Cashing in on Visit Tucson's 'Free Yourself' Branding
How would you describe Tucson to entice potential visitors?
According to Visit Tucson's "Free Yourself" branding, Tucson is an outdoor mecca with a cool urban vibe. It's a destination where people are encouraged to be themselves and feel a part of the community. It's unpretentious, refreshing and energizing – yet it's also a place where visitors can relax and unwind. This is an offbeat and off-the-beaten path destination with a brand message whose success is off the charts.
These successes, reported at Visit Tucson's annual meeting in June, are reflected in substantial growth in the Tucson tourism industry. Rising hotel occupancies and room rates in the city translated into a $25 million increase in room revenues in 2015. Visit Tucson's goal is to continue to build Tucson's brand and increase visits to the region.
To make this happen, the organization works closely with MMGY Global to understand the habits and preferences of travelers. For a brand to succeed, it needs to elicit a visceral response in potential visitors. That's what "Free Yourself" is designed to do.
Visit Tucson is the destination marketing organization that drives local economic development through tourism. "We connect visitors to travel experiences that exceed their expectations," said Brent DeRaad, president and CEO of Visit Tucson. "This is the third consecutive year that Visit Tucson increased its direct economic impact on this region. In 2015, that impact was $182 million, an increase of 12 percent over the prior year. Research shows that for every dollar invested in this organization, our talented team generates $24 for the metro Tucson economy."
For this year's annual meeting, Visit Tucson brought back MMGY's Peter Yesawich – one of the travel industry's most highly respected and insightful minds on the behaviors and preferences of active American travelers – to address the tourism industry on the latest trends and implications for marketing Tucson as a destination.
MMGY is the agency that developed Tucson's forward-thinking, research-driven travel brand and continues to work with Visit Tucson on a project basis, including additional visitor research and the launch of Visit Tucson's responsive website.
"The fact that interest in traveling to Tucson is up among millennials is very important," he said. "This is the largest demographic market today – and they have a sense of wanderlust, which is attracted by the 'Free Yourself' branding." It also doesn't hurt that Tucson was ranked in October 2015 as the fourth-best city in the nation for millennials by Money magazine.
The latest MMGY survey showed that travelers interested in visiting Tucson had taken a last-minute trip (planned in six days or less) in the past year. They also used shared-economy accommodations like Airbnb and VRBO in addition to more traditional lodging.
Yesawich said that travelers interested in visiting Tucson want more opportunities on vacation to connect with people they already know. To do so, they traveled with more than two generations of family and/or with two or more unrelated friends in the last 12 months. They have also taken a vacation to celebrate an event like a birthday or anniversary.
Considered the "digital elite," travelers interested in visiting Tucson like to share their experiences on social media. Forty-three percent access the internet from at least three devices, and 77 percent access their smartphones more for apps than to make calls. They spend nearly four hours per day on the internet for personal use, almost half that time on social media. They check their devices first thing in the morning and right before going to bed.
They also find reviews on TripAdvisor to be valuable and posted and/or commented on reviews in an online blog in the last year. These travelers also purchase their attraction tickets online.
"It is important for attractions to make this possible," said Yesawich. "A traveler with a ticket paid for in advance is more likely to visit the attraction than one that waits until he arrives. Oftentimes the ones who wait get distracted by other options.
"The most popular form of vacation these days is a weekend trip. "Because the average length of trips is decreasing, travelers want to have a plan beforehand, so they don't miss out on any activities or attractions that interest them." They do a lot of research on activities before the trip. The research and booking windows are directly related to the length of the vacation. If the vacation is longer, travelers book earlier.
So, what does this mean for Tucson's tourism industry?
"Where travelers go on vacation says a lot about them," said Stewart Colovin, MMGY's chief creative officer.  "For this reason, the 'Free Yourself' message talks to the hearts and minds of potential visitors. But Visit Tucson can't talk to the visitors by themselves. We need continued collaboration to take the brand to the next level."
Because travelers interested in visiting Tucson are so web-savvy, Colovin encouraged tourism partners to share stories online of positive visitor experiences at their venues. "We have to tell the story better than anyone else," he said.
"Collaboration is the key," said Allison Cooper, Visit Tucson's VP of sales and marketing. "On our new responsive website and across many platforms, we need to share the stories of how visitors are experiencing and enjoying Tucson. To increase our share of voice, we need to tell stories that Google will rank, consumers will share and visitors will want to experience."
The new site launched in July and will serve the millennial, Gen X and affluent travel segments. The content is optimized for any screen, and the navigation is very visual. More video will be incorporated into the site, and partners will be able to provide more content and comments from TripAdvisor in their listings.
Visit Tucson and the Southern Arizona Attractions Alliance also promote a smartphone app that provides two-for-one offers and other discounts throughout the metro area.The Tucson Attractions Passport app promises "fun is only a few taps away."
With new nonstop flights to New York, new options like the Tucson Roadrunners professional hockey team and world recognition like the UNESCO City of Gastronomy designation – the first in the U.S. –Tucson is poised to drive significant visitor demand," Cooper said.
" 'Free Yourself' is a proven value proposition that will serve us for years to come. The goal is to get the right message to the right person at the right moment in the right context – and we can easily do that when we collaborate."