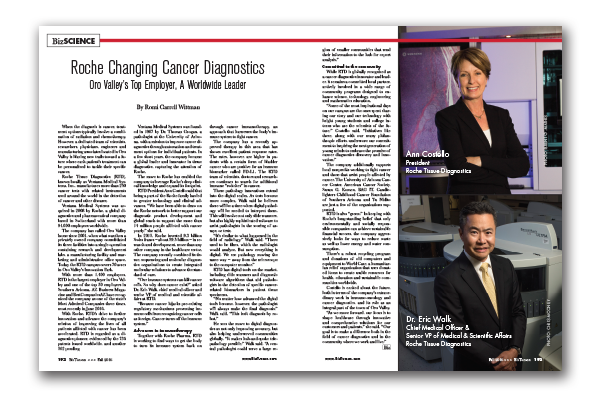 Roche Changing Cancer Diagnostics
By Romi Carrell Wittman –
Oro Valley's Top Employer, A Worldwide Leader
When the diagnosis is cancer, treatment options typically involve a combination of radiation and chemotherapy. However, a dedicated team of scientists, researchers, physicians, engineers and manufacturing associates located in Oro Valley is blazing new trails toward a future where each patient's treatment can be personalized to tackle their specific cancer.
Roche Tissue Diagnostics (RTD), known locally as Ventana Medical Systems, Inc., manufactures more than 250 cancer tests with related instruments used around the world in the detection of cancer and other diseases.
Ventana Medical Systems was acquired in 2008 by Roche, a global diagnostics and pharmaceutical company based in Switzerland with more than 91,000 employees worldwide.
The company has called Oro Valley home since 2001, when what was then a privately owned company consolidated its three facilities into a single operation containing research and development labs, a manufacturing facility and marketing and administrative office space. Today, the RTD campus covers 70 acres in Oro Valley's Innovation Park.
With more than 1,400 employees, RTD is the largest employer in Oro Valley and one of the top 50 employers in Southern Arizona. AZ Business Magazine and BestCompaniesAZ have recognized the company as one of the state's Most Admired Companies three times, most recently in June 2016.
With Roche, RTD's drive to further innovation and advance the company's mission of improving the lives of all patients afflicted with cancer has been accelerated. RTD is regarded as a diagnostics pioneer, evidenced by the 736 patents issued worldwide, and another 562 pending.
Ventana Medical Systems was founded in 1987 by Dr. Thomas Grogan, a pathologist at the University of Arizona, with a mission to improve cancer diagnostics through automation and treatment options for individual patients. In a few short years, the company became a global leader and innovator in tissue diagnostics, capturing the attention of Roche.
The move to Roche has enabled the company to leverage Roche's deep clinical knowledge and expand its footprint.
RTD President Ann Costello said that being a part of the Roche family has led to greater technology and clinical advances. "We have been able to draw on the Roche network to better support our diagnostic product development and global reach to support the more than 14 million people afflicted with cancer yearly," she said.
In 2015, Roche invested 9.3 billion Swiss francs – about $9.5 billion – in research and development, more than any other company in the healthcare sector. The company recently combined its tissue, sequencing and molecular diagnostics organizations to create integrated molecular solutions to advance the standard of care.
"Our immune systems can kill cancer cells. So why does cancer exist?" asked Dr. Eric Walk, chief medical officer and senior VP of medical and scientific affairs at RTD.
"Because cancer hijacks pre-existing regulatory mechanisms preventing immune cells from recognizing cancer cells as foreign. Cancer turns off the immune system."
Advances in immunotherapy
Together with Roche Pharma, RTD is working to find ways to get the body to turn its immune system back on through cancer immunotherapy, an approach that harnesses the body's immune system to fight cancer.
The company has a recently approved therapy in this area that has shown excellent patient response rates. The rates, however, are higher in patients with a certain form of bladder cancer who are positive for an immune biomarker called PD-L1. The RTD team of scientists, doctors and researchers continues to search for additional immune "switches" in cancer.
These pathology innovations extend into the digital realm. As tests become more complex, Walk said he believes there will be a time when digital pathology will be needed to interpret them. This will involve not only slide scanners, but also highly sophisticated software to assist pathologists in the scoring of assays, or tests.
"It's similar to what happened in the field of radiology," Walk said. "There used to be films, which the radiologist would analyze. But now everything is digital. We see pathology moving the same way − away from the microscope to the computer monitor."
RTD has digital tools on the market, including slide scanners and diagnostic software algorithms that aid pathologists in the detection of specific cancer-related biomarkers in patient tissue specimens.
"No matter how advanced the digital tools become, however, the pathologist will always make the final diagnosis," Walk said. "This isn't diagnosis by robot."
He sees the move to digital diagnostics as not only improving accuracy, but also helping underserved communities globally. "It makes hub-and-spoke tele-pathology possible," Walk said. "A central pathologist could serve a large region of smaller communities that send their information to the hub for expert analysis."
Committed to the community
While RTD is globally recognized as a cancer diagnostics innovator and leader, it remains a committed local partner, actively involved in a wide range of community programs designed to enhance science, technology, engineering and mathematics education.
"Some of the most inspirational days on our campus are the ones spent sharing our story and our technology with bright young students and college interns who are the scientists of the future," Costello said. "Initiatives like these, along with our many philanthropic efforts, underscore our commitment to inspiring the next generation of young minds to embrace the promise of cancer diagnostics discovery and innovation."
The company additionally supports local nonprofits working to fight cancer and those that assist people affected by cancer. The University of Arizona Cancer Center, American Cancer Society, Susan G. Komen, BAG IT, Candlelighters Childhood Cancer Foundation of Southern Arizona and Tu Nidito are just a few of the organizations supported.
RTD is also "green." In keeping with Roche's long-standing belief that only environmentally and socially responsible companies can achieve sustainable financial success, the company aggressively looks for ways to reduce waste as well as lower energy and water consumption.
There's a robust recycling program and donations of old computers and equipment to World Care, a humanitarian relief organization that uses donated items to create usable resources for health, education and sustainable communities worldwide.
Costello is excited about the future, both in terms of the company's extraordinary work in immuno-oncology and cancer diagnostics, and its role as an integral part of the town of Oro Valley.
"As we move forward, our focus is to shape healthcare through innovative and comprehensive solutions for our customers and patients," she said. "Our goal is to make a difference both in the field of cancer diagnostics and in the community where we work and live."