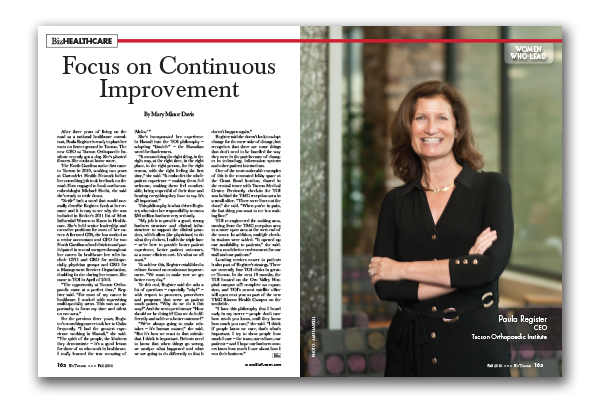 Paula Register – Women Who Lead
By Mary Minor Davis –
Focus on Continuous Improvement
After three years of living on the road as a national healthcare consultant, Paula Register is ready to plant her roots on firmer ground in Tucson. The new CEO at Tucson Orthopaedic Institute recently got a dog. She's planted flowers. She cooks at home more.
The North Carolina native first came to Tucson in 2010, working two years at Carondelet Health Network before her consulting job took her back on the road. Now engaged to local cardiac anesthesiologist Michael Hecht, she said she's ready to settle down.
"Settle" isn't a word that would normally describe Register. Look at her resume and it is easy to see why she was included in Becker's 2011 list of Most Influential Women to Know in Healthcare. She's held senior leadership and executive positions for most of her career. A licensed CPA, she has worked as a senior accountant and CFO for two North Carolina school districts and participated in several mergers throughout her career. In healthcare her roles include CFO and CEO for multi-specialty physician groups and CEO for a Management Services Organization, doubling its size during her tenure. She came to TOI in April of 2015.
"The opportunity at Tucson Orthopaedic came at a perfect time," Register said. "For most of my career in healthcare I worked with supervising multi-specialty areas. This was an opportunity to focus my time and talent on one area."
For the previous three years, Register's consulting career took her to Oahu frequently. "I had the greatest experience working in Hawaii," she said. "The spirit of the people, the kindness they demonstrate – it's a good lesson for those of us who work in healthcare. I really learned the true meaning of 'Aloha.' "
She's incorporated her experience in Hawaii into the TOI philosophy – adopting "kina'ole" – the Hawaiian word for flawlessness.
"It means doing the right thing, in the right way, at the right time, in the right place, to the right person, for the right reason, with the right feeling the first time," she said. "It embodies the whole patient experience – making them feel welcome, making them feel comfortable, being respectful of their time and hearing everything they have to say. It's all important."
This philosophy is what drives Register, who takes her responsibility to run a $50 million business very seriously.
"My job is to provide a good, strong business structure and clinical infrastructure to support the clinical practices, which allow (the physicians) to do what they do best. I call it the triple lane – we're here to provide better patient experience, better patient outcomes, at a more efficient cost. It's what we all want."
To achieve this, Register established a culture focused on continuous improvement. "We want to make sure we get better every day."
To this end, Register said she asks a lot of questions – especially "why?" – with respect to processes, procedures and programs that serve as patient touch points. "Why do we do it this way?" And the next questions are "How should we be doing it? Can we do it differently and achieve a better outcome?"
"We're always going to make mistakes – it's human nature," she said. "But it's how we react to that mistake that I think is important. Patients need to know that when things go wrong, we analyze what happened and what we are going to do differently so that it doesn't happen again."
Register said she doesn't look to adopt change for the mere sake of change, but recognizes that there are some things that don't need to be handled the way they were in the past because of changes in technology, information systems and other patient interactions.
One of the most noticeable examples of this is the renovated lobby space at the Grant Road location, shared in the central tower with Tucson Medical Center. Previously, check-in for TOI was behind the TMC reception area in a small office. "There were lines out the door," she said. "When you're in pain, the last thing you want to see is a waiting line."
TOI re-engineered the waiting area, moving from the TMC reception area to a more open area at the west end of the tower. In addition, multiple check-in stations were added. "It opened up our availability to patients," she said. "It's a much better environment for our staff and our patients."
Locating services nearer to patients is also part of Register's strategy. There are currently four TOI clinics in greater Tucson. In the next 18 months, the TOI located on the Oro Valley Hospital campus will complete an expansion, and TOI's newest satellite office will open next year as part of the new TMC Rincon Health Campus on the southside.
"I have this philosophy that I heard early in my career – people don't care how much you know, until they know how much you care," she said. "I think if people know we care, that's what's important. I try to show people how much I care – the team, our culture, our patients – and I hope our business owners know how much I care about how I run their business."