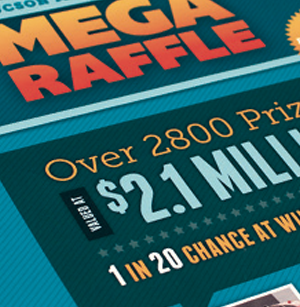 Record-Breaking Results for 2016 TMC Mega Raffle
Tucson Medical Center Announces Record-Breaking Results for 2016 TMC Mega Raffle 
More than $1.2 million raised for patient care
 The final numbers are in from the 2016 TMC Mega Raffle. Tucson Medical Center is pleased to announce that the 2016 raffle success surpassed the previous year, selling out early yet again and breaking records in terms of community participation, prizes given, and money raised. This year more than $1.2 million dollars in funds were raised for the hospital to support innovative patient care programs and services
"We are extremely grateful for the tremendous support and participation," stated Michael Duran, vice president of TMC Foundation. "As the only non-profit community hospital in Tucson, the TMC Mega Raffle help us raise funds and awareness for the many patient care programs and services we provide and continue to push forward in order to meet their needs."
Last year, over $1 million raised helped support a variety of services including continued education programs for nurses caring for stroke patients, lactation support programs for new mothers, occupational therapy for pediatric patients, and adult rehabilitation and occupational therapies.
"It has become an annual event that infuses excitement into the Southern Arizona community and directly impacts our patients in supporting our hospital's mission," stated Judy Rich, TMC president and CEO.
The raffle's final drawing held on April 11, brought the number of winners to almost 10,000 over the raffle's four-year run. In addition to its support for the local hospital, the raffle is known for its incredible prize packages and 1 and 20 odds of winning. Prizes included covetable cars, luxury vacations, and high-end consumer goods.
The TMC Mega Raffle is scheduled to launch again in early 2017, when it will celebrate its 5th year.
To learn more about the services Tucson Medical Center provides visit www.tmcaz.com. For additional information on the TMC Mega Raffle visit tmcmegaraffle.org.
About Tucson Medical Center
Tucson Medical Center's mission is to deliver personalized, quality health care to patients and their families in an environment that is supportive, education-focused and compassionate. TMC is licensed for 639 adult, pediatric and behavioral health beds. The hospital serves more than 30,000 inpatients and 122,000 outpatients yearly and has several emphasis areas, including maternal and child health, cardiac care, hospice care, neuroscience, orthopedics, diagnostic services, behavioral health and senior services. TMC also created the region's first emergency department dedicated specifically for kids. For more information visit www.tmcaz.com.
About Tucson Medical Center Mega Raffle
TMC Mega Raffle is the first ever large-scale raffle focused in Southern Arizona. Net proceeds from the raffle benefit Tucson Medical Center and its commitment to providing the highest standard of patient care to Southern Arizonans. Spring 2015 raffle participants received more than 2,400 featured prizes. To learn more about the TMC Mega Raffle visit www.TMCmegaraffle.org.