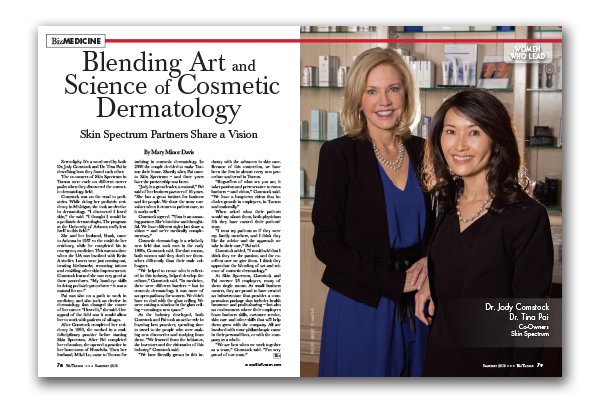 Skin Spectrum Partners Share a Vision
By Mary Minor Davis –
Blending Art and Science of Cosmetic Dermatology
Serendipity. It's a word used by both Dr. Jody Comstock and Dr. Tina Pai in describing how they found each other.
The co-owners of Skin Spectrum in Tucson were each on different career paths when they discovered the cosmetic dermatology field.
Comstock was on the road to pediatrics. While doing her pediatric residency in Michigan, she took an elective in dermatology. "I discovered I loved skin," she said. "I thought I would be a pediatric dermatologist. The program at the University of Arizona really lent itself to this field."
She and her husband, Frank, came to Arizona in 1987 so she could do her residency, while he completed his in emergency medicine. This was at a time when the UA was involved with Retin A studies. Lasers were just coming out, treating birthmarks, removing tattoos and enabling other skin improvements. Comstock learned she was very good at those procedures. "My hand-eye skills in doing pediatric procedures – it was a natural for me."
Pai was also on a path to work in medicine, and also took an elective in dermatology that changed the course of her career. "I loved it," she said. One appeal of the field was it would allow her to work with patients of all ages.
After Comstock completed her residency in 1990, she worked in a multidisciplinary practice before starting Skin Spectrum. After Pai completed her education, she opened a practice in her hometown of Honolulu. Then her husband, Mikel Lo, came to Tucson for training in cosmetic dermatology. In 2000 the couple decided to make Tucson their home. Shortly after, Pai came to Skin Spectrum – and three years later the partnership was born.
"Jody is a great leader, a natural," Pai said of her business partner of 16 years. "She has a great instinct for business and for people. We share the same core values when it comes to patient care, so it works well."
Comstock agreed. "Tina is an amazing partner. She's intuitive and thoughtful. We have different styles but share a vision – and we're medically complementary."
Cosmetic dermatology is a relatively new field that took root in the early 1990s, Comstock said. For that reason, both women said they don't see themselves differently than their male colleagues.
"We helped to create who is reflected in this industry, helped develop the culture," Comstock said. "In medicine, there were different barriers – but in cosmetic dermatology it was more of an open pathway for women. We didn't have to deal with the glass ceiling. We were cutting a window in the glass ceiling – creating a new space."
As the industry developed, both Comstock and Pai took an active role in learning best practices, spending time to travel to the people who were making new discoveries and studying from them. "We learned from the initiators, the inventors and the visionaries of this industry," Comstock said.
"We have literally grown in this industry with the advances in skin care. Because of this connection, we have been the first in almost every new procedure and trend in Tucson.
"Regardless of what sex you are, it takes passion and perseverance to run a business – and vision," Comstock said. "We have a long-term vision that includes growth in employees, in Tucson and nationally."
When asked what their patients would say about them, both physicians felt they have earned their patients' trust.
"I treat my patients as if they were my family members, and I think they like the advice and the approach we take in their care," Pai said.
Comstock added, "I would add that I think they see the passion, and the excellent care we give them. I think they appreciate the blending of art and science of cosmetic dermatology."
At Skin Spectrum, Comstock and Pai oversee 28 employees, many of them single moms. As small business owners, they are proud to have created an infrastructure that provides a compensation package that includes health insurance and profit-sharing – but also an environment where their employees learn business skills, customer service, skin care and other skills that will help them grow with the company. All are involved with some philanthropic cause in their personal lives, or with the company as a whole.
"We are best when we work together as a team," Comstock said. "I'm very proud of our team."