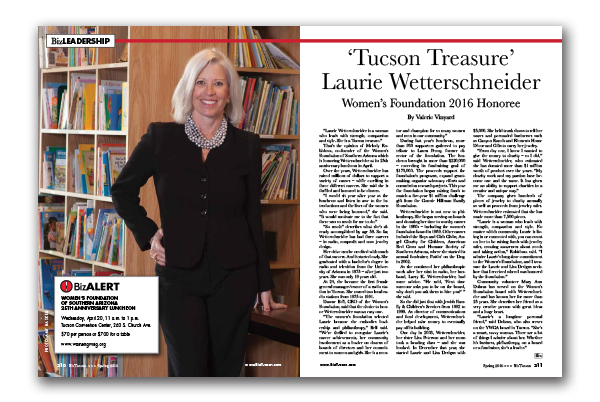 Laurie Wetterschneider – 'Tucson Treasure'
By Valerie Vinyard –
Women's Foundation 2016 Honoree
"Laurie Wetterschneider is a woman who leads with strength, compassion and style. She is a Tucson treasure."
That's the opinion of Melody Robidoux, co-founder of the Women's Foundation of Southern Arizona which is honoring Wetterschneider at its 25th anniversary luncheon in April.
Over the years, Wetterschneider has raised millions of dollars to support a variety of causes – while excelling in three different careers. She said she is thrilled and honored to be chosen.
"I would sit year after year at the luncheon and listen in awe to the introductions and the lives of the women who were being honored," she said. "It would motivate me to the fact that there was so much for me to do."
"So much" describes what she's already accomplished by age 59. So far, Wetterschneider has had three careers – in radio, nonprofit and now jewelry design.
Her drive can be credited with much of that success. And it started early. She graduated with a bachelor's degree in radio and television from the University of Arizona in 1975 – after just two years. She was only 19 years old.
At 24, she became the first female general manager/owner of a radio station in Tucson. She owned two local radio stations from 1975 to 1991.
Dawne Bell, CEO of the Women's Foundation, said that the choice to honor Wetterschneider was an easy one.
"The women's foundation selected Laurie because she embodies leadership and philanthropy," Bell said. "We're thrilled to recognize Laurie's career achievements, her community involvement as a leader on dozens of boards of directors and her commitment to women and girls. She is a mentor and champion for so many women and men in our community."
During last year's luncheon, more than 930 supporters gathered to pay tribute to Laura Penny, former director of the foundation. The luncheon brought in more than $220,000 – exceeding its fundraising goal of $170,000. The proceeds support the foundation's programs, expand grantmaking, organize advocacy efforts and commission research projects. This year the foundation began raising funds to match a five-year $1 million challenge gift from the Connie Hillman Family Foundation.
Wetterschneider is not new to philanthropy. She began serving on boards and donating her time to worthy causes in the 1980s – including the women's foundation board in 1989. Other causes included the Boys and Girls Clubs, Angel Charity for Children, American Red Cross and Humane Society of Southern Arizona, where she started its annual fundraiser, Puttin' on the Dog, in 2002.
As she continued her philanthropic work after her stint in radio, her husband, Larry K. Wetterschneider, had some advice. "He said, 'Next time someone asks you to be on the board, why don't you ask them to hire you?' " she said.
So she did just that with Jewish Family & Children's Services from 1992 to 1999. As director of communications and fund development, Wetterschneider helped raise money to eventually pay off its building.
One day in 2003, Wetterschneider, her sister Lisa Peterson and her mom took a beading class – and she was hooked. In December that year, she started Laurie and Lisa Designs with $5,000. She held trunk shows to sell her wares and persuaded businesses such as Canyon Ranch and Elements Home Décor and Gifts to carry her jewelry.
"From day one, I knew I wanted to give the money to charity – so I did," said Wetterschneider, who estimated she has donated more than $1 million worth of product over the years. "My charity work and my passion have become one and the same. It has given me an ability to support charities in a creative and unique way."
The company gives hundreds of pieces of jewelry to charity annually as well as proceeds from jewelry sales. Wetterschneider estimated that she has made more than 7,500 pieces.
"Laurie is a woman who leads with strength, compassion and style. No matter which community Laurie is living in or connected with, you can count on her to be raising funds with jewelry sales, creating awareness about needs and taking action," Robidoux said. "I admire Laurie's long-time commitment to the Women's Foundation, and I treasure the Laurie and Lisa Designs necklace that I received when I was honored by the foundation."
Community volunteer Mary Ann Dobras has served on the Women's Foundation board with Wetterschneider and has known her for more than 25 years. She describes her friend as a very creative person with great ideas and a huge heart.
"Laurie's a longtime personal friend," said Dobras, who also serves on the YWCA board in Tucson. "She's a smart, savvy woman. There are a lot of things I admire about her. Whether it's business, philanthropy, on a board or a fundraiser, she's a leader."
Women's Foundation of Southern Arizona
The Women's Foundation of Southern Arizona is the only organization in Southern Arizona whose philanthropic activities are dedicated exclusively to programs that serve women and girls.
Melody Robidoux and Harriet Silverman founded the organization in 1991 to foster equity and opportunity for women and girls. The foundation empowers women and girls to improve their lives and communities through five forces for change – leadership development, charitable giving, community building, research and grantmaking.
Over the years, the foundation has funded hundreds of programs, serving thousands of women and girls in Southern Arizona. It advocates for programs and policies that help women improve and achieve their potential. As a result, the foundation has become a leader in educating opinion leaders about the economic realities facing women and girls.
Leadership development is built into all aspects of the foundation's work. For example, the Unidas Girls' Philanthropy Program brings together high school girls each semester from all walks of life and offers them hands-on opportunities in community service, leadership, social justice and grantmaking. During weekly meetings, the students decide what organizations should receive up to $10,000 in grant money. Previous recipients of grants have been the Esperanza Dance Project and a girls' poetry slam group.
The foundation also helped bring The OpEd Project to Tucson in 2013. This year long fellowship trains women to write and place guest opinions in electronic and traditional print media worldwide. In its first year, 18 women had more than 50 articles appear in publications including The Los Angeles Times, The New York Times and Huffington Post.
Literacy Connects is one of the 20-plus organizations that the foundation supports. It reaches more than 50,000 adults and children annually, offering a wide range of learning opportunities – including reading, computer skills, English acquisition and artistic self-expression. Its Women RISE initiative helps immigrant and refugee women learn critical English skills, gain access to services and receive job-related support, mentoring and volunteer opportunities.
For more information on the foundation,
go to www.womengiving.org