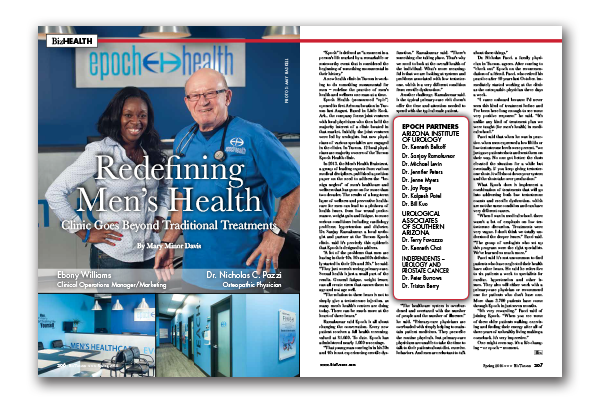 Epoch – Redefining Men's Health
By Mary Minor Davis –
Clinic Goes Beyond Traditional Treatments
"Epoch" is defined as "a moment in a person's life marked by a remarkable or noteworthy event that is considered the beginning of something monumental in their history."
A new health clinic in Tucson is working to do something monumental for men – redefine the practice of men's health and wellness one man at a time.
Epoch Health (pronounced "epic") opened its first Arizona location in Tucson last August. Based in Little Rock, Ark., the company forms joint ventures with local physicians who then hold the majority interest of a clinic located in that market. Initially, the joint ventures were led by urologists, but now physicians of various specialties are engaged in the clinics. In Tucson, 12 local physicians are majority owners of the Tucson Epoch Health clinic.
In 2013, the Men's Health Braintrust, a group of leading experts from various medical disciplines, published a position paper on the need to address the "benign neglect" of men's healthcare and wellness that has gone on for more than two decades. The results of a long-term lapse of wellness and preventive healthcare for men can lead to a plethora of health issues, from low sexual performance, weight gain and fatigue, to more serious conditions including cardiology problems, hypertension and diabetes. Dr. Sanjay Ramakumar, a local urologist and partner at the Tucson Epoch clinic, said it's precisely this epidemic that Epoch is designed to address.
"A lot of the problems that men are having in their 40s, 50s and 60s definitely started in their 20s and 30s," he said. "They just weren't seeing primary-care. Sexual health is just a small part of the results. General fatigue, weight issues, can all create stress that causes them to age and not age well.
"The solution to these issues is not to simply give a testosterone injection, as many men's health's centers are doing today. There can be much more at the heart of these issues."
Ramakumar said Epoch is all about changing the conversation. Every new patient receives a full health screening, valued at $1,600. To date, Epoch has administered nearly 1,000 screenings.
"That young man coming in in his 30s and 40s is not experiencing erectile dysfunction," Ramakumar said. "There's something else taking place. That's why we need to look at the overall health of the individual. What's more meaningful is that we are looking at systems and problems associated with low testosterone, which is a very different condition from erectile dysfunction."
Another challenge, Ramakumar said, is the typical primary-care visit doesn't offer the time and attention needed to spend with the typical male patient.
"The healthcare system is overburdened and overtaxed with the number of people and the number of illnesses," he said. "Primary-care physicians are overloaded with simply helping to maintain patient medicines. They prescribe the routine physicals, but primary-care physicians are unable to take the time to talk to their patients about diet, exercise, behaviors. And men are reluctant to talk about these things."
Dr. Nicholas Pazzi, a family physician in Tucson, agrees. After coming to "check out" Epoch on the recommendation of a friend, Pazzi, who retired his practice after 40 years last October, immediately started working at the clinic as the osteopathic physician three days a week.
"I came onboard because I'd never seen this kind of treatment before and I've been here long enough to see some very positive response," he said. "It's unlike any kind of treatment plan we were taught (for men's health) in medical school."
Pazzi said that when he was in practice, when men expressed a low libido or low testosterone levels were present, "we just gave patients shots and sent them on their way. No one got better; the shots elevated the situation for a while but eventually, if you keep giving testosterone shots, it will shoot down your system and the shots take over production."
What Epoch does is implement a combination of treatments that will go into addressing both low testosterone counts and erectile dysfunction, which are not the same condition and can have very different causes.
"When I was in medical school, there wasn't a lot of emphasis on low testosterone discussion. Treatments were very vague. I don't think we totally understood the deeper issues," Pazzi said. "The group of urologists who set up this program were the right specialists. We've learned so much more."
Pazzi said it's not uncommon to find patients who have neglected their health have other issues. He said he refers five to six patients a week to specialists for cardiac, hypertension and other issues. They also will either work with a
primary-care physician or recommend one for patients who don't have one. More than 3,700 patients have come through Epoch in just seven months.
"It's very rewarding," Pazzi said of joining Epoch. "When you see some of these older patients walking, exercising and finding their energy after all of these years of unhealthy living making a comeback, it's very impressive."
One might even say, it's a life-changing – or epoch – moment.