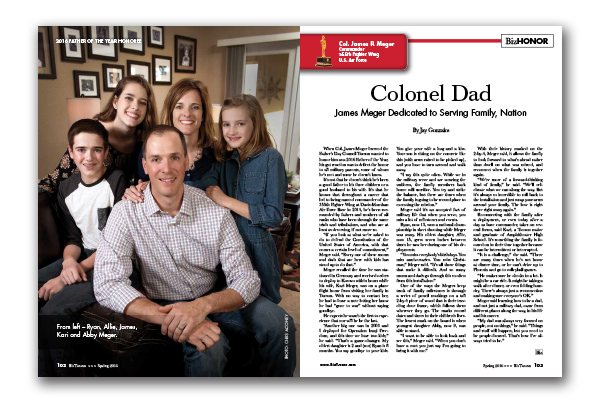 By Jay Gonzales –
2016 FATHER OF THE YEAR HONOREE
Colonel Dad – James Meger Dedicated to Serving Family, Nation
When Col. James Meger learned the Father's Day Council Tucson wanted to honor him as a 2016 Father of the Year, his gut reaction was to deflect the honor to all military parents, some of whom he's met and some he doesn't know.
It's not that he doesn't think he's been a good father to his three children or a good husband to his wife. It's that he knows that throughout a career that led to being named commander of the 355th Fighter Wing at Davis-Monthan Air Force Base in 2014, he's been surrounded by fathers and mothers of all ranks who have been through the same trials and tribulations, and who are at least as deserving, if not more so.
"If you look at what we're asked to do to defend the Constitution of the United States of America, with that comes a certain level of commitment," Meger said. "Every one of these moms and dads that are here with kids has stood up to do that."
Meger recalled the time he was stationed in Germany and received orders to deploy to Kosovo within hours while his wife, Kari Meger, was on a plane flight home from visiting her family in Tucson. With no way to contact her, he had to leave a note letting her know he had "gone to war" without saying goodbye.
He expects he wasn't the first to experience that nor will he be the last.
"Another big one was in 2003 and I deployed for Operation Iraqi Freedom, and this time we have two kids," he said. "That's a game-changer. My oldest daughter is 2 and (son) Ryan is 8 months. You say goodbye to your kids. You give your wife a hug and a kiss. Your son is sitting on the concrete like this (with arms raised to be picked up), and you have to turn around and walk away.
"I say this quite often. While we in the military serve and are wearing the uniform, the family members back home will sacrifice. You try and strike the balance, but there are times when the family is going to be second place to executing the mission."
Meger said it's an accepted fact of military life that when you serve, you miss a lot of milestones and events.
Ryan, now 13, won a national championship in skeet shooting while Meger was away. His oldest daughter, Allie, now 15, grew seven inches between times he saw her during one of his deployments.
"You miss everybody's birthdays. You miss anniversaries. You miss Christmas," Meger said. "It's all those things that make it difficult. And so many moms and dads go through this so often from this installation."
One of the ways the Megers keep track of family milestones is through a series of pencil markings on a tall 2-by-4 piece of wood that is their traveling door frame, which follows them wherever they go. The marks record dates and times in their children's lives. The lowest mark on the board is when youngest daughter Abby, now 9, was able to stand.
"I want to be able to look back and see this," Meger said. "When you don't have a root you just say I'm going to bring it with me."
With their history marked on the 2-by-4, Meger said, it allows the family to look forward to what's ahead rather than dwell on what was missed, and reconnect when the family is together again.
"We're more of a forward-thinking kind of family," he said. "We'll celebrate what we can along the way. But it's always so incredible to roll back to the installation and just wrap your arms around your family. The love is right there right away again."
Reconnecting with the family after a deployment, or even today after a day as base commander, takes on several forms, said Kari, a Tucson native and graduate of Amphitheater High School. It's something the family is focused on in their time together because it can be intermittent or interrupted.
"It is a challenge," she said. "There are many times when he's not home at dinner time, or he can't drive up to Phoenix and go to volleyball games.
"He makes sure he checks in a lot. It might be a car ride. It might be taking a walk after dinner, or even folding laundry. There's always just a reconnection and making sure everyone's OK."
Meger said learning how to be a dad, and not just a military dad, came from different places along the way, in his life and his career.
"My dad was always very focused on people, not on things," he said. "Things and stuff will happen, but you need to be people-focused. That's how I've always tried to be."