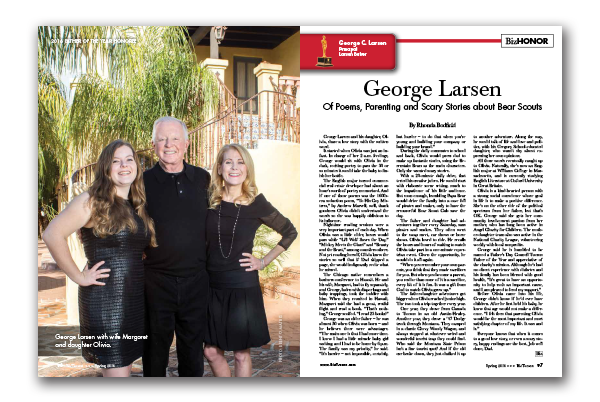 By Rhonda Bodfield –
2016 FATHER OF THE YEAR HONOREE
George Larsen – Of Poems, Parenting and Scary Stories about Bear Scouts
George Larsen and his daughter, Olivia, share a love story with the written word.
It started when Olivia was just an infant. In charge of her 2 a.m. feedings, George would sit with Olivia in the dark, reciting poetry to pass the 30 or so minutes it would take the baby to finish her bottle.
The English major turned commercial real estate developer had about an hour's worth of poetry memorized. And if one of those poems was the 1600s-era seduction poem, "To His Coy Mistress," by Andrew Marvell, well, thank goodness Olivia didn't understand the words so she was happily oblivious to its influence.
Nighttime reading sessions were a very important part of each day. When Olivia was a little older, hours would pass while "Li'l Wolf Saves the Day," "Mickey Meets the Giant" and "Beauty and the Beast," among countless others. Not yet reading herself, Olivia knew the stories so well that if Dad skipped a page, she would indignantly recite what he missed.
The Chicago native remembers a business conference to Hawaii. He and his wife, Margaret, had to fly separately, and George, laden with diaper bags and baby trappings, took the toddler with him. When they reunited in Hawaii, Margaret said she had a great, restful flight and read a book. "That's nothing," George scoffed. "I read 23 books!"
George was an older father – he was almost 50 when Olivia was born – and he believes there were advantages. "The main one is that I had more time. I knew I had a little miracle baby girl waiting, and I had to be home by 6 p.m. The family was my priority," he said. "It's harder – not impossible, certainly, but harder – to do that when you're young and building your company or building your brand."
During the daily commutes to school and back, Olivia would press dad to make up fantastic stories, using the Berenstain Bears as the main characters. Only she wanted scary stories.
With a 20-minute daily drive, that tested his creative juices. He would start with elaborate scene setting, much to the impatience of his little audience. But soon enough, bumbling Papa Bear would drive the family into a cave full of pirates and snakes, only to have the resourceful Bear Scout Cub save the day.
The father and daughter had adventures together every Saturday, sans pirates and snakes. They often went to the swap meet, car shows or horse shows. Olivia loved to ride. He recalls the hours and hours of waiting to watch Olivia take part in a one-minute equestrian event. Given the opportunity, he would do it all again.
"When you remember your own parents, you think that they made sacrifices for you. But when you become a parent, you realize than none of it is a sacrifice, every bit of it is fun. It was a gift from God to watch Olivia grow up."
The father-daughter adventures got bigger when Olivia reached junior high. The two took a trip together every year.
One year, they drove from Canada to Tucson in an old Austin-Healey. Another year, they drove a '47 Dodge truck through Montana. They camped in a classic Chevy Woody Wagon, and always stopped at whatever weird and wonderful tourist trap they could find. Who said the Montana State Prison isn't a fine tourist spot? And if the old car broke down, they just chalked it up to another adventure. Along the way, he would talk of life and love and politics, with his Gregory School-educated daughter, who wasn't shy about expressing her own opinions.
All those words eventually caught up to Olivia. Naturally, she's now an English major at Williams College in Massachusetts, and is currently studying English Literature at Oxford University in Great Britain.
Olivia is a kind-hearted person with a strong social conscience whose goal in life is to make a positive difference. She's on the other side of the political spectrum from her father, but that's OK. George said she gets her community involvement passion from her mother, who has long been active in Angel Charity for Children. The mother-daughter team also was active in the National Charity League, volunteering weekly with local nonprofits.
George said he is humbled to be named a Father's Day Council Tucson Father of the Year and appreciative of the charity's mission. Although he's had no direct experience with diabetes and his family has been blessed with good health, "It's great to have an opportunity to help such an important cause, and I am pleased to lend my support."
Before Olivia came into his life, George didn't know if he'd ever have children. After he first held his baby, he knew that age would not make a difference. "I felt then that parenting Olivia would be the most important and most satisfying chapter of my life. It was and is."
Everyone knows that when it comes to a good love story, or even a scary story, happy endings are the best. Job well done, Dad.