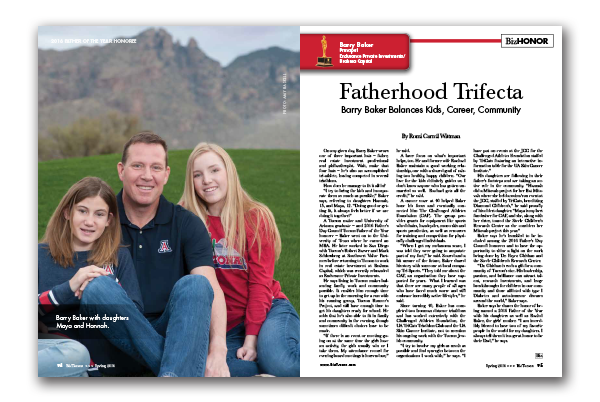 By Romi Carrell Wittman –
2016 FATHER OF THE YEAR HONOREE
Fatherhood Trifecta – Barry Baker Balances Kids, Career, Community
On any given day, Barry Baker wears one of three important hats – father, real estate investment professional and philanthropist. Wait, make that four hats – he's also an accomplished tri-athlete, having competed in several triathlons.
How does he manage to fit it all in?
"I try to bring the kids and incorporate them as much as possible," Baker says, referring to daughters Hannah, 15, and Maya, 12. "Doing good or getting fit, it always feels better if we are doing it together!"
A Tucson native and University of Arizona graduate – and 2016 Father's Day Council Tucson Father of the Year honoree – Baker went on to the University of Texas where he earned an MBA. He later worked in San Diego with Tucson's Robert Sarver and Mark Schlossberg at Southwest Value Partners before returning to Tucson to work in real estate investment at Brahma Capital, which was recently rebranded as Endurance Private Investments.
He says living in Tucson makes balancing family, work and community possible. It enables him enough time to get up in the morning for a run with his running group, Tucson Runner's Project, and still have enough time to get his daughters ready for school. He adds that he's also able to fit in family and community in the evening, though sometimes difficult choices have to be made.
"If there is an event or meeting going on at the same time the girls have an activity, the girls usually win or I take them. My attendance record for evening board meetings is horrendous," he said.
A laser focus on what's important helps, too. He and former wife Rachael Baker maintain a good working relationship, one with a shared goal of raising two healthy, happy children. "Our love for the kids definitely guides us. I don't know anyone who has gotten unmarried so well.  Rachael gets all the credit," he said.
A cancer scare at 40 helped Baker hone his focus and eventually connected him The Challenged Athletes Foundation (CAF). The group provides grants for equipment like sports wheelchairs, handcycles, mono skis and sports prosthetics, as well as resources for training and competition for physically challenged individuals.
"When I got my melanoma scare, I was told they were going to amputate part of my foot," he said. Scared and a bit unsure of the future, Baker shared his story with someone at local company Tri-Sports. "They told me about the CAF, an organization they have supported for years.  What I learned was that there are many people of all ages who have faced much worse and still embrace incredibly active lifestyles," he said.
Since turning 40, Baker has completed two Ironman distance triathlons and has worked extensively with the Challenged Athletes Foundation, the UA TriCats Triathlon Club and the UA Skin Cancer Institute, not to mention his ongoing work with the Tucson Jewish community.
"I try to involve my girls as much as possible and find synergies between the organizations I work with," he says. "I have put on events at the JCC for the Challenged Athletes Foundation staffed by TriCats featuring an interactive information table for the UA Skin Cancer Institute."
His daughters are following in their father's footsteps and are taking an active role in the community. "Hannah did a Mitzvah project for her Bat Mitzvah where she held a swim/run event at the JCC, staffed by TriCats, benefitting Diamond Children's," he said proudly of his oldest daughter. "Maya is my best fundraiser for CAF, and she, along with her sister, toured the Steele Children's Research Center as she considers her Mitzvah project this year."
Baker says he's humbled to be included among the 2016 Father's Day Council honorees and to have the opportunity to shine a light on the work being done by Dr. Fayez Ghishan and the Steele Children's Research Center.
"Dr. Ghishan is such a gift for a community of Tucson's size. His leadership, passion, and brilliance can attract talent, research investments, and huge breakthroughs for children in our community and those afflicted with type I Diabetes and auto-immune diseases around the world," Baker says.
Baker says he shares the honor of being named a 2016 Father of the Year with his daughters as well as Rachel Baker, the girls' mother. "I am incredibly blessed to have two of my favorite people in the world for my daughters. I always tell them it is a great honor to be their Dad," he says.