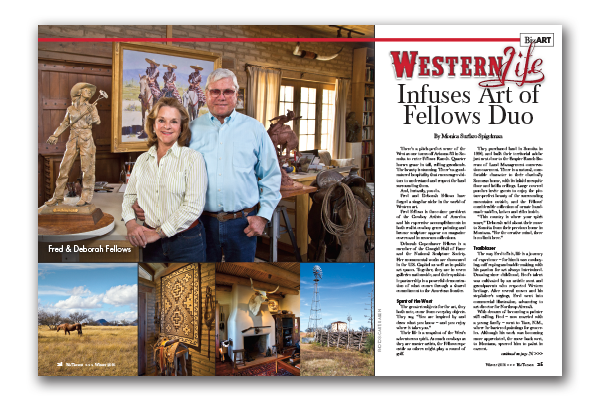 By Monica Surfaro Spigelman –
Western Life Infuses Art of Fellows Duo
There's a pitch-perfect sense of the West as one turns off Arizona 83 in Sonoita to enter Fellows Ranch. Quarter horses graze in tall, rolling grasslands. The beauty is stunning. There's a good-natured hospitality that encourages visitors to understand and respect the land surrounding them.
And, instantly, you do.
Fred and Deborah Fellows have forged a singular niche in the world of Western art.
Fred Fellows is three-time president of the Cowboy Artists of America and his expressive accomplishments in both realist cowboy genre painting and bronze sculpture appear on magazine covers and in museum collections.
Deborah Copenhaver Fellows is a member of the Cowgirl Hall of Fame and the National Sculpture Society. Her monumental works are showcased in the U.S. Capitol as well as in public art spaces. Together, they are in seven galleries nationwide, and their symbiotic partnership is a powerful demonstration of what comes through a shared commitment to the American frontier.
Spirit of the West
The greatest subjects for the art, they both note, come from everyday objects. They say, "You are inspired by and draw what you know – and you enjoy where it takes you."
Their life is a snapshot of the West's adventurous spirit. As much cowboys as they are master artists, the Fellows rope cattle as others might play a round of golf.
They purchased land in Sonoita in 1996, and built their territorial adobe just next door to the Empire Ranch Bureau of Land Management conservation easement. There is a natural, comfortable character to their classically Sonoran home, with its inlaid mesquite floor and latilla ceilings. Large covered porches invite guests to enjoy the picture-perfect beauty of the surrounding mountains outside, and the Fellows' considerable collection of ornate handmade saddles, knives and rifles inside.
"This country is where your spirit soars," Deborah said about their move to Sonoita from their previous home in Montana. "For the creative mind, there is no limit here."
Trailblazer
The way Fred tells it, life is a journey of experience – for him it was cowboying, calf roping and saddle making, with his passion for art always intertwined. Drawing since childhood, Fred's talent was cultivated by an artistic aunt and grandparents who respected Western heritage. After several moves and his stepfather's urgings, Fred went into commercial illustration, advancing to art director for Northrop Aircraft.
With dreams of becoming a painter still calling, Fred – now married with a young family – went to Taos, N.M., where he bartered paintings for groceries. Although his work was becoming more appreciated, the move back west, to Montana, spurred him to paint in earnest.
His genuine love and knowledge of Western ways, coupled with considerable talent, took him into a circle of cowboy artists who rode roundups and shared fellowship about art and family. "We had our first show in 1967," Fred remembered. The overwhelming response to their art built a group of talented cowboys into the prominent Cowboy Artists of America organization.
Now the CAA's longest emeritus member, Fred is one of only a handful of artists worldwide to win medals in drawing, sculpture and painting, as well as the prestigious CAA Award for best overall exhibition.
Cowgirl artist
In the late 1970s, a fellow champion roper on the rodeo circuit, Jeff Copenhaver, asked Fred to take a look at the work of his sister, Deborah, a young sculptor who also was an accomplished horsewoman. Fred did take a look…and wrote a significant recommendation for the future of her career.
The two did not met again until 12 years later: Fred was now alone, after his wife died of cancer. Deborah, divorced and working in Spokane, was molding clay from her scaffolding with her infant daughter Fabienne cradled nearby.
Once Fred and Deborah reconnected for professional reasons, personal sparks ignited and the couple married in 1990.
"Of all my life's turning points, the meeting with Fred was the most remarkable," she said. "Fred also was the one to advise me to pursue an area wide open in Western art, about the pioneer woman."
Deborah's 8-foot-tall bronze of the late Sen. Barry Goldwater, in bolo tie and boots, was unveiled in Statuary Hall in Washington, D.C., early last year. Her Tribute to Ranching bronze can be viewed at the Santa Cruz Rodeo Grounds in Sonoita.
Western ways
It's the way of the cowboy to stay overly busy and the Fellows never tire of working their ranch – from checking fencing to moving hay. They have 14 head of racing and rodeo quarter horses, with Fred up at 5 a.m. to check on the horses and place a single red rose and a cup of coffee bedside for Deborah.
Full days include five hours of work in their airy studio. On one recent day in the studio, Fred underscored the importance of ordinary Western life that continues to inspire the Fellows.
"There's the quote 'genius is spelled w-o-r-k' – and there's never a lack of determination out here in the West," he said as Deborah nodded, illustrating a relationship that sees the extraordinary in their ordinary, everyday adventure together.
At the Fellows Ranch and Studio, this certainly seems to be an adventure well worth taking.
In Arizona, Fred and Deborah Fellows are represented by Medicine Man Gallery in Tucson. Visit FellowsStudios.com.