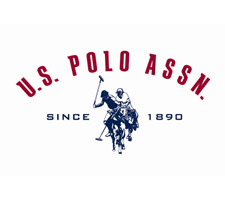 U.S. POLO ASSN. TO OPEN AT TUCSON PREMIUM OUTLETS
Simon, a global leader in retail real estate, is pleased to announce that U.S. Polo Assn. will open at Tucson Premium Outlets mid-November 2015. The 2,800 square-foot space will be situated next to Tommy Hilfiger.
U.S. Polo Assn. is the officially licensed brand of the United States Polo Association, governing body for the sport since 1890. The U.S. Polo Assn. brand captures the spirit of the sport, inspired by its Classic American Style and heritage. The first store opened in the United States in 2007, offering a large assortment of Men's, Women's and Boy's products.
The staff is dedicated to providing the highest level of customer service and to making the customer shopping experience a memorable one.  Each employee proudly wears the brand's apparel and is a strong representation of the brand.
U.S. Polo Assn. stores offer an extensive selection of classically styled, high quality, casual apparel.  The merchandise appeals to customers of all ages and genders.  USPA products range from sportswear essentials (polo shirts, tees, denim and khakis) to fashion apparel (sport shirts, dress shirts, sweaters, dresses, jackets and swimwear).  The retailer also carries fashion accessories for men and women such as hats, wallets, watches and sunglasses.  USPA products embody the lifestyle of the sport of polo, while staying true to its roots and authentic to the sport.
"We are thrilled to welcome U.S. Polo Assn. to Tucson Premium Outlets," said Elyse Munger, Assistant Director of Marketing and Business Development.  "This is an exciting time for our center to welcome so many new brands to our diverse retail offerings.  Stay tuned for more announcements in the near future!"
About Tucson Premium Outlets
Tucson Premium Outlets is destined to become Tucson's premiere outlet shopping destination serving Southern Arizona and featuring designer and name brands at savings of 25 to 65 percent. The center is located at the intersection of I-10 and Twin Peaks Road. Open since October 1, Tucson Premium Outlets features a diverse mix of more than 60 retailers located in 360,000 square feet of leasable space.
About Simon
Simon is a global leader in retail real estate ownership, management and development and a S&P100 company (Simon Property Group, NYSE:SPG). Our industry-leading retail properties and investments across North America, Europe and Asia provide shopping experiences for millions of consumers every day and generate billions in annual sales. For more information, visit simon.com.