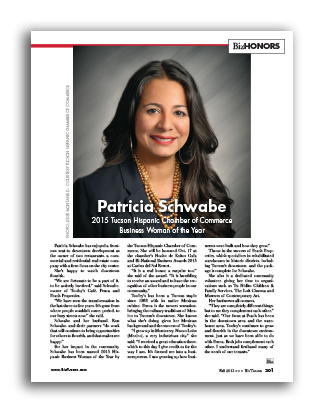 Patricia Schwabe
2015 Tucson Hispanic Chamber of Commerce Business Woman of the Year
Patricia Schwabe has enjoyed a front-row seat to downtown development as the owner of two restaurants, a commercial and residential real estate company with a firm focus on the city center.
She's happy to watch downtown flourish.
"We are fortunate to be a part of it, to be actively involved," said Schwabe, owner of Tooley's Café, Penca and Peach Properties.
"We have seen the transformation in the last three to five years. It's gone from where people wouldn't come, period, to our busy streets now," she said.
Schwabe and her husband, Ron Schwabe, and their partners "do work that will continue to bring opportunities for others to flourish, and that makes me happy."
For her impact in the community, Schwabe has been named 2015 Hispanic Business Woman of the Year by the Tucson Hispanic Chamber of Commerce. She will be honored Oct. 17 at the chamber's Noche de Exitos Gala and Bi-National Business Awards 2015 at Casino del Sol Resort.
"It is a real honor, a surprise too," she said of the award. "It is humbling to receive an award and to have the recognition of other business people in our community."
Tooley's has been a Tucson staple since 1988 with its native Mexican cuisine. Penca is the newest sensation, bringing the culinary traditions of Mexico to Tucson's downtown. She knows what she's doing, given her Mexican background and the success of Tooley's.
"I grew up in Monterrey, Nuevo León (Mexico), a very industrious city," she said. "I received a great education there, which to this day I give credit to for the way I am. It's formed me into a business person. I saw growing up how businesses were built and how they grew."
Throw in the success of Peach Properties, which specializes in rehabilitated warehouses in historic districts, including Tucson's downtown, and the package is complete for Schwabe.
She also is a dedicated community volunteer, giving her time to organizations such as Tu Nidito Children & Family Services, The Loft Cinema and Museum of Contemporary Art.
Her businesses all connect.
"They are completely different things, but to me they complement each other," she said. "Our focus at Peach has been in the downtown area and the warehouse area. Tooley's continues to grow and flourish in the downtown environment, just as we have been able to do with Penca. Both jobs complement each other. I understand firsthand many of the needs of our tenants."