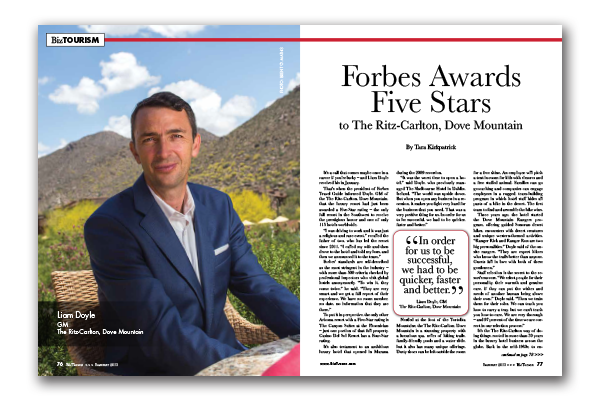 The Ritz-Carlton Dove Mountain
By Tara Kirkpatrick –
Forbes Awards Five Stars
to The Ritz-Carlton Dove Mountain
It's a call that comes maybe once in a career if you're lucky – and Liam Doyle received his in January.
That's when the president of Forbes Travel Guide informed Doyle, GM of the The Ritz-Carlton, Dove Mountain, that the luxury resort had just been awarded a Five-Star rating – the only full resort in the Southwest to receive the prestigious honor and one of only 115 hotels worldwide.
"I was driving to work and it was just a religious and rare event," recalled the father of two, who has led the resort since 2011. "I called my wife and then drove to the hotel and told my boss, and then we announced it to the team."
Forbes' standards are self-described as the most stringent in the industry – with more than 500 criteria checked by professional inspectors who visit global hotels anonymously. "To win it, they come twice," he said. "They are very smart and we get a full report of their experience. We have no room number, no date, no information that they are there."
To put it in perspective, the only other Arizona resort with a Five-Star rating is The Canyon Suites at the Phoenician – just one portion of that full property. Casino Del Sol Resort has a Four-Star rating.
It's also testament to an ambitious luxury hotel that opened in Marana during the 2009 recession.
"It was the worst time to open a hotel," said Doyle, who previously managed The Shelbourne Hotel in Dublin, Ireland. "The world was upside down. But when you open any business in a recession, it makes you fight very hard for the business that you need. That was a very positive thing for us. In order for us to be successful, we had to be quicker, faster and better."
Nestled at the foot of the Tortolita Mountains, the The Ritz-Carlton, Dove Mountain is a stunning property with a luxurious spa, miles of hiking trails, family-friendly pools and a water slide, but it also has many unique offerings. Dusty shoes can be left outside the room for a free shine. An employee will pitch a tent in-room for kids with s'mores and a free stuffed animal. Families can go geocaching and companies can engage employees in a rugged, team-building program in which hotel staff hides all parts of a bike in the desert. The first team to find and assemble the bike wins.
Three years ago, the hotel started the Dove Mountain Rangers program, offering guided Sonoran desert hikes, encounters with desert creatures and unique western-themed activities. "Ranger Rick and Ranger Ron are two big personalities," Doyle said of the on-site rangers. "They are expert hikers who know the trails better than anyone. Guests fall in love with both of these gentlemen."
Staff selection is the secret to the resort's success. "We select people for their personality, their warmth and genuine care, if they can put the wishes and needs of another human being above their own," Doyle said. "Then we train them for their roles. We can teach you how to carry a tray, but we can't teach you how to care. We are very thorough – and 97 percent of the time we are correct in our selection process."
It's the The Ritz-Carlton way of doing things, rooted in more than 30 years in the luxury hotel business across the globe. Back in the mid-1980s, to ensure quality people were selected as the hotel chain grew, the management profiled the personalities of the hotel's best employees to create a model of excellence. "We have followed that to this day and it has served us well," said Doyle. The Ritz-Carlton Leadership Center, located in Washington, D.C., even teaches hospitality courses and shares its philosophies.
"Anyone can enroll," he said. "We tell everyone how we do it. We are an open book. But we know that 99 percent of people do not have the desire and follow-through to make that work."
The Ritz-Carlton, Dove Mountain employee orientation is about 21 days – the time it takes to cement a new habit, said Doyle, who leads the training phase. "If you look at significant emotional events in your life – births, deaths, marriages, divorce – we believe that the day you start a new job is a significant, emotional event. So, orientation for us is absolutely critical.
"We walk everyone through on how to unlock your heart and bring your personality to life," he said.
"It's an expectation of mine that you move heaven and earth for our guests."
Doyle said he encourages competition among all his employee teams to earn the most "mentions" online or in written comments and letters.
Recently, a guest called the hotel's engineering office because he had no hot water. When he returned to his room after dinner, the hot water was fixed and he found a handwritten apology note from the repairman. Attached to the note was a chocolate wrench.
"The engineering team had researched and bought all these beautiful chocolate wrenches," said Doyle, who personally congratulated the employee at one of the frequent team meetings. "The guest said no one had ever done anything so simple or impactful. He said he laughed through every bite."
"We want to challenge our team to look at different ways to take care of the wishes and needs of our guests. It's part of our culture. It's about knowing that I have the opportunity to do what it takes to make sure the guest is a guest for life."