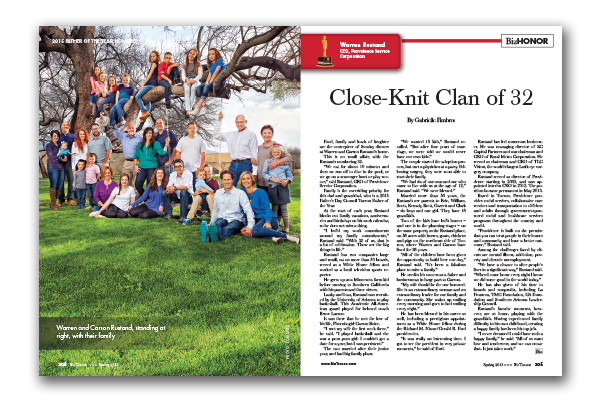 WARREN RUSTAND – Close-Knit Clan of 32
By Gabrielle Fimbres –
Food, family and loads of laughter are the centerpiece of Sunday dinners at Warren and Carson Rustand's home.
This is no small affair, with the Rustands numbering 32.
"We eat for about 10 minutes and then we run off to dive in the pool, or we go on a scavenger hunt or play soccer," said Rustand, CEO of Providence Service Corporation.
Family is the overriding priority for this dad and granddad, who is a 2015 Father's Day Council Tucson Father of the Year.
At the start of each year, Rustand blocks out family vacations, anniversaries and birthdays on his work calendar, so he does not miss a thing.
"I build my work commitments around my family commitments," Rustand said. "With 32 of us, that is a lot of celebration. Those are the big things in life."
Rustand has run companies large and small, sat on more than 50 boards, served as a White House fellow and worked as a local television sports reporter.
He grew up as a Minnesota farm kid before moving to Southern California with his parents and three sisters.
Lanky and lean, Rustand was recruited by the University of Arizona to play basketball. This Academic All-American guard played for beloved coach Bruce Larson.
It was there that he met the love of his life, Phoenix girl Carson Boice.
"I met my wife the first week there," he said. "I played basketball and she was a pom pom girl. I couldn't get a date for a year, but I was persistent."
The two married after their junior year, and had big family plans.
"We wanted 15 kids," Rustand recalled. "But after four years of marriage, we were told we would never have our own kids."
The couple started the adoption process, but met a physician at a party. Following surgery, they were soon able to start their family.
"We had six of our own and one who came to live with us at the age of 12," Rustand said. "We were blessed."
Married more than 50 years, the Rustands are parents to Eric, William, Scott, Kenady, Brett, Garrett and Clark – six boys and one girl. They have 18 grandkids.
Two of the kids have built homes – and one is in the planning stages – on the same property as the Rustand place, on 58 acres with horses, goats, chickens and pigs on the northeast side of Tucson, where Warren and Carson have lived for 38 years.
"All of the children have been given the opportunity to build here one day," Rustand said. "It's been a fabulous place to raise a family."
He credits his success as a father and businessman in large part to Carson.
"My wife should be the one honored. She is an extraordinary woman and an extraordinary leader for our family and the community. She wakes up smiling every morning and goes to bed smiling every night."
He has been blessed in his career as well, including a prestigious appointment as a White House fellow during the Richard M. Nixon/Gerald R. Ford presidencies.
"It was really an interesting time. I got to see the president in very private moments," he said of Ford.
Rustand has led numerous businesses. He was managing director of SC Capital Partners and was chairman and CEO of Rural Metro Corporation. He served as chairman and CEO of TLC Vision, the world's largest Lasik eye surgery company.
Rustand served as director of Providence starting in 2005, and was appointed interim CEO in 2012. The position became permanent in May 2013.
Based in Tucson, Providence provides social services, collaborative care services and transportation to children and adults through government-sponsored social and healthcare services programs throughout the country and world.
"Providence is built on the premise that you can treat people in their homes and community and have a better outcome," Rustand said.
Among the challenges faced by clients are mental illness, addiction, poverty and chronic unemployment.
"We have a chance to alter people's lives in a significant way," Rustand said. "When I come home every night I know we did some good in the world today."
He has also given of his time to boards and nonprofits, including La Frontera, TMC Foundation, UA Foundation and Southern Arizona Leadership Council.
Rustand's favorite moments, however, are at home, playing with the grandkids. Having experienced family difficulty in his own childhood, creating a happy family has been his top job.
"I never dreamed I could have such a happy family," he said. "All of us want love and tenderness, and we can create that. It just takes work."