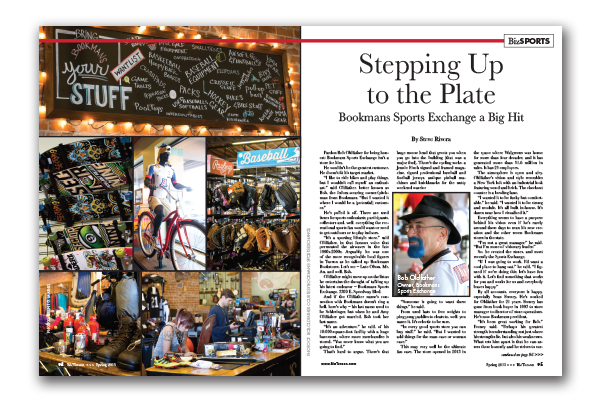 Stepping Up to the Plate – Bookmans Sports Exchange a Big Hit
By Steve Rivera –
Pardon Bob Oldfather for being honest: Bookmans Sports Exchange isn't a store for him.
He wouldn't be the greatest customer. He doesn't fit his target market.
"I like to ride bikes and play things, but I wouldn't call myself an enthusiast," said Oldfather, better known as Bob, the fedora-wearing owner/pitchman from Bookmans. "But I wanted it where I would be a (potential) customer."
He's pulled it off. There are used items for sports enthusiasts, participants, collectors and, well, everything the recreational sports fan would want or need to get outdoors or to play indoors.
"It's a sporting lifestyle store," said Oldfather, in that famous voice that permeated the airwaves in the late 1990s-2000s. Arguably, he was one of the more recognizable local figures in Tucson as he talked up Bookmans Bookstores. Let's see – Lute Olson, Mr. An, and well, Bob.
Oldfather might move up on the list as he entertains the thought of talking up his latest endeavor – Bookmans Sports Exchange, 3300 E. Speedway Blvd.
And if the Oldfather name's connection with Bookmans doesn't ring a bell, here's why – his last name used to be Schlesinger, but when he and Amy Oldfather got married, Bob took her last name.
"It's an adventure," he said, of his 10,000-square-foot facility with a huge basement, where more merchandise is stored. "You never know what you are going to find."
That's hard to argue. There's that huge moose head that greets you when you go into the building (that was a major find). There's the cycling socks, a Jennie Finch signed and framed magazine, signed professional baseball and football jerseys, antique pinball machines and knickknacks for the nutty weekend warrior "Someone is going to want those things," he said.
From used hats to free weights to ping pong paddles to cleats to, well, you name it. It's eclectic to be sure.
"In every good sports store you can buy stuff," he said. "But I wanted to add things for the man cave or woman cave."
This may very well be the ultimate fan cave. The store opened in 2013 in the space where Walgreens was home for more than four decades, and it has generated more than $1.6 million in sales. It has 24 employees.
The atmosphere is open and airy. Oldfather's vision and style resembles a New York loft with an industrial look featuring wood and brick. The checkout counter is a bowling lane.
"I wanted it to be funky but comfortable," he said. "I wanted it to be strong and module. It's all built in-house. It's damn near how I visualized it."
Everything seems to have a purpose behind his vision even if he's rarely around these days to man his new creation and the other seven Bookmans stores in the state.
"I'm not a great manager," he said. "But I'm more of visionary leader."
So, he created the stores, and most recently the Sports Exchange.
"If I was going to work, I'd want a cool place to hang out," he said. "I figured if we're doing this, let's have fun with it. Let's find something that works for you and works for us and everybody leaves happy."
By all accounts, everyone is happy, especially Sean Feeney. He's worked for Oldfather for 21 years. Feeney has gone from book buyer in 1993 to store manager to director of store operations. He's now Bookmans president.
"It's been great working for Bob," Feeney said. "Perhaps his greatest strength is understanding not just where his strengths lie, but also his weaknesses. What sets him apart is that he can assess these honestly and he strives to surround himself with key employees that cover his weaknesses as well as complementing his strengths. Once he finds the right complementary players, he manages with a very light touch."
He's usually available by teleconference or by phone. He'll make the occasional trip down from his home near Portland, Ore., but "it just depends if they need me."
His used bookstores are his working business model, and they run very much the same way. Bookmans buys, sells and uses trade credit or cash for your used item. The credit can be used at any Bookmans.
"All our buying counters are central and it's about dialogue … our customer is our vendor," he said. "It's the core competency of our business – the buying counter. And that core is something I think we do better than anybody else. It's that dialogue at the counter."
It's the way it's happened for more than 37 years when he watched his dad run his first store on Broadway and Tucson boulevards. His father sold him the store for $1 and moved to Sierra Vista.
"I never really wanted to be in retail," he said. "But then I was open to design one how I wanted to have it done rather than have it how others wanted it. So, off I went. Three stores in Tucson, two in Phoenix and one in Flagstaff later it's all been good.
"We definitely try to make a deal that's good for you."
It's allowed him to relax and enjoy his life more. He's 63 and living like he had planned when he was 25, hoping to "goof off" for the final 25 years of his life.
"That was my plan, and well, now I am goofing off," he said. "These days I'm choosing my own adventure."
What he has realized is he's quite the pitchman, and that surprised him. You might see him once again back on TV selling sports equipment.
"Even if you swing a bat like Bob, we want you," he said with a laugh. "We have the right bat for you."
He said he's had a great time in front of the camera and with his business ventures. "I've had a kickass time, and it's worked out perfectly. I've been able to have fun for a long time."