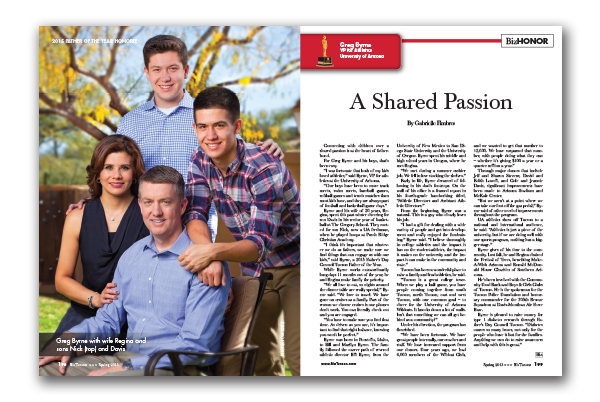 GREG BYRNE – A Shared Passion
By Gabrielle Fimbres –
Connecting with children over a shared passion is at the heart of fatherhood.
For Greg Byrne and his boys, that's been easy.
"I was fortunate that both of my kids loved athletics," said Byrne, VP for athletics at the University of Arizona.
"Our boys have been to more track meets, swim meets, baseball games, softball games and tennis matches than most kids have, and they are always part of football and basketball game days."
Byrne and his wife of 20 years, Regina, spent this past winter cheering for son Davis in his senior year of basketball at The Gregory School. They rooted for son Nick, now a UA freshman, when he played hoops at Pusch Ridge Christian Academy.
"I think it's important that whatever we do as fathers, we make sure we find things that can engage us with our kids," said Byrne, a 2015 Father's Day Council Tucson Father of the Year.
While Byrne works extraordinarily long days 11 months out of the year, he and Regina make family the priority.
"We all love to eat, so nights around the dinner table are really special," Byrne said. "We love to travel. We have gone on cruises as a family. Part of the reason we choose cruises is our phones don't work. You can literally check out and you are engaged.
"You have to make sure you find that time. As driven as you are, it's important to find that right balance, knowing you won't be perfect."
Byrne was born in Pocatello, Idaho, to Bill and Marilyn Byrne. The family followed the career path of revered athletic director Bill Byrne, from the University of New Mexico to San Diego State University and the University of Oregon. Byrne spent his middle and high school years in Oregon, where he met Regina.
"We met during a summer cashier job. We fell in love stocking the shelves."
Early in life, Byrne dreamed of following in his dad's footsteps. On the wall of his office is a framed report in his fourth-grade handwriting titled, "Athletic Directors and Assistant Athletic Directors."
From the beginning, Byrne was a natural. This is a guy who clearly loves his job.
"I had a gift for dealing with a wide variety of people and got into development and really enjoyed the fundraising," Byrne said. "I believe thoroughly in college athletics and the impact it has on the student-athletes, the impact it makes on the university and the impact it can make in the community and state."
Tucson has been a wonderful place to raise a family and lead athletics, he said.
"Tucson is a great college town. When we play a ball game, you have people coming together from south Tucson, north Tucson, east and west Tucson, with one common goal – to cheer for the University of Arizona Wildcats. It knocks down a lot of walls. Isn't that something we can all get behind as a community?"
Under his direction, the program has flourished.
"We have been fortunate. We have great people internally, our coaches and staff. We have increased support from our donors. Four years ago, we had 6,000 members of the Wildcat Club, and we wanted to get that number to 12,000. We have surpassed that number, with people doing what they can – whether it's giving $100 a year or a quarter million a year."
Through major donors that include Jeff and Sharon Stevens, David and Edith Lowell, and Cole and Jeannie Davis, significant improvements have been made to Arizona Stadium and McKale Center.
"But we aren't at a point where we can take our foot off the gas pedal," Byrne said of other needed improvements throughout the program.
UA athletics show off Tucson to a national and international audience, he said. "Athletics is just a piece of the university, but if we are doing well with our sports program, nothing has a bigger stage."
Byrne gives of his time to the community. Last fall, he and Regina chaired the Festival of Trees, benefiting Make-A-Wish Arizona and Ronald McDonald House Charities of Southern Arizona.
He's been involved with the Community Food Bank and Boys & Girls Clubs of Tucson. He is the spokesman for the Tucson Police Foundation and honorary commander for the 305th Rescue Squadron at Davis-Monthan Air Force Base.
Byrne is pleased to raise money for type 1 diabetes research through Father's Day Council Tucson. "Diabetes causes so many issues, not only for the people who have it but for the families. Anything we can do to raise awareness and help with this is great."