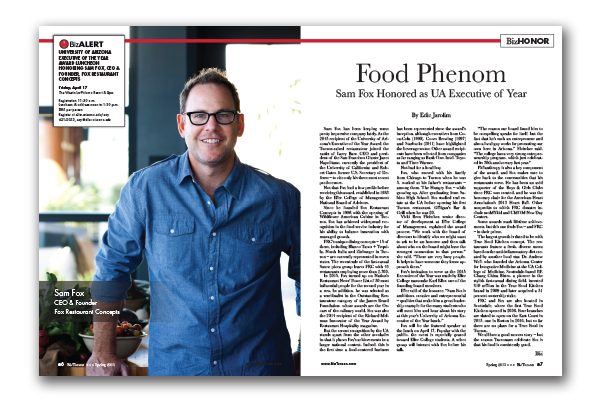 Food Phenom – Sam Fox Honored as UA Executive of Year
By Edie Jarolim –
Sam Fox has been keeping some pretty impressive company lately. As the 2015 recipient of the University of Arizona's Executive of the Year Award, the Tucson-raised restaurateur joined the ranks of Larry Baer, CEO and president of the San Francisco Giants; Janet Napolitano, currently the president of the University of California; and Robert Gates, former U.S. Secretary of Defense – to cite only his three most recent predecessors.
Not that Fox had a low profile before receiving this award, established in 1983 by the Eller College of Management National Board of Advisors.
Since he founded Fox Restaurant Concepts in 1998 with the opening of Wildflower American Cuisine in Tucson, Fox has achieved widespread recognition in the food service industry for his ability to balance innovation with managed growth.
FRC's unique dining concepts – 15 of them, including Blanco Tacos + Tequila, North Italia and Zinburger in Tucson – are currently represented in seven states. The recent sale of the fast-casual Sauce pizza group leaves FRC with 44 restaurants employing more than 2,700.
In 2015, Fox turned up on Nation's Restaurant News' Power List of 50 most influential people for the second year in a row. In addition, he was selected as a semifinalist in the Outstanding Restaurateur category of the James Beard Foundation, whose awards are the Oscars of the culinary world. Fox was also the 2014 recipient of the Richard Melman Innovator of the Year Award by Restaurant Hospitality magazine.
But the recent recognition by the UA stands apart from the other accolades in that it places Fox's achievements in a larger national context. Indeed, this is the first time a food-centered business has been represented since the award's inception, although executives from Coca-Cola (1990), Coors Brewing (1997) and Starbucks (2011) have highlighted the beverage sector. Other award recipients have been selected from companies as far ranging as Bank One, Intel, Toyota and Time Warner.
Not bad for a local boy.
Fox, who moved with his family from Chicago to Tucson when he was 5, worked at his father's restaurants – among them, The Hungry Fox – while growing up. After graduating from Sabino High School, Fox studied real estate at the UA before opening his first Tucson restaurant, Gilligan's Bar & Grill when he was 20.
Vicki Bren Fleischer, senior director of development at Eller College of Management, explained the award process. "We work with the board of directors to identify who we might want to ask to be an honoree and then talk about who on the board might have the strongest connection to that person," she said. "These are very busy people. It helps to have someone they know approach them."
Fox's invitation to serve as the 2015 Executive of the Year was made by Eller College namesake Karl Eller, one of the founding board members.
Eller said of the honoree, "Sam Fox is ambitious, creative and entrepreneurial – qualities that make him a great leadership example for the many students who will meet him and hear about his story at this year's University of Arizona Executive of the Year lunch."
Fox will be the featured speaker at the lunch on April 17. Popular with the public, the event is especially geared toward Eller College students. A select group will interact with Fox before his talk.
"The reason our board found him to be compelling speaks for itself, but the fact that he's such an entrepreneur and also a local guy works for promoting our own here in Arizona," Fleischer said. "The college has a very strong entrepreneurship program, which just celebrated its 30th anniversary last year."
Philanthropy is also a key component of the award, and Fox makes sure to give back to the communities that his restaurants serve. He has been an avid supporter of the Boys & Girls Clubs since FRC was created, and he was the honorary chair for the American Heart Association's 2013 Heart Ball. Other nonprofits to which FRC donates include notMYkid and UMOM New Day Centers.
Some awards mark lifetime achievements, but this one finds Fox – and FRC – in their prime.
The largest growth is slated to be with True Food Kitchen concept. The restaurants feature a fresh, diverse menu based on the anti-inflammatory diet created by another local star, Dr. Andrew Weil, who founded the Arizona Center for Integrative Medicine at the UA College of Medicine. Scottsdale-based P.F. Chang China Bistro, a pioneer in the stylish fast-casual dining field, invested $10 million in the True Food Kitchen brand in 2009 and later acquired a 51 percent ownership stake.
FRC and Fox are also located in Scottsdale, where the first True Food Kitchen opened in 2008. Four branches are slated to open on the East Coast in 2015, one in Boston in 2016, but so far there are no plans for a True Food in Tucson.
We all love a good success story – but the reason Tucsonans celebrate Fox is that his food is consistently good.