Steve Cole Takes Over Chairmanship of TAA Board
Steven R. Cole assumed chairmanship for 2015 of the Tucson Airport Authority at its annual meeting today.
The board also elected its officers for the year: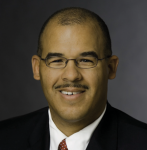 James H. Moore, Jr., President and CEO of the University of Arizona Foundation, is the new Vice Chair;
Tony Finley, Chief Financial Officer of Long Companies and Long Realty, is the new Secretary;
and Steven D. Fell, Senior Vice President and Commercial Banking Manager at National Bank of Arizona, is the new Secretary.
Newly elected to the TAA Board this year is Taunya Villicana, Co-Founder and Managing Partner of Affinity Wealth Management LLC. She replaces Ed Biggers, who was the 2014 president and now becomes an ex-officio member.
Cole, President of Southwest Appraisal Associations, has been a member of the TAA since 2007 and joined Board of Directors in 2011. He is a Certified General Real Estate Appraiser in Arizona. A graduate of the University of California Los Angeles, Cole holds a Master's Degree in Business Administration with a concentration on Urban Land Economics. Cole has also served as Chairman for the Pima County Real Estate Council. He is also a licensed pilot. Cole and his wife Pamela have made Tucson their home since 1975, raising their two children, Alex, 28, and Christine, 26.
The Tucson Airport Authority (TAA) is an independent, non-profit organization operating Tucson International Airport and general aviation reliever Ryan Airfield. TAA has sustained its operations since its origin in 1948 from airport generated revenues without the use of local taxes, and continues to invest millions of dollars each year in safety, security and facility infrastructure that drives job creation and economic activity for the benefit of Tucson and southern Arizona. The two airports currently support 35,000 jobs and house more than 100 tenants, and serve a diverse mix of both aviation and non-aviation related businesses, as well as military and government operations.