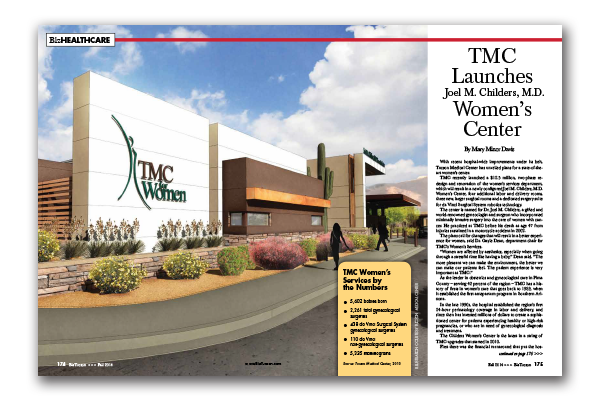 TMC Launches Joel M. Childers, M.D. Women's Center
By Mary Minor Davis –
With recent hospital-wide improvements under its belt, Tucson Medical Center has unveiled plans for a state-of-the-art women's center.
TMC recently launched a $12.5 million, two-phase redesign and renovation of the women's services department, which will result in a newly configured Joel M. Childers, M.D. Women's Center, four additional labor and delivery rooms, three new, larger surgical rooms and a dedicated surgery suite for da Vinci Surgical System robotics technology.
The center is named for Dr. Joel M. Childers, a gifted and world-renowned gynecologist and surgeon who incorporated minimally invasive surgery into the care of women with cancer. He practiced at TMC before his death at age 47 from injuries sustained in a motorcycle accident in 2002.
The plans call for changes that will result in a better experience for women, said Dr. Gayle Dean, department chair for TMC's Women's Services.
"Women are affected by aesthetics, especially when going through a stressful time like having a baby," Dean said. "The more pleasant we can make the environment, the better we can make our patients feel. The patient experience is very important at TMC."
As the leader in obstetrics and gynecological care in Pima County – serving 42 percent of the region – TMC has a history of firsts in women's care that goes back to 1989, when it established the first antepartum program in Southern Arizona.
In the late 1990s, the hospital established the region's first 24-hour perinatology coverage in labor and delivery, and since then has invested millions of dollars to create a sophisticated center for patients experiencing healthy or high-risk pregnancies, or who are in need of gynecological diagnosis and treatment.
The Childers Women's Center is the latest in a string of TMC upgrades that started in 2010.
First there was the financial turnaround that put the hospital in the black and on a path of revitalization. Then there was the $120 million makeover that raised the hospital's standards of care with innovative programs and technology to better serve the needs of the community.
TMC's new tower has provided room for better surgical facilities, and a partnership with Tucson Orthopaedic Institute. All private rooms and a state-of-the-art electronic records system have improved patient communication. A new parking garage provides better access for visitors.
"When I look back at 2005 at the $800 million plan that was in place, and I see what we've been able to accomplish today at a fraction of that cost, I'm just amazed," said Judy Rich, president and CEO of TMC.
Richard Prevallet, VP of facilities and construction at TMC, described the Childers Women's Center project as a combination of redevelopment of the existing footprint with renovation of part of the old surgical department left vacant after the opening of the tower.
Prevallet explained that when TMC moved the surgery department to the new wing, it left several operating rooms unused. Most were renovated into a gym for employees, but four remaining will be renovated for a separate gynecological surgical department. Three of the new ORs will be large – 650 square feet.
"The old ORs, to give you some perspective, were about 500 square feet, and an entire OB/GYN team had to work in there," Prevallet said. "This will be a big plus for our doctors."
The fourth room will be dedicated to the da Vinci Surgical System, a robot used by surgeons to conduct minimally invasive procedures.
Plans also call for a major reconfiguration that will create a self-sustaining surgery area for women, including lobby, registration and family waiting areas.
The first phase launched this summer and is expected to be completed early next year.
The second phase will involve reconfiguring the southeast entrance and remodeling 12,000 square feet to improve the patient experience. Four additional labor and delivery rooms will be added. Work is scheduled to begin in January.
Dean said the current design "is challenging and not a good patient flow for labor and delivery. Today when women come in for evaluation, they have to walk through labor and delivery to get to triage – most places have triage as the first step so that evaluation can determine action."
Dean said additional labor and delivery rooms will help accommodate volume. While birth rates have dropped regionally, TMC has experienced an increase.
Another positive outcome of the reconfiguration of operations after the tower opened was the availability of space to support Obstetrix Medical Group of Arizona, maternal-fetal specialists. Located at TMC, Obstetrix allows patients immediate access to critical services and provides physicians better access to patients.
Obstetrix, which has been housed in a modular building since 2009, was able to take 9,000 square feet of vacated space to move their pre- and post-catheter services for patients into the main building, closer to labor and delivery and Caesarean section rooms.
Genesis OB/GYN has taken advantage of space vacated in the Wyatt Building – now known as the 2424 Building – after Tucson Orthopaedic Institute moved in to the new tower.
Michael Duran, VP and chief development officer at TMC Foundation, who oversees fundraising for projects like the Childers Women's Center, said these improvements will be attractive to physicians and patients.
"The adjacency of space is very important to how these specialties practice medicine today," Duran said. "It's really critical for the patient experience. This is what distinguishes us in the market."
Rich said the project has been designed in partnership with physicians who serve TMC, who have brought patients' needs to the discussion.
"In the last four to five years, we've been more strategic in involving patients, families and our physicians," Rich said. "When we started this planning process several years ago, it was their advice and their helping us to understand what's important in terms of how they practice and what patients need.
"We rely on really good relationships with our doctors – particularly our surgeons and oncologists – to help us always do things for the right reasons," Rich said.