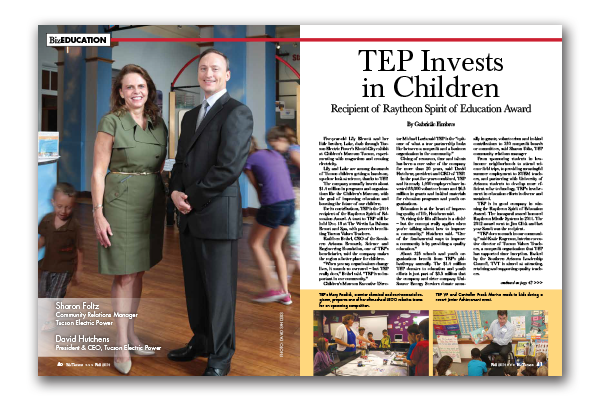 TEP Invests in Children – Recipient of Raytheon Spirit of Education Award
By Gabrielle Fimbres –
Five-year-old Lily Blewett and her little brother, Luke, dash through Tucson Electric Power's Electri-City exhibit at Children's Museum Tucson, experimenting with magnetism and creating electricity.
Lily and Luke are among thousands of Tucson children getting a hands-on, up-close look at science, thanks to TEP.
The company annually invests about $1.4 million in programs and organizations like the Children's Museum, with the goal of improving education and boosting the future of our children.
For its contributions, TEP is the 2014 recipient of the Raytheon Spirit of Education Award. A toast to TEP will be held Dec. 18 at The Westin La Paloma Resort and Spa, with proceeds benefitting Tucson Values Teachers.
Kathleen Bethel, CEO of the Southern Arizona Research, Science and Engineering Foundation, one of TEP's beneficiaries, said the company makes the region a better place for children.
"When you say organizations change lives, it sounds so overused – but TEP really does," Bethel said. "TEP is so important in our community."
Children's Museum Executive Director Michael Luria said TEP is the "epitome of what a true partnership looks like between a nonprofit and a business organization in the community."
Giving of resources, time and talents has been a core value of the company for more than 20 years, said David Hutchens, president and CEO of TEP.
In the past five years combined, TEP and its nearly 1,400 employees have invested 88,000 volunteer hours and $6.5 million in grants and in-kind materials for education programs and youth organizations.
Education is at the heart of improving quality of life, Hutchens said.
"A rising tide lifts all boats is a cliché – but the concept really applies when you're talking about how to improve a community," Hutchens said. "One of the fundamental ways to improve a community is by providing a quality education."
About 325 schools and youth organizations benefit from TEP's philanthropy annually. The $1.4 million TEP donates to education and youth efforts is just part of $3.5 million that the company and sister company UniSource Energy Services donate annually in grants, volunteerism and in-kind contributions to 350 nonprofit boards or committees, said Sharon Foltz, TEP community relations manager.
From sponsoring students in low-income neighborhoods to attend science field trips, to providing meaningful summer employment to STEM teachers, and partnering with University of Arizona students to develop more efficient solar technology, TEP's involvement in education efforts is diverse and sustained.
TEP is in good company in winning the Raytheon Spirit of Education Award. The inaugural award honored Raytheon Missile Systems in 2011. The 2012 award went to Jim Click and last year Sundt was the recipient.
"TEP does so much in our community," said Katie Rogerson, interim executive director of Tucson Values Teachers, a nonprofit organization that TEP has supported since inception. Backed by the Southern Arizona Leadership Council, TVT is aimed at attracting, retaining and supporting quality teachers.
"TEP's Community Action Team is really fantastic," Rogerson said. "It's not just the company giving money and resources. Employees are giving time and talent to help kids and support education. TEP is investing from the ground up."
Hutchens said preparing children for a quality education and future success starts early in life.
"Success in education isn't just about the four walls of the classroom and the curriculum. It's about family support. It's about kids having a proper diet and nutrition."
TEP supports programs that provide prenatal education, abuse prevention, nutrition and other efforts that get kids ready for success in school.
The company also supports education in STEM – science, technology, engineering and math – from preschool through college.
"Jobs are getting more technical and our community needs a more highly skilled workforce," Hutchens said. "We want our kids to have the best opportunities they can have, so preparing them to have good jobs begins at a young age."
Hutchens said TEP – like other major corporations – is facing a "brain drain" as skilled employees prepare to retire.
"One of the things that we see on the horizon is an increasing number of skilled employees retiring from the company," Hutchens said. "As they leave our workforce with so much knowledge and experience, we have to figure out ways of replacing them.
"If you have technical and specific needs like we have and your community doesn't have a talent pool with the skills to fill those jobs, then you have to hire from the outside. Having a good local education system and having institutions like the University of Arizona provide us with opportunities to pull folks from the community into our workforce."
When employees are ready to retire in large groups, meeting the demand is challenging.
"If you have one or two people retiring a year, you can go out to the marketplace and hire someone and move them here – but when you look forward and see that a huge portion of our workforce is retiring, it requires a holistic, internal look," Hutchens said.
"We have to help folks within our company and within our community to prepare for these jobs. That's why we support K-12 education that feeds the university and feeds Pima College. Hopefully, kids in our community can grow up here, go to college here and come to work at a company like ours and have a family here. You get tired of sending your kids off to jobs in another state," said this father of two UA students.
TEP has partnered with companies that include Arizona Public Service, Salt River Project and Freeport-McMoRan to secure grant funding to build utility industry careers at the community college level, Foltz said.
TEP is also aimed at strengthening Pima County Joint Technological Education District, which trains students in technical careers.
Through a partnership that started with the Arizona Research Institute for Solar Energy and continues with the UA's Renewable Energy Network, TEP has funded research and partnered with UA physics graduate students to study, measure and report on the impact of different renewable solar installations around Southern Arizona. TEP's annual funding contributions have exceeded $200,000 in some years.
"They help us provide the cleanest energy at the most effective cost," Hutchens said. "That's our function in life."
Foltz said representation on community boards is also near and dear to the company's heart. "You don't get a strong nonprofit community without strong boards."
TEP is effective in bringing organizations together to solve problems, Foltz said, and was the first local organization to step up in partnership with an innovative Pima County program called Pay for Success, which is funded by the Federal Reserve and private financiers.
It's the county's embarkation into the new territory of social impact bonds – or "venture philanthropy" – in which investors put up money to help solve a social problem and, if successful, receive a modest return on their investment.
"It's going to change service delivery and revenue models for social service issues – child wellness around healthy births, domestic violence prevention, child abuse prevention, drug treatment for petty criminals. If we can change those models to be more effective, that will save our community millions of dollars every year," Foltz said.
Since TEP and sister company UniSource Energy Services have customers and employees throughout the state, its philanthropic reach goes beyond Tucson to include Springerville, Chino Valley, Cottonwood, Kingman, Lake Havasu, Nogales, Rio Rico and more.
"We get involved in things that make our local communities better," Hutchens said.