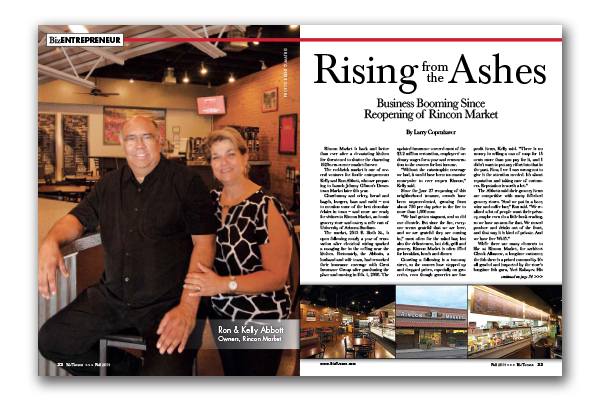 Rising from the Ashes – Business Booming Since Reopening of Rincon Market
By Larry Copenhaver –
Rincon Market is back and better than ever after a devastating kitchen fire threatened to shutter the charming 1920s-era corner market forever.
The red-brick market is one of several ventures for foodie entrepreneurs Kelly and Ron Abbott, who are preparing to launch Johnny Gibson's Downtown Market later this year.
Chardonnay and celery, bread and bagels, burgers, bass and sushi – not to mention some of the best chocolate éclairs in town – and more are ready for visitors to Rincon Market, an iconic grocery store and eatery a mile east of University of Arizona Stadium.
The market, 2513 E. Sixth St., is open following nearly a year of renovation after electrical wiring sparked a ravaging fire in the ceiling near the kitchen. Fortunately, the Abbotts, a husband and wife team, had reworked their insurance coverage with Crest Insurance Group after purchasing the place and moving in Feb. 1, 2008. The updated insurance covered most of the $3.2 million restoration, employees' ordinary wages for a year and remuneration to the owners for lost income.
"Without the catastrophic coverage we had, it would have been too massive moneywise to ever reopen Rincon," Kelly said.
Since the June 27 reopening of this neighborhood treasure, crowds have been unprecedented, growing from about 750 per day prior to the fire to more than 1,000 now.
"We had gotten stagnant, and so did our clientele. But since the fire, everyone seems grateful that we are here, and we are grateful they are coming in," most often for the salad bar, but also the delicatessen, hot deli, grill and grocery. Rincon Market is often filled for breakfast, lunch and dinner.
Courting a following is a two-way street, so the owners have stepped up and dropped prices, especially on groceries, even though groceries are low profit items, Kelly said. "There is no money in selling a can of soup for 15 cents more than you pay for it, and I didn't want to put any effort into that in the past. Now, I see I was wrong not to give it the attention needed. It's about reputation and taking care of customers. Reputation is worth a lot."
The Abbotts said their grocery items are competitive with many full-sized grocery stores. "And we put in a beer, wine and coffee bar," Ron said. "We realized a lot of people want their privacy, maybe even do a little book reading, so we have an area for that. We moved produce and drinks out of the front, and that way it is kind of private. And we have free Wi-Fi."
While there are many elements to like at Rincon Market, for architect Chuck Albanese, a longtime customer, the fish there is a prized commodity. It's all graded and inspected by the store's longtime fish guru, Yuri Rabayev. His expertise gives customers confidence, and he has turned into a bit of an ambassador for the store, Albanese said.
One popular entree missing at Rincon Market is pizza, but not for long. New pizza ovens, to run evenings, are coming soon. The effort is appreciated, said Albanese, who likes the location near his Sam Hughes neighborhood home. He claims to spend more time at Rincon Market than on his own couch.
"I always find someone there I know," said the longtime UA faculty member. Allowing extra time for a stop at the market is prudent to facilitate chatting.
Meanwhile, the Abbotts also own two catering venues, one called Park Avenue Weddings in the Lost Barrio. The other, Stardance, is near Sanctuary Cove in the Cortaro area. The former accommodates 175 wedding guests while Stardance, with glorious views, seats 300 for weddings and up to 500 for less complex events such as corporate meetings.
It's a service in demand, Kelly said. "We already are booked out for weddings on Saturdays until June 13, 2015, and we have no Saturday openings in September, October or November 2015. Fridays and Sundays are nearly full for fall and spring." She already has reservations into March 2016.
Food for weddings is prepared at Rincon Market and transported in vans. Most weddings are $60 a plate and include table linens, bartending, catering and DJ, an amount the Abbotts consider well below the $100 charged at some venues. Costs for decorations, cakes and other services are optional.
But for the Abbotts, Rincon Market is the center of the action. Seeing the store get back into doing what is does best – serving its considerably enthusiastic public, brings a smile to the face of Breck Grumbles – president and owner of Abracadabra Restoration.
The local businessman, who has been a commercial and residential general contractor for more than 20 years, did the renovation and restoration at Rincon Market.
"We started Abracadabra Restoration on April 1, 1981, as a carpet cleaning company. Then we quickly moved into water damage restoration and repairs," Grumbles said. "We aligned the company with the unique needs of the insurance industry."
Grumbles figures he is the largest locally owned restoration company in Tucson.
He compared his local roots to the Abbotts. "They are a husband-and-wife success story."
The fire at Rincon Market was July 2, 2013, and Abracadabra was hired the following day. The first task was to board up the building and protect it from imminent summer rains, Grumbles said.
"Then we began to mitigate damage to the interior by extracting water, disposing of the spoiling merchandise – produce and other food that was rotting since there was no electricity to operate cooling units. We also had to dry out the building and make sure it was safe for forensic engineers to conduct their investigation of cause and origin."
It took two to three weeks for the insurance investigation to be completed. Then the salvageable business property was removed to Abracadabra's warehouse for cleaning and safe storage. Many items of UA memorabilia were saved, to the relief of the Abbotts.
The restoration company brought in an architect and engineer to make sure that repairs were sound and complied with current city building codes. That, he said, was the most challenging issue because the owners wanted to retain the "ambiance and wonderful character of the Rincon building in the Sam Hughes neighborhood."
There were two special projects for Abracadabra Restoration. One included removing damaged floor tile to expose the original concrete slab, poured in 1926, stain it and restore it to its original condition.
"The other was re-engineering the gorgeous bowstring domed ceiling on the west side that had been covered by a drop plaster ceiling. That was quite an ambiance upgrade," Grumbles said.
Codes were met and charm was salvaged, he said. "I am very proud of our employees and subcontractors who worked on the job. They really worked hard and worked well together."
The Abbotts, married in 1978, previously worked together for her family-owned business, a window and door manufacturing and installation company called American Openings.
They learned about the opportunity to purchase Rincon Market by accident, she said. "About a year and a half before we bought it, Rincon Market had catered our son's wedding and we became friends with the owners, the Cisek family. In a casual conversation, they offered to sell the whole operation.
"We have two children and lots of grandchildren, and we knew we needed to do something to feed the family, so we checked into getting a loan, which was okayed just before the economy tanked," Kelly said. "We hit it perfectly. It wasn't difficult to get a $1.5 million loan."
The balance of the $1.9 million price tag came from other sources, mostly the Abbotts' pockets.
"We still have three-and-a-half years to get that taken care of," she said.
And things have turned out pretty much as imagined. Elder son John is the GM and daughter-in-law Amy is the CFO. Other family members work in baking, cake decorating and other areas.
It's a full platter for the Abbotts, often to the tune of 15-hour days, seven days a week if a wedding or event is scheduled for a weekend. But that's not stopping them from opening Johnny Gibson's Downtown Market in the building at 11 S. Sixth Ave. that for years was occupied by the late Johnny Gibson, a fitness guru who was a World War II paratrooper and battlefield hero, former Mr. Arizona and a fixture behind his downtown barber chair for decades.
That 6,000 square-foot grocery is expected to open around Christmas. The Gibson family will rent the area to the Abbotts, and it will maintain the Gibson name. Paul and Christi Cisek plan to partner with the Abbotts in operating the Gibson store.