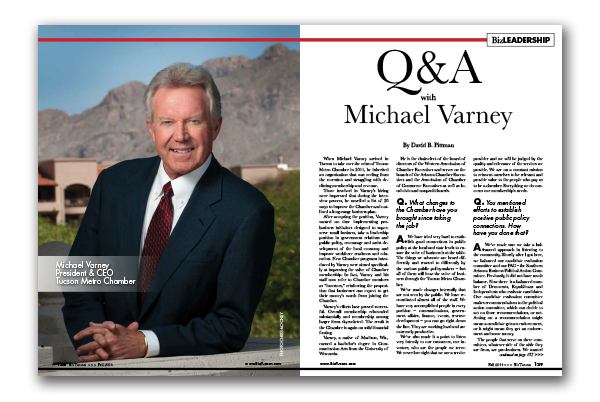 By David B. Pittman –
When Michael Varney arrived in Tucson to take over the reins of Tucson Metro Chamber in 2011, he inherited an organization that was reeling from the recession and struggling with declining membership and revenue.
Those involved in Varney's hiring were impressed that during the interview process, he unveiled a list of 20 ways to improve the Chamber and outlined a long-range business plan.
After accepting the position, Varney wasted no time implementing pro-business initiatives designed to super-serve small business, take a leadership position in government relations and public policy, encourage and assist development of the local economy and improve workforce readiness and education. New Chamber programs introduced by Varney were aimed specifically at improving the value of Chamber membership. In fact, Varney and his staff now refer to Chamber members as "investors," reinforcing the proposition that businesses can expect to get their money's worth from joining the Chamber.
Varney's efforts have proved successful. Overall membership rebounded substantially and membership among larger firms skyrocketed. The result is the Chamber is again on solid financial footing.
Varney, a native of Madison, Wis., earned a bachelor's degree in Communication Arts from the University of Wisconsin.
He is the chair-elect of the board of directors of the Western Association of Chamber Executives and serves on the boards of the Arizona Chamber Executives and the Association of Chamber of Commerce Executives as well as local civic and nonprofit boards.
Q. What changes to the Chamber have you brought since taking the job?
A. We have tried very hard to establish good connections in public policy at the local and state levels to ensure the voice of business is at the table. The things we advocate are heard differently and reacted to differently by the various public policymakers – but all of them will hear the voice of business through the Tucson Metro Chamber.
We've made changes internally that are not seen by the public. We have reconstituted almost all of the staff. We have very accomplished people in every position – communications, government affairs, finance, events, revenue development – you can go right down the line. They are working hard and are extremely productive.
We've also made it a point to listen very intently to our customers, our investors, who are the people we serve. We never lose sight that we are a service provider and we will be judged by the quality and relevance of the services we provide. We are on a constant mission to reinvent ourselves to be relevant and provide value to the people who pay us to be a chamber. Everything we do concerns our membership's needs.
Q. You mentioned efforts to establish positive public policy connections. How have you done that?
A. We've made sure we take a balanced approach in listening to the community. Shortly after I got here, we balanced our candidate evaluation committee and our PAC – the Southern Arizona Business Political Action Committee. Previously, it did not have much balance. Now there is a balanced number of Democrats, Republicans and Independents who evaluate candidates. Our candidate evaluation committee makes recommendations to the political action committee, which can decide to act on those recommendations, or not. Acting on a recommendation might mean a candidate gets an endorsement, or it might mean they get an endorsement and some money.
The people that serve on these committees, whatever side of the aisle they are from, are pro-business. We wanted to shake off the notion that it was a hard-right, closed-door, good-old-boy process. It's not.
Q. When will the First Impressions project be competed – the more than $360,000 landscaping effort the Chamber undertook to beautify a nearly half-mile stretch of Tucson Boulevard at the entrance to Tucson International Airport?
A. We expect to have a dedication for the project in mid-November. It's looking great and it will look even better when the individual pieces of art are mounted. We couldn't have done this without the generosity of AAA Landscape and our six corporate sponsors: Casino Del Sol Resort, Crest Insurance Group, Desert Diamond Casinos & Entertainment, Jim Click Automotive Team, Vantage West Credit Union and Visit Tucson.
In order to attract companies and a qualified workforce, we need to have an attractive community with amenities. It's one thing to whine and complain that we need things fixed. It's another thing to go do it and put your money where your mouth is. We hope the First Impressions project triggers other organizations, other businesses, and maybe the city and county to do more to beautify our community.
Q. Many of our public officials – particularly one or two among our congressional delegation and the majority of the Pima County Board of Supervisors – oppose the Rosemont Copper Mine. Why does the Chamber support the mine?
A. We believe Hudbay Minerals should be allowed to operate the Rosemont Copper mine if it can meet permitting and operating standards expected of it by regulatory agencies. Thus far, Hudbay seems to be meeting or exceeding those requirements and we trust they will do so going forward. No mine in history has gone to the lengths the Hudbay, Rosemont project has to employ 21st-century technology, mining techniques and mitigation and reclamation measures.
The other thing that is often overlooked when we say no to business opportunity is that we are also saying no to increased sales and property taxes that could be used to fix our streets, build better schools, upgrade our parks and hire more police and firefighters. Tucson is impoverished compared to many cities. We need the high-paying jobs and tax revenue the Hudbay, Rosemont project would bring.