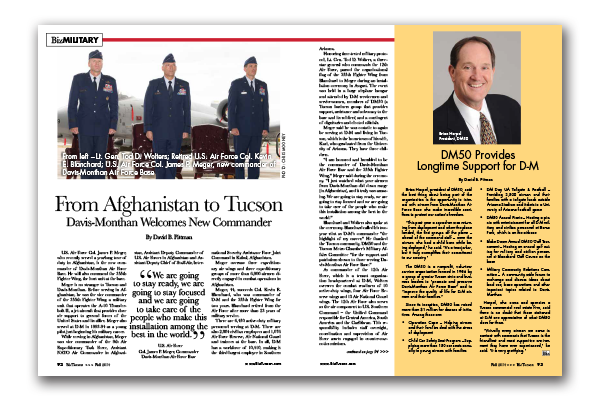 From Afghanistan to Tucson – Davis-Monthan Welcomes New Commander
By David B. Pittman –
U.S. Air Force Col. James P. Meger, who recently served a yearlong tour of duty in Afghanistan, is the new commander of Davis-Monthan Air Force Base. He will also command the 355th Fighter Wing, the host unit at the base.
Meger is no stranger to Tucson and Davis-Monthan. Before serving in Afghanistan, he was the vice commander of the 355th Fighter Wing, a military unit that operates the A-10 Thunderbolt II, a jet aircraft that provides close air support to ground forces of the United States and its allies. Meger also served at D-M in 1993-94 as a young pilot just beginning his military career.
While serving in Afghanistan, Meger was vice commander of the 9th Air Expeditionary Task Force, Assistant NATO Air Commander in Afghanistan, Assistant Deputy Commander of U.S. Air Forces in Afghanistan and Assistant Deputy Chief of Staff-Air, International Security Assistance Force Joint Command in Kabul, Afghanistan.
Meger oversaw three expeditionary air wings and three expeditionary groups of more than 6,900 airmen directly engaged in combat operations in Afghanistan.
Meger, 44, succeeds Col. Kevin E. Blanchard, who was commander of D-M and the 355th Fighter Wing for two years. Blanchard retired from the Air Force after more than 23 years of military service.
There are 6,450 active-duty military personnel serving at D-M. There are also 2,884 civilian employees and 1,076 Air Force Reserve, Air National Guard and trainees at the base. In all, D-M has a workforce of 10,410, making it the third-largest employer in Southern Arizona.
Honoring time-tested military protocol, Lt. Gen. Tod D. Wolters, a three-star general who commands the 12th Air Force, passed the organizational flag of the 355th Fighter Wing from Blanchard to Meger during an installation ceremony in August. The event was held in a large airplane hangar and attended by D-M servicemen and servicewomen, members of DM50 (a Tucson business group that provides support, assistance and advocacy to the base and its soldiers) and a contingent of dignitaries and elected officials.
Meger said he was ecstatic to again be serving at D-M and living in Tucson, which is the hometown of his wife, Kari, who graduated from the University of Arizona. They have three children.
"I am honored and humbled to be the commander of Davis-Monthan Air Force Base and the 355th Fighter Wing," Meger said during the ceremony. "I just watched what your airmen from Davis-Monthan did down range (in Afghanistan), and it truly was amazing. We are going to stay ready, we are going to stay focused and we are going to take care of the people who make this installation among the best in the world."
Blanchard and Wolters also spoke at the ceremony. Blanchard called his two-year stint as D-M's commander "the highlight of my career." He thanked the Tucson community, DM50 and the Tucson Metro Chamber's Military Affairs Committee "for the support and patriotism shown to those serving Davis-Monthan Air Force Base."
As commander of the 12th Air Force, which is a tenant organization headquartered at D-M, Wolters oversees the combat readiness of 10 active-duty wings, four Air Force Reserve wings and 13 Air National Guard wings. The 12th Air Force also serves as the air component to U.S. Southern Command – the Unified Command responsible for Central America, South America and the Caribbean. This responsibility includes staff oversight, coordination and supervision of Air Force assets engaged in counter-narcotics missions.
Wolters praised both Blanchard and Meger for their outstanding military service and spoke of the concept of "succeeding greatness" – in which Meger is counted on to continue the positive tradition of past commanders and make the base and its operations "greater than before."
During Meger's first stint at D-M as a young A-10 pilot in training, he was awarded the Top Academic and Top Gun awards in his class. Still an active pilot, Meger will serve as an A-10 instructor pilot in addition to his management and administrative duties.
"I'll be flying with our youngest A-10 pilots, and it will give me opportunities to not only connect with them, but to connect directly with the mission," he said. "If you are not part of the mission and viewing it firsthand, you can't see how it is being executed and evaluate it properly. I'm in charge of evaluating the readiness of this wing."
Asked about uncertainty concerning the future of the A-10 aircraft because of federal budget difficulties, Meger said those concerns "are above my pay grade" and that his focus is on military readiness and training.
Meger graduated from the U.S. Air Force Academy in Colorado Springs, Colo., with a bachelor's degree in engineering in 1992. He received a master's degree in military arts and sciences from the Command and General Staff College at Fort Leavenworth, Kan.
A command pilot with more than 3,200 hours in fighter aircraft, Meger has served in a variety of Air Force assignments, including as commander of the 1st Operations Support Squadron at Langley Air Force Base in Virginia.
Meger has earned a long list of major military awards and decorations that include the Legion of Merit, the Distinguished Flying Cross, a Bronze Star, a Meritorious Service Medal, an Aerial Achievement Medal, an Air Force Commendation Medal, an Army Achievement Medal, a Combat Readiness Medal, a Kosovo Campaign Medal, a Global War on Terrorism Expeditionary Medal, an Afghanistan Campaign Medal, a Korean Defense Service Medal and a NATO Medal.