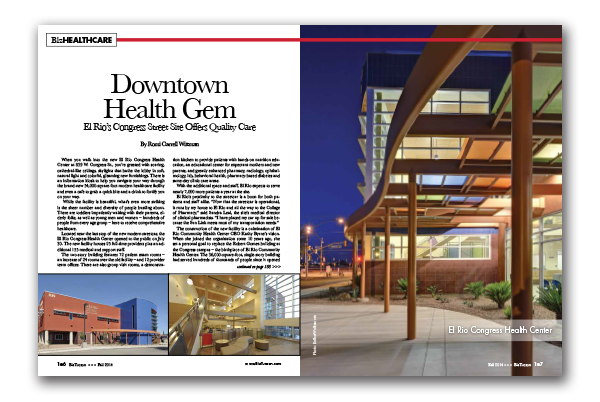 Downtown Health Gem – El Rio's Congress Street Site Offers Quality Care
By Romi Carrell Wittman –
When you walk into the new El Rio Congress Health Center at 839 W. Congress St., you're greeted with soaring, cathedral-like ceilings, skylights that bathe the lobby in soft, natural light and colorful, gleaming new furnishings. There is an information kiosk to help you navigate your way through the brand-new 54,000-square-foot modern healthcare facility and even a cafe to grab a quick bite and a drink to fortify you on your way.
While the facility is beautiful, what's even more striking is the sheer number and diversity of people bustling about. There are toddlers impatiently waiting with their parents, elderly folks, as well as young men and women – hundreds of people from every age group – here to receive comprehensive healthcare.
Located near the last stop of the new modern streetcar, the El Rio Congress Health Center opened to the public on July 30. The new facility houses 25 full-time providers plus an additional 155 medical and support staff.
The two-story building features 72 patient exam rooms – an increase of 24 rooms over the old facility – and 12 provider team offices. There are also group visit rooms, a demonstration kitchen to provide patients with hands-on nutrition education, an educational center for expectant mothers and new parents, and greatly enhanced pharmacy, radiology, ophthalmology, lab, behavioral health, pharmacy-based diabetes and same-day clinic care areas.
With the additional space and staff, El Rio expects to serve nearly 7,000 more patients a year at the site.
El Rio's proximity to the streetcar is a boon for both patients and staff alike. "Now that the streetcar is operational, it runs by my house to El Rio and all the way to the College of Pharmacy," said Sandra Leal, the site's medical director of clinical pharmacists. "I have placed my car up for sale because the Sun Link meets most of my transportation needs."
The construction of the new facility is a culmination of El Rio Community Health Center CEO Kathy Byrne's vision. When she joined the organization some 10 years ago, she set a personal goal to replace the Robert Gomez building at the Congress campus – the birthplace of El Rio Community Health Center. The 36,000-square-foot, single-story building had served hundreds of thousands of people since it opened in 1978, but with demand for services growing, El Rio was bursting at the seams. The building was also showing signs of age.
Construction of a new building was approved in 2013 when the federal government awarded the health center $5 million toward the $14.1 million total project cost, while $800,000 came from private contributions. El Rio worked with BBVA Compass Bank on low-interest financing for the balance of the project.
BWS Architects designed the building, while BFL Construction built it. The project was completed on time and on budget, taking just one year from start to finish. Phase 2 of the project – which involves tearing down the original one-story building and converting the area into a parking lot – is next on the agenda. In addition, a community garden and others landscaping enhancements are planned to provide a quiet, relaxing space for visitors and a way to tie the Congress site together.
Byrne is understandably quite proud of the new facility, but she is even more proud of the enhanced care the facility can now provide patients. "El Rio's Congress location is the heart of the health center," said Byrne. "It now encompasses a state-of-the-art, integrated healthcare service delivery system, which is welcoming to patients and staff."
The Congress site serves more than 15,000 patients each year, both those with and without health insurance. For those without insurance, El Rio offers a sliding scale payment system.
Established in 1970, the El Rio Community Health Center network was created specifically to serve local neighborhoods that previously had limited or no access to quality healthcare.
The University of Arizona's Dr. Herb Abrams was instrumental in laying the groundwork for the center by gathering the input and support of neighborhood associations and social and governmental agencies. The original facility was designed to serve roughly 10,000 people, but it quickly became apparent that far more people needed El Rio's medical services.
Since it opened more than 40 years ago, El Rio has grown to serve more than 81,000 patients throughout Tucson and, with an annual budget of $100 million, it's one of the largest community health centers in the nation. It employs 1,000 staff at 17 sites throughout the region, and provides more than 300,000 healthcare visits annually. Last year, the organization provided more than $20 million in charity care.
El Rio Health Center has big plans for the future, including a move to the 37,000-square-foot Manning House downtown. After renovations of the site are complete, more than 200 El Rio employees will be relocated. Local firms CDG Architects and BFL Construction have been hired to oversee the renovations, which begin this fall.