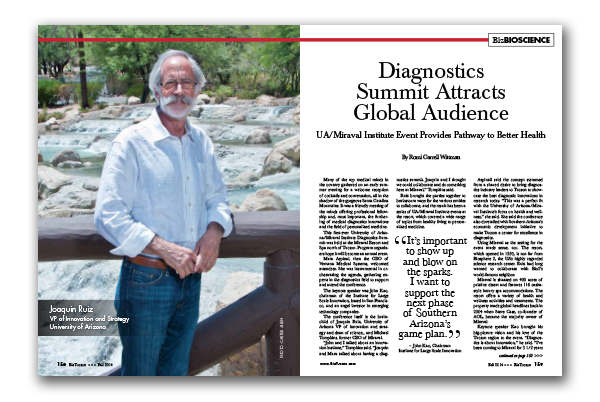 Diagnostics Summit Attracts Global Audience – UA/Miraval Institute Event Provides Pathway to Better Health
By Romi Carrell Wittman –
Many of the top medical minds in the country gathered on an early summer evening for a welcome reception of cocktails and conversation, all in the shadow of the gorgeous Santa Catalina Mountains. It was a friendly meeting of the minds offering professional fellowship and, most important, the furthering of medical diagnostics innovations and the field of personalized medicine.
This first-ever University of Arizona/Miraval Institute Diagnostics Summit was held at the Miraval Resort and Spa north of Tucson. Program organizers hope it will become an annual event.
Mara Aspinal, then the CEO of Ventana Medical Systems, welcomed attendees. She was instrumental in orchestrating the agenda, gathering experts in the diagnostics field to support and attend the conference.
The keynote speaker was John Kao, chairman of the Institute for Large Scale Innovation, based in San Francisco, and an angel investor in emerging technology companies.
The conference itself is the brainchild of Joaquin Ruiz, University of Arizona VP of innovation and strategy and dean of science, and Michael Tompkins, former CEO of Miraval.
"John and I talked about an innovation institute," Tompkins said. "Joaquin and Mara talked about having a diagnostics summit. Joaquin and I thought we could collaborate and do something here at Miraval," Tompkins said.
Ruiz brought the parties together to brainstorm ways for the various entities to collaborate, and the result has been a series of UA/Miraval Institute events at the resort, which covered a wide range of topics from healthy living to personalized medicine.
Aspinall said the concept stemmed from a shared desire to bring diagnostics industry leaders to Tucson to showcase the best diagnostic innovations in research today. "This was a perfect fit with the University of Arizona/Miraval Institute's focus on health and wellness," she said. She said the conference also dovetailed with Southern Arizona's economic development initiative to make Tucson a center for excellence in diagnostics.
Using Miraval as the setting for the event made sense, too. The resort, which opened in 1995, is not far from Biosphere 2, the UA's highly regarded science research center. Ruiz had long wanted to collaborate with Bio2's world-famous neighbor.
Miraval is situated on 400 acres of pristine desert and features 116 casita-style luxury spa accommodations. The resort offers a variety of health and wellness activities and treatments. The property made global headlines back in 2004 when Steve Case, co-founder of AOL, became the majority owner of Miraval.
Keynote speaker Kao brought his big-picture vision and his love of the Tucson region to the event. "Diagnostics is about innovation," he said. "I've been coming to Miraval for 3 1/2 years and I've been building relationships and seeing how the community views diagnostics. What mix of ingredients does Tucson need to grow this industry?"
Kao envisions Tucson as a center for thought leadership in the diagnostics field, a global innovator – and this is one of the main reasons he lent his support to the nascent event. "It's important to show up and blow on the sparks," he said. "I want to support the next phase of Southern Arizona's game plan."
Another speaker, Michael Cima, professor of materials science and engineering at the Massachusetts Institute of Technology, said, "Diagnostics is an important area of medicine that's only getting more important. Individualized healthcare is critical because healthcare spending can be impacted with better diagnostics."
When Aspinall reached out to him, he jumped at the chance to network with colleagues in the field. "And it was a pleasure to come out here after a long winter in Boston," he said.
Aspinall called the summit an unqualified success. It attracted a senior group of national healthcare leaders – including the head of diagnostics for the Bill and Melinda Gates Foundation.
She says future diagnostics conferences will have two primary objectives. The first is to show the broader national healthcare industry that diagnostics is a hotbed for innovation and is critical to improving patient care and reducing system costs across all disease areas. The second objective is to emphasize that Tucson and the Southern Arizona region is the place to be for the diagnostics industry.
Aspinall said diagnostics is and will continue to be critical in patient care and the field of individualized treatment. She summed it up simply: "Without an accurate diagnosis, patients have nothing."