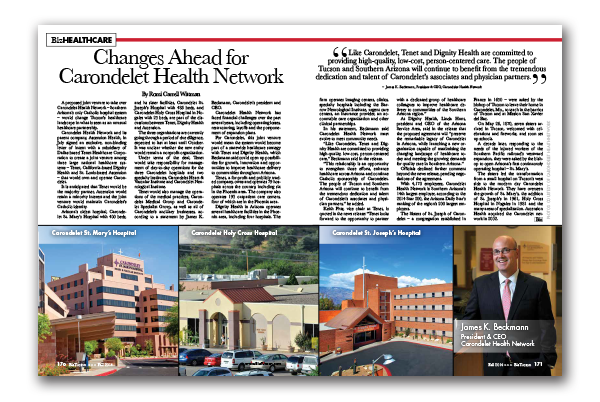 Changes Ahead for Carondelet Health Network
By Romi Carrell Wittman –
A proposed joint venture to take over Carondelet Health Network – Southern Arizona's only Catholic hospital system – would change Tucson's healthcare landscape in what is seen as an unusual healthcare partnership.
Carondelet Health Network and its parent company, Ascension Health, in July signed an exclusive, non-binding letter of intent with a subsidiary of Dallas-based Tenet Healthcare Corporation to create a joint venture among three large national healthcare systems – Tenet, California-based Dignity Health and St. Louis-based Ascension – that would own and operate Carondelet.
It is anticipated that Tenet would be the majority partner, Ascension would retain a minority interest and the joint venture would maintain Carondelet's Catholic identity.
Arizona's oldest hospital, Carondelet St. Mary's Hospital with 400 beds, and its sister facilities, Carondelet St. Joseph's Hospital with 486 beds, and Carondelet Holy Cross Hospital in Nogales with 25 beds, are part of the discussions between Tenet, Dignity Health and Ascension.
The three organizations are currently going through a period of due diligence, expected to last at least until October. It was unclear whether the new entity would remain a nonprofit organization.
Under terms of the deal, Tenet would take responsibility for management of day-to-day operations for the three Carondelet hospitals and two specialty institutes, Carondelet Heart & Vascular Institute and Carondelet Neurological Institute.
Tenet would also manage the operations of the medical practices, Carondelet Medical Group and Carondelet Specialist Group, as well as all of Carondelet's ancillary businesses, according to a statement by James K. Beckmann, Carondelet's president and CEO.
Carondelet Health Network has faced financial challenges over the past several years, including operating losses, restructuring, layoffs and the postponement of expansion plans.
For Carondelet, this joint venture would mean the system would become part of a statewide healthcare strategy with Tenet and Dignity Health, which Beckmann said could open up possibilities for growth, innovation and opportunities to improve healthcare delivery to communities throughout Arizona.
Tenet, a for-profit and publicly traded company, owns and operates 79 hospitals across the country, including six in the Phoenix area. The company also operates 193 outpatient care centers, four of which are in the Phoenix area.
Dignity Health in Arizona operates several healthcare facilities in the Phoenix area, including four hospitals. The firm operates imaging centers, clinics, specialty hospitals including the Barrow Neurological Institute, urgent care centers, an insurance provider, an accountable care organization and other clinical partnerships.
In his statement, Beckmann said Carondelet Health Network must evolve to meet community needs.
"Like Carondelet, Tenet and Dignity Health are committed to providing high-quality, low-cost, person-centered care," Beckmann said in the release.
"This relationship is an opportunity to strengthen those efforts, enhance healthcare across Arizona and continue Catholic sponsorship of Carondelet. The people of Tucson and Southern Arizona will continue to benefit from the tremendous dedication and talent of Carondelet's associates and physician partners," he added.
Keith Pitts, vice chair at Tenet, is quoted in the news release: "Tenet looks forward to the opportunity to partner with a dedicated group of healthcare colleagues to improve healthcare delivery to communities of the Southern Arizona region."
At Dignity Health, Linda Hunt, president and CEO of the Arizona Service Area, said in the release that the proposed agreement will "preserve the remarkable legacy of Carondelet in Arizona, while launching a new organization capable of maximizing the changing landscape of healthcare today and meeting the growing demands for quality care in Southern Arizona."
Officials declined further comment beyond the news release, pending negotiations of the agreement.
With 4,170 employees, Carondelet Health Network is Southern Arizona's 14th largest employer, according to the 2014 Star 200, the Arizona Daily Star's ranking of the region's 200 largest employers.
The Sisters of St. Joseph of Carondelet – a congregation established in France in 1650 – were asked by the bishop of Tucson to leave their home in Carondelet, Mo., to teach in the barrios of Tucson and at Mission San Xavier del Bac.
On May 26, 1870, seven sisters arrived in Tucson, welcomed with celebrations and fireworks, and soon set up schools.
A decade later, responding to the needs of the injured workers of the Southern Pacific railroad's westward expansion, they were asked by the bishop to open Arizona's first continuously operating hospital – St. Mary's.
The sisters led the transformation from a small hospital on Tucson's west side to the modern day Carondelet Health Network. They have overseen the growth of St. Mary's, the addition of St. Joseph's in 1961, Holy Cross Hospital in Nogales in 1981 and the many areas of specialization.
Ascension Health acquired the Carondelet network in 2002.