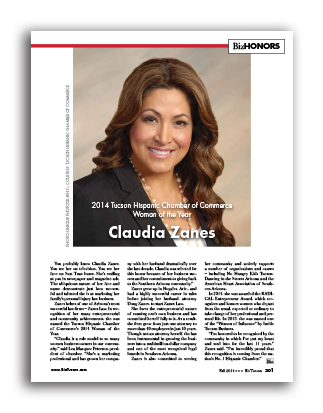 2014 Tucson Hispanic Chamber of Commerce Woman of the Year – Claudia Zanes
By Romi Carrell Wittman –
You probably know Claudia Zanes. You see her on television. You see her face on Sun Tran buses. She's smiling at you in newspaper and magazine ads. The ubiquitous nature of her face and name demonstrate just how successful and talented she is at marketing her family's personal injury law business.
Zanes helms of one of Arizona's most successful law firms – Zanes Law. In recognition of her many entrepreneurial and community achievements, she was named the Tucson Hispanic Chamber of Commerce's 2014 Woman of the Year.
"Claudia is a role model to so many women business owners in our community," said Lea Marquez Peterson, president of chamber. "She's a marketing professional and has grown her company with her husband dramatically over the last decade. Claudia was selected for this honor because of her business success and her commitment to giving back to the Southern Arizona community."
Zanes grew up in Nogales, Ariz., and had a highly successful career in sales before joining her husband, attorney Doug Zanes, to start Zanes Law.
She loves the entrepreneurial nature of running one's own business and has committed herself fully to it. As a result, the firm grew from just one attorney to more than 40 employees in just 10 years. Though not an attorney herself, she has been instrumental in growing the business into a multimillion-dollar company and one of the most recognized legal brands in Southern Arizona.
Zanes is also committed to serving her community and actively supports a number of organizations and causes – including No Hungry Kids Tucson, Dancing in the Streets Arizona and the American Heart Association of Southern Arizona.
In 2014, she was awarded the RADICAL Entrepreneur Award, which recognizes and honors women who depart from the usual, expected or ordinary to take charge of her professional and personal life. In 2013, she was named one of the "Women of Influence" by Inside Tucson Business.
"I'm honored to be recognized by the community in which I've put my heart and soul into for the last 11 years," Zanes said. "I'm incredibly proud that this recognition is coming from the nation's No. 1 Hispanic Chamber."