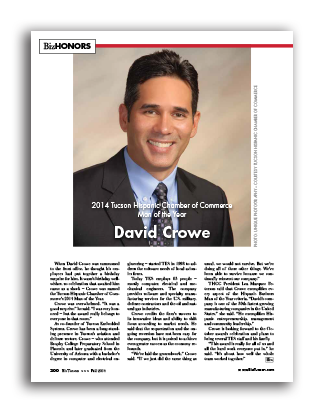 2014 Tucson Hispanic Chamber of Commerce Man of the Year – David Crowe
By Romi Carrell Wittman –
When David Crowe was summoned to the front office, he thought his employees had put together a birthday surprise for him. It wasn't birthday well-wishes, so celebration that awaited him came as a shock – Crowe was named the Tucson Hispanic Chamber of Commerce's 2014 Man of the Year.
Crowe was overwhelmed. "It was a good surprise," he said. "I was very honored – but the award really belongs to everyone in that room."
As co-founder of Tucson Embedded Systems, Crowe has been a long-standing presence in Tucson's aviation and defense sectors. Crowe – who attended Brophy College Preparatory School in Phoenix and later graduated from the University of Arizona with a bachelor's degree in computer and electrical engineering – started TES in 1998 to address the software needs of local avionics firms.
Today TES employs 85 people – mostly computer, electrical and mechanical engineers. The company provides software and specialty manufacturing services for the U.S. military, defense contractors and the oil and natural gas industries.
Crowe credits the firm's success to its innovative ideas and ability to shift focus according to market needs. He said that the sequestration and the ongoing recession have not been easy for the company, but it is poised to achieve even greater success as the economy rebounds.
"We've laid the groundwork," Crowe said. "If we just did the same thing as usual, we would not survive. But we're doing all of these other things. We've been able to survive because we continually reinvent our company."
THCC President Lea Marquez Peterson said that Crowe exemplifies every aspect of the Hispanic Business Man of the Year criteria. "David's company is one of the 50th fastest growing manufacturing companies in the United States," she said. "He exemplifies Hispanic entrepreneurship, management and community leadership."
Crowe is looking forward to the October awards celebration and plans to bring several TES staff and his family.
"This award is really for all of us and all the hard work everyone put in," he said. "It's about how well the whole team worked together."