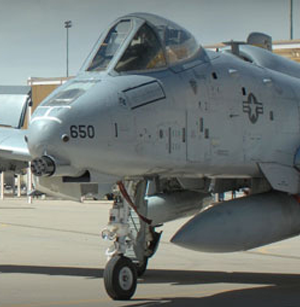 Mission Strong Kicks Off Public Service Awareness Campaign
Southern Arizona news media unites for community education
Today the major media in Southern Arizona – normally business competitors – have joined forces in a regional campaign to educate Southern Arizonans about the six key military installations in the region.
The community outreach campaign, Mission Strong, was created by the non-profit Southern Arizona Defense Alliance (SADA), a broad group of community and civic leaders, business organizations, military support groups and private citizens that encompasses all of Southern Arizona and spans both sides of the political aisle.
The area's major television, print and radio media not only are donating time and space to run the ads, but they contributed the design and production as well.
Media outlets confirmed so far:
· Arizona Daily Star (also provided print production)
· KGUN-TV (ABC) (also provided TV production)
· Journal Broadcast's radio stations (also provided radio production) – KQTH, KFFN, KMXZ, KTGV
· KMSB (FOX)
· KOLD (CBS)
· KVOA-TV (NBC)
· Cox Communications
· BizTucson Magazine
· The Desert Leaf
· Sierra Vista Herald
· Yuma Sun
· Inside Tucson Business
· Explorer News
· Marana News
· Foothills News
· Desert Times
· Clear Channel's radio stations – KMIY, KRQQ, KYWD, KOHT, KNST, KTZR, KXEW
· Cumulus Group's radio stations – KIIM, KHIT, KTUC, KCUB, KSZR
· Good News Group's radio stations – KVOI, KCEE, KGMS, KNXN,KJAA, KAPR
SADA was formed to support sustainability of the region's military installations, defense and aerospace partners and associated education and research institutions. Through its members, SADA represents tens of thousands of Southern Arizonans. The Mission Strong campaign was created because the Department of Defense (DOD) has announced significant budget cuts, reductions in force structure and potential base closures as early as 2017. The DOD and Congressional committee leadership has indicated they take into consideration which communities are openly supportive of their bases and which are not.
Declared "the state's largest and most important employer" by Dennis L. Hoffman, Professor of Economics, W.P. Carey School of Business, Arizona State University, the DOD is the lifeblood of Southern Arizona's economic engine. And, according to a Bloomberg Government Study released in 2011, southeastern Arizona ranks No. 7 in U.S. military spending in the nation.
There are six key military installations in Southern Arizona: Davis Monthan Air Force Base and the 162nd Fighter Wing of the Air National Guard in Tucson, Fort Huachuca in Sierra Vista, the Marine Corps Air Station and U.S. Army Proving Ground in Yuma and the Western Army National Guard Training Site in Marana.
SADA recently commissioned a community opinion survey that showed strong support of the region's military assets; more than 90 percent Southern Arizonans support those military bases, with 75 percent of those surveyed indicating "strong" or "very strong" support. The vast majority recognized the benefits of local military installations for economic viability, national defense, and giving the community a sense of pride.
"Closing or cutting back any of our Southern Arizona military installations could have devastating effects on our local economies," said Bruce Dusenberry, chairman of SADA. "But that also could have a significant negative impact on our national defense. Mission Strong gives people a place to learn more about the value of these important assets and to let Washington, D.C., know just how much we appreciate them."
The growing list of supporters includes the 162nd Fighter Wing Air National Guard Air Guardians, DM50, Huachuca 50, International Association of Machinists, Metropolitan Pima Alliance, Pima County, Southern Arizona Home Builders Association, Southern Arizona Business Coalition, Southern Arizona Leadership Council, City of Tucson, Town of Marana, Town of Oro Valley, Town of Sahuarita, Tucson Metro Chamber, Tucson Regional Economic Opportunities, Tucson Association of Realtors, Tucson Hispanic Chamber of Commerce, VisitTucson, the Greater Yuma Economic Development Corporation, Yuma Chamber of Commerce and more than 500 individuals.
For more information visit missionstrongaz.org.