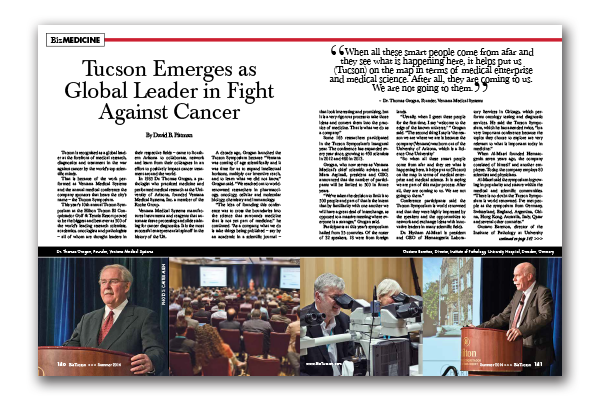 Tucson Emerges as Global Leader in Fight Against Cancer
By David B. Pittman –
Tucson is recognized as a global leader at the forefront of medical research, diagnostics and treatment in the war against cancer by the world's top scientific minds.
That is because of the work performed at Ventana Medical Systems and the annual medical conference the company sponsors that bears the city's name – the Tucson Symposium.
This year's 10th annual Tucson Symposium at the Hilton Tucson El Conquistador Golf & Tennis Resort proved to be the biggest and best ever as 500 of the world's leading research scientists, academics, oncologists and pathologists – all of whom are thought leaders in their respective fields – came to Southern Arizona to collaborate, network and learn from their colleagues in an effort to positively impact cancer treatment around the world.
In 1985 Dr. Thomas Grogan, a pathologist who practiced medicine and performed medical research at the University of Arizona, founded Ventana Medical Systems, Inc. a member of the Roche Group.
Ventana Medical Systems manufactures instruments and reagents that automate tissue processing and slide staining for cancer diagnostics. It is the most successful entrepreneurial spinoff in the history of the UA.
A decade ago, Grogan launched the Tucson Symposium because "Ventana was coming of age scientifically and it was time for us to expand intellectual horizons, multiply our inventive reach, and to learn what we did not know," Grogan said. "We reached out to world-renowned researchers in pharmacology, oncology, cellular and molecular biology, chemistry and immunology.
"The idea of founding this conference was to cross the boundaries into the science that surrounds medicine that is not yet part of medicine," he continued. "As a company, what we do is take things being published – say by an academic in a scientific journal – that look interesting and promising, but it is a very rigorous process to take those ideas and convert them into the practice of medicine. That is what we do as a company."
Some 165 researchers participated in the Tucson Symposium's inaugural year. The conference has expanded every year since, growing to 450 scientists in 2012 and 480 in 2013.
Grogan, who now serves as Ventana Medical's chief scientific adviser, and Mara Aspinall, president and CEO, announced that the number of participants will be limited to 500 in future years.
"We've taken the decision to limit it to 500 people and part of that is the intent that by familiarity with one another we will have a great deal of interchange, as opposed to a massive meeting where everyone is a stranger," Grogan said.
Participants at this year's symposium hailed from 35 countries. Of the roster of 32 speakers, 18 were from foreign lands.
"Usually, when I greet these people for the first time, I say 'welcome to the edge of the known universe,' " Grogan said. "The second thing I say is 'the reason we are where we are is because the company (Ventana) was born out of the University of Arizona, which is a Science One University.'
"So when all these smart people come from afar and they see what is happening here, it helps put us (Tucson) on the map in terms of medical enterprise and medical science. It is saying we are part of this major process. After all, they are coming to us. We are not going to them."
Conference participants said the Tucson Symposium is world renowned and that they were highly impressed by the speakers and the opportunities to network and exchange ideas with innovative leaders in many scientific fields.
Dr. Hytham Al-Masri is president and CEO of Hematogenix Laboratory Services in Chicago, which performs oncology testing and diagnostic services. He said the Tucson Symposium, which he has attended twice, "is a very important conference because the topics they choose to explore are very relevant to what is important today in medicine."
When Al-Masri founded Hematogenix seven years ago, the company consisted of himself and another employee. Today, the company employs 80 scientists and physicians.
Al-Masri said the symposium is growing in popularity and stature within the medical and scientific communities. "There is no doubt the Tucson Symposium is world renowned. I've met people at the symposium from Germany, Switzerland, England, Argentina, China, Hong Kong, Australia, Italy, Qatar and several other countries."
Gustavo Baretton, director of the Institute of Pathology at University Hospital in Dresden, Germany, said he attends many conferences annually, but 2014 marked his first Tucson Symposium. He described the symposium as "first rate" and Tucson itself as "a beautiful place.
"The Tucson Symposium is excellent," he said. "It features top speakers, provides very good opportunities to exchange knowledge and network and is extremely well organized. The topics here are on the cutting edge of pathology and leading toward important strategic decisions that will be made. Tucson is world renowned because of the symposium.
"I must say, this is the first time I have been in Tucson and from what I have seen of the landscape and the city itself, it is very impressive."
Dr. Teresa Marafioti is a reader in haematopathology, a consultant histopathologist and an associate professor at University College in London. She has attended the Tucson Symposium five times.
"I value the scientific impact of the conference. For me, every year there is something new," she said. "This conference provides the opportunity to meet many people who are well known in specific areas. People not only want to come here to learn, but also to connect with the company (Ventana Medical Systems) and share with them their scientific experience. It is a win-win situation. So, I come to contribute, but I also go back home taking new information that is useful for my practice and ultimately for my patients."
Marafioti said she has fallen in love with Tucson. "If I find a job I would immediately move to Tucson and work for Ventana," she said. "It's a dream."
Exciting advancements in cancer treatment have been made in the areas of personalized healthcare and immunotherapy, which made them hot topics at the symposium. Personalized healthcare – which fits the right treatments to the patient based on an individual's particular genetic makeup – is extremely important because expanding knowledge of disease mechanisms and individual genetic variation is enabling doctors to provide more precise diagnoses and targeted treatment options to their patients.
Baretton said the conference helped him see increased strategic value in the use of personalized medicine. "I got some new impressions regarding where the research goes and where new developments are heading."
Immunotherapy is the treatment of disease by inducing, enhancing or suppressing an immune response. Al-Masri said the symposium provided important information about immunotherapy-related drugs and treatments that are in the development pipeline to help cancer patients.
Aspinall discussed advancements in immunotherapy in her welcoming remarks to symposium attendees.
"Our knowledge is increasing about how the evolution of cancer is influenced by intricate interactions between tumor cells and the host's immune response," she said, "and more importantly, how specific patterns of immune activation are linked to cancer patient survival. These remarkable achievements in immunotherapy have improved toxicity profiles, albeit different profiles, so we need to better understand. This progress gives us cause for optimism as harnessing the body's own immune system could be a powerful tool."
Aspinall said many questions remain regarding cancer research and treatment, including:
How do variations in age or racial/ethnic groups affect the immune response to tumors and impact patient outcomes?
Why do some therapies work in some patients, and not in others – even if their molecular profile looks the same?
"What is clear is that we need to attack cancer on all fronts with effective therapies with tolerable toxicity, early detection and prevention," she said.
Aspinall spoke of the purpose of Ventana Medical Systems and the symposium it sponsors.
"At Ventana, 1,000 employees come to work every day with a single mission – to improve the lives of all patients afflicted with cancer. It is a mission that we share with everyone in this room. And this Tucson Symposium is our opportunity to learn, to improve and to exchange ideas that will help us address your challenges, uncover novel biological insights and stimulate new innovative approaches that will lead the way in making a difference.
"We are at an extraordinary time in the history of medicine," she added. "We need to be bold and focused as we try to create a world free from cancer – not just for our children, but for us, too. We must always remember, patients are waiting for us."