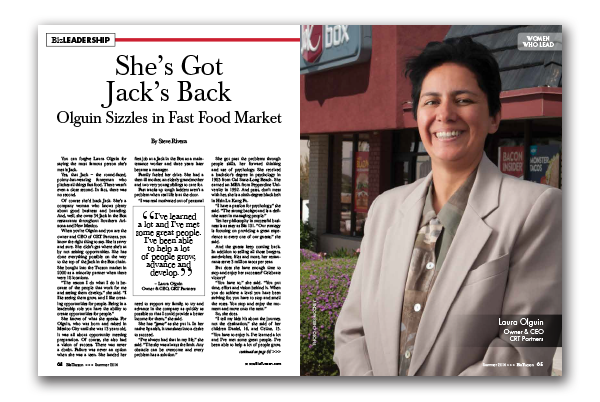 She's Got Jack's Back – Olguin Sizzles in Fast Food Market
By Steve Rivera –
You can forgive Laura Olguin for saying the most famous person she's met is Jack.
Yes, that Jack – the round-faced, pointy-hat-wearing funnyman who pitches all things fast food. There wasn't even a close second. In fact, there was no second.
Of course she'd back Jack. She's a company woman who knows plenty about good business and branding. And, well, she owns 34 Jack in the Box restaurants throughout Southern Arizona and New Mexico.
When you're Olguin and you are the owner and CEO of CRT Partners, you know the right thing to say. She is savvy and sure. She didn't get where she's at by not seizing opportunities. She has done everything possible on the way to the top of the Jack in the Box chain. She bought into the Tucson market in 2000 as a minority partner when there were 18 locations.
"The reason I do what I do is because of the people that work for me and seeing them develop," she said. "I like seeing them grow, and I like creating opportunities for people. Being in a leadership role you have the ability to create opportunities for people."
She knows of what she speaks. For Olguin, who was born and raised in Mexico City until she was 13 years old, it was all about opportunity meeting preparation. Of course, she also had a vision of success. There was never a doubt. Failure was never an option when she was a teen. She landed her first job at a Jack in the Box as a maintenance worker and three years later became a manager.
Family fueled her drive. She had a then-ill mother, an elderly grandmother and two very young siblings to care for.
Fast tracks up tough ladders aren't a problem when real life is at the door.
"I was real motivated out of personal need to support my family, to try and advance in the company as quickly as possible so that I could provide a better income for them," she said.
She has "ganas" as she put it. In her native Spanish, it translates into a desire to succeed.
"I've always had that in my life," she said. "The sky was always the limit. Any obstacle can be overcome and every problem has a solution."
She got past the problems through people skills, her forward thinking and use of psychology. She received a bachelor's degree in psychology in 1985 from Cal State-Long Beach. She earned an MBA from Pepperdine University in 1992. And pssst, don't mess with her, she is a sixth-degree black belt in Hsin Lu Kung Fu.
"I have a passion for psychology," she said. "The strong background is a definite asset in managing people."
Yet her philosophy in successful business is as easy as Biz 101. "Our strategy is focusing on providing a great experience to every one of our guests," she said.
And the guests keep coming back. In addition to selling all those burgers, sandwiches, fries and more, her restaurants serve 3 million tacos per year.
But does she have enough time to stop and enjoy her successes? Celebrate victory?
"You have to," she said. "You put time, effort and vision behind it. When you do achieve a level you have been striving for, you have to stop and smell the roses. You stop and enjoy the moment and move onto the next."
So, she does.
"I tell my kids it's about the journey, not the destination," she said of her children Daniel, 16, and Celine, 15. "You have to enjoy it. I've learned a lot and I've met some great people. I've been able to help a lot of people grow, advance and develop."
Tucson has benefited. She's been in Tucson for more than 14 years and has been part of numerous volunteer activities, including Wingspan (board president), St. Michael's Parish Day School, St. Francis in the Foothills United Methodist Church and numerous others.
Her mom, who passed away more than 30 years ago, would be proud.
"She was then and is now from up above," she said.
How could she not be? She raised a daughter who is self-made and dedicated. But she is also a woman who does know defeat. Nearly 30 years ago she pursued her dream of becoming an actress after watching the Mexican musical "Mame" and actress Silvia Pinal.
"If you want to be an actress what do you have to do? Go to Hollywood," she said. "I went and tried to make a run for it."
But she realized three things.
"I wasn't very good," she said. "I didn't have a lot of luck and I didn't have a lot of money. One of the three was required to make it in that world. I gave it up. But I already had a career at Jack in the Box. I just decided to make it a career."
Olguin offers this advice for anyone wanting to become a CEO:
• You must have the desire to become who you want to become.
• You cannot see obstacles but instead see opportunities.
• You must relentlessly pursue your dreams and never give up on those dreams.