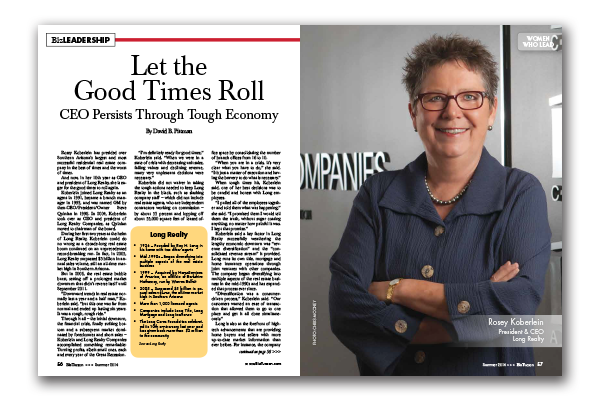 Let the Good Times Roll – CEO Persists Through Tough Economy
By David B. Pittman –
Rosey Koberlein has presided over Southern Arizona's largest and most successful residential real estate company in the best of times and the worst of times.
And now, in her 10th year as CEO and president of Long Realty, she is eager for the good times to roll again.
Koberlein joined Long Realty as an agent in 1991, became a branch manager in 1993, and was named GM by then-CEO/President/Owner Steve Quinlan in 1998. In 2004, Koberlein took over as CEO and president of Long Realty Companies, as Quinlan moved to chairman of the board.
During her first two years at the helm of Long Realty, Koberlein could do no wrong as a decade-long real estate boom continued on an unprecedented record-breaking run. In fact, in 2005, Long Realty surpassed $5 billion in annual sales volume, still an all-time market high in Southern Arizona.
But in 2006, the real estate bubble burst, setting off a prolonged market downturn that didn't reverse itself until September 2011.
"Downward trends in real estate normally last a year and a half max," Koberlein said, "but this one was far from normal and ended up lasting six years. It was a rough, rough ride."
Through it all – the initial downturn, the financial crisis, finally striking bottom and a subsequent market dominated by foreclosures and short sales – Koberlein and Long Realty Companies accomplished something remarkable: Turning profits, albeit small ones, each and every year of the Great Recession.
"I'm definitely ready for good times," Koberlein said. "When we were in a state of crisis with decreasing unit sales, falling values and declining revenue, many very unpleasant decisions were necessary."
Koberlein did not waiver in taking the tough actions needed to keep Long Realty in the black, such as slashing company staff – which did not include real estate agents, who are independent contractors working on commission – by about 53 percent and lopping off about 55,000 square feet of leased office space by consolidating the number of branch offices from 16 to 10.
"When you are in a crisis, it's very clear what you have to do," she said. "It's just a matter of execution and having the bravery to do what is necessary."
When tough times hit, Koberlein said, one of her best decisions was to be candid and honest with Long employees.
"I pulled all of the employees together and told them what was happening," she said. "I promised them I would tell them the truth, without sugar coating anything, no matter how painful it was. I kept that promise."
Koberlein said a key factor in Long Realty successfully weathering the lengthy economic downturn was "revenue diversification" and the "consolidated revenue stream" it provided. Long runs its own title, mortgage and home insurance operations through joint ventures with other companies. The company began diversifying into multiple aspects of the real estate business in the mid-1990s and has expanded that process ever since.
"Diversification was a consumer-driven process," Koberlein said. "Our customers wanted an ease of transaction that allowed them to go to one place and get it all done simultaneously."
Long is also at the forefront of high-tech advancements that are providing home buyers and sellers with more up-to-date market information than ever before. For instance, the company introduced a sleek new consumer-facing mobile app for Android, iPhone and iPad that provides data from multiple listing services, including information formerly reserved for agents.
To strengthen the marketplace position of Long Realty agents, Koberlein said, the company "has created about 35 different monthly housing reports that our sales associates can have personalized to fit individual consumer needs."
Prior to joining Long Realty, Koberlein served as a branch manager at Mason McDuffie Financial Corporation in Northern California and director of employment and training programs for the City of Cleveland, Ohio. She received a master's degree in public administration from Kent State University.
Long Realty's roots go back to 1926, when Roy H. Long began the business from his Tucson home with two other agents. Today, Long Realty boasts more than 1,000 licensed agents. In recent years, the company expanded into new markets.
"We do not count those agents in our overall count because they are part of separately owned and operated franchises," Koberlein said. "They pay us a fee to use our name, reputation and tools. It has been very successful for us. We now brand ourselves as an Arizona Real Estate Company. We have 33 franchise offices that start on the north end of Maricopa County and extend into Rocky Point."
In 1999, HomeServices of America, the second-largest residential real estate brokerage in the nation, purchased Long Realty Companies.
HomeServices of America is an affiliate of Berkshire Hathaway, an American multinational holding company headquartered in Omaha, Neb. It's chairman, president and CEO is Warren Buffett, widely considered the most successful investor in modern history.
Koberlein said Long Realty has remained independent, autonomous and in control of its "day-to-day destiny" because it has always achieved its financial goals and delivered "what we say we're going to deliver."
HomeServices is comprised of an ever-expanding family of affiliate companies operating in 37 states. When it started, it made a practice of purchasing the number one real estate company in a community and then allowed it to operate as its brand.
"So HomeServices has affiliates like Long Realty in Tucson, Edina Realty in Minneapolis, Iowa Realty in Des Moines and CBSHome in Omaha, to name just a few," said Koberlein. "We get to share best practices and ideas with each other. We not only have a very strong local presence, but we also have a very strong national and global presence. HomeServices is a fabulous collective that provides Long Realty with the best of both worlds."
Koberlein has met the man known as the "Wizard of Omaha" several times at meetings attended by the various CEOs of HomeServices companies.
"Warren Buffett is very smart, very quick to laugh and very personable," she said. "You can tell he doesn't do anything he doesn't totally enjoy – and clearly he loves to work."
Asked about her own future atop Long Realty, Koberlein replied, "I got this company through the downturn and now I get to have some fun in terms of growing it back. Until I'm not enjoying myself, I'm here."