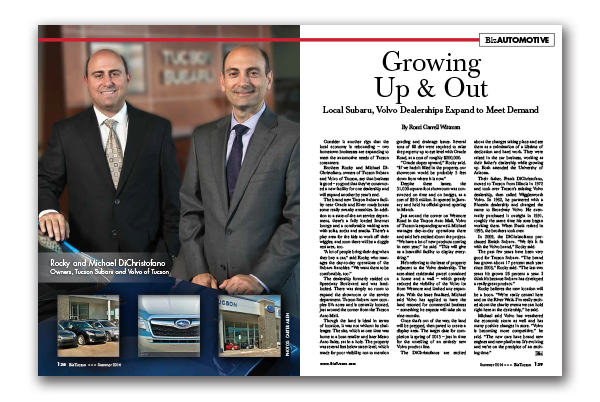 Growing Up & Out – Local Subaru, Volvo Dealerships Expand to Meet Demand
By Romi Carrell Wittman –
Consider it another sign that the local economy is rebounding – two hometown businesses are expanding to meet the automotive needs of Tucson consumers.
Brothers Rocky and Michael DiChristofano, owners of Tucson Subaru and Volvo of Tucson, say that business is good – so good that they've constructed a new facility for one dealership and will expand another by year's end.
The brand new Tucson Subaru facility near Oracle and River roads boasts some really swanky amenities. In addition to a state-of-the-art service department, there's a fully loaded
Internet lounge and a comfortable waiting area with sofas, sodas and snacks. There's a play area for the kids to work off their wiggles, and soon there will be a doggie rest area, too.
"A lot of people bring their dog when they buy a car," said Rocky, who manages the day-to-day operations of the Subaru franchise. "We want them to be comfortable, too."
The dealership formerly resided on Speedway Boulevard and was land-locked. There was simply no room to expand the showroom or the service department. Tucson Subaru now occupies 8½ acres and is centrally located, just around the corner from the Tucson Auto Mall.
Though the land is ideal in terms of location, it was not without its challenges. The site, which at one time was home to a boat retailer and later Metro Auto Sales, sat in a hole. The property was several feet below street level, which made for poor visibility, not to mention grading and drainage issues. Several tons of fill dirt were required to raise the property up to eye level with Oracle Road, at a cost of roughly $200,000.
"Oracle slopes upward," Rocky said. "If we hadn't filled in the property, our showroom would be probably 5 feet down from where it is now."
Despite these issues, the 31,000-square-foot showroom was constructed on time and on budget, at a cost of $9.8 million. It opened in January and held its official grand opening in March.
Just around the corner on Wetmore Road in the Tucson Auto Mall, Volvo of Tucson is expanding as well. Michael manages day-to-day operations there and said he's excited about the project. "We have a lot of new products coming in next year," he said. "This will give us a beautiful facility to display everything."
He's referring to the lease of property adjacent to the Volvo dealership. The acre-sized residential parcel contained a home and a wall – which greatly reduced the visibility of the Volvo lot from Wetmore and limited any expansion. With the lease finalized, Michael said Volvo has applied to have the land rezoned for commercial business – something he expects will take six to nine months.
Once that's out of the way, the land will be prepped, then paved to create a display area. The target date for completion is spring of 2015 – just in time for the unveiling of an entirely new Volvo product line.
The DiChristofanos are excited about the changes taking place and see them as a culmination of a lifetime of dedication and hard work. They were raised in the car business, working at their father's dealership while growing up. Both attended the University of Arizona.
Their father, Frank DiChristofano, moved to Tucson from Illinois in 1972 and took over Tucson's existing Volvo dealership, then called Wigglesworth Volvo. In 1982, he partnered with a Phoenix dealership and changed the name to Broadway Volvo. He eventually purchased it outright in 1991, roughly the same time his sons began working there. When Frank retired in 1995, the brothers took over.
In 2009, the DiChristofanos purchased Emich Subaru. "We felt it fit with the Volvo brand," Rocky said.
The past few years have been very good for Tucson Subaru. "The brand has grown about 17 percent each year since 2008," Rocky said. "The last two years it's grown 26 percent a year. I think it's because Subaru has developed a really great product."
Rocky believes the new location will be a boon. "We're really central here and on the River Walk. I'm really excited about the charity events we can hold right here at the dealership," he said.
Michael said Volvo has weathered the economic storm as well and has many positive changes in store. "Volvo is becoming more competitive," he said. "The new cars have brand new engines and new platforms. It's evolving and we're on the precipice of an exciting time."