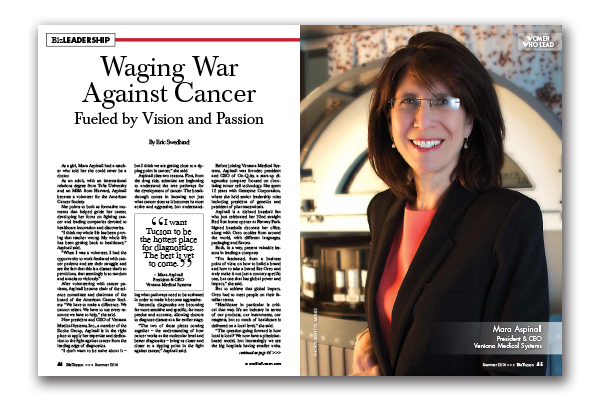 Waging War Against Cancer – Fueled by Vision and Passion
By Eric Swedlund –
As a girl, Mara Aspinall had a teacher who told her she could never be a doctor.
As an adult, with an international relations degree from Tufts University and an MBA from Harvard, Aspinall became a volunteer for the American Cancer Society.
She points to both as formative moments that helped guide her career, developing her focus on fighting cancer and leading companies devoted to healthcare innovation and discoveries.
"I think my whole life has been proving that teacher wrong. My whole life has been getting back to healthcare," Aspinall said.
"When I was a volunteer, I had the opportunity to work firsthand with cancer patients and see their struggle and see the fact that this is a disease that's so pernicious, that seemingly is so random and attacks so viciously."
After volunteering with cancer patients, Aspinall became chair of the science committee and chairman of the board of the American Cancer Society. "We have to make a difference. We cannot relent. We have to use every resource we have to help," she said.
Now president and CEO of Ventana Medical Systems, Inc., a member of the Roche Group, Aspinall is in the right place to apply her expertise and dedication to the fight against cancer from the leading edge of diagnostics.
"I don't want to be naïve about it – but I think we are getting close to a tipping point in cancer," she said.
Aspinall cites two reasons. First, from the drug side, scientists are beginning to understand the true pathways for the development of cancer. The breakthrough comes in knowing not just what cancer does as it becomes its most active and aggressive, but understanding what pathways need to be activated in order to make it become aggressive.
Secondly, diagnostics are becoming far more sensitive and specific, far more precise and accurate, allowing doctors to diagnose disease at a far earlier stage.
"The two of those pieces coming together – the understanding of how cancer works at the molecular level and better diagnostics – bring us closer and closer to a tipping point in the fight against cancer," Aspinall said.
Before joining Ventana Medical Systems, Aspinall was founder, president and CEO of On-Q-ity, a start-up diagnostics company focused on circulating tumor cell technology. She spent 12 years with Genzyme Corporation, where she held senior leadership roles including president of genetics and president of pharmaceuticals.
Aspinall is a diehard baseball fan who just celebrated her 32nd straight Red Sox home opener at Fenway Park. Signed baseballs decorate her office, along with Oreo cookies from around the world, with different languages, packaging and flavors.
Both, in a way, present valuable lessons in leading a company.
"I'm fascinated, from a business point of view, on how to build a brand and how to take a brand like Oreo and truly make it not just a country-specific one, but one that has global power and impact," she said.
But to achieve that global impact, Oreo had to meet people on their familiar terms.
"Healthcare in particular is critical that way. It's an industry in terms of our products, our instruments, our reagents, but so much of healthcare is delivered on a local level," she said.
"The question going forward is how local is local? We now have a physician-based model, but increasingly we see the big hospitals having smaller units, we see the Minute Clinics and they are very efficient for some types of healthcare. Will we see more healthcare going into the home? Will we see more wearable devices, where you will get your own data and the diagnosis will be continual? I think we will."
The baseball lessons, Aspinall said, relate to persistence and teamwork.
"The bigger issue from the Red Sox is that healthcare and biosciences is a team sport," she said. "One person can make the difference, as in Ventana. It was Tom Grogan's vision that started the company – but Tom would be the first one to say that it takes a passionate and brilliant team to really translate a vision into reality. It's the same as baseball. You can't make a difference without a strong team."
Grogan, a pathologist who launched Ventana in 1987, remains as chief scientific officer. Grogan's example is what attracted Aspinall to the company.
"What drew me in is the ability to truly make a difference and Ventana's strong reputation, history of innovation and the ability to move forward and take risks to improve what we can offer," she said.
Between 65 and 75 percent of all biopsies around the world are analyzed on Ventana equipment. Diagnostics account for 60 percent of the decision making in healthcare – but only 2 percent of the cost.
"Without an accurate diagnosis you have nothing," Aspinall said. "In many ways, the term of the industry is a misnomer. It's not just for diagnosis anymore. It's for screening, sub-typing, prognosis, treatment and monitoring."
The discovery of biomarkers increases the chances of success for new drugs. All diagnostics are growing at about 5 percent, but companion diagnostics – which are intended to assist physicians in making treatment decisions for their patients – are growing by about 30 percent.
"This is real today," she said. "Amidst a contraction of broad National Institutes of Health funding, there is exponential growth in biomarkers."
The discovery of biomarkers has led to tremendous innovation. For example, drugs designed for blood cancer can be used to target stomach cancer because of a shared biomarker.
"Today cancer is an organ-based treatment. If you have a growth in your lung, you go to the lung building. But the world is changing. The future is all about those biomarkers," she said.
The future also is about demographics and Arizona is in a position now to make a strong push for expanding clinical trials in the state, which can serve as an economic engine as well as improve healthcare.
"We have the population today (in terms of age) that many people believe will be the U.S. population in 20 years. Let us use that information to build a stronger Arizona today," she said. "In healthcare we have the opportunity of the future, we have the diversity and the age range that will be America. Let's use it now to get those clinical trials."
Though an emerging state in the biosciences, Arizona remains a hidden gem, Aspinall said.
"We need to be able to tell the Tucson story, the Arizona story – not just locally but in the Southwest, in the U.S. and around the world. The future is bright," she said.
"But we have to recognize what we're lacking in. We have to continue to build infrastructure, to bring risk capital to Arizona companies, to more aggressively out-license technologies from the universities and hospitals and lastly, in the short term, make Arizona a place where innovation happens."
Arizona has good momentum, but leaders in business, government and academia can't risk resting on their laurels.
"As strong as our effort is, we have to acknowledge that about 48 other states have their own efforts to create critical mass in the biosciences and that's just the U.S.," Aspinall said.
"Bioscience is a hot field and it's one in which everyone wants to get in, wants the jobs and wants to make a difference for their population. The key is using all the assets we have to improve our differentiation."
But Arizona's reputation – like cancer treatments – may be nearing a tipping point of its own.
"It's in the next 10 years where we must take the infrastructure that has improved over the last 10 years, we don't take that for granted, and we build on it and we pick niches – like diagnostics, like optics, like imaging – and take that to the next level," Aspinall said.
"We won't be everything to everyone. We've got to pick our spots and ensure that we have the strength in those areas, and do that in an integrated way – with business, with government, with universities and with our healthcare system."
Diagnostics can be a key to the region's success.
"Few if any states have these kinds of strengths in all different aspects of diagnostics. This is the epicenter and it's the opportunity we need to take," Aspinall said. "I want Tucson to be the hottest place for diagnostics. The best is yet to come."
When asked what advice she has for future leaders, Aspinall said, "My advice for the next generation is to have courage – come up with ideas, try new things, take risks, do not be afraid to fail. Treat it like your heart and body. Exercise it. The future is not set in stone. You get to compose it. That's a phenomenal thrill, but you've got to be bold, because you won't always get things right. Embrace failures as opportunities to learn and grow. Clutch that mindset – and stay curious. One person can make a difference."