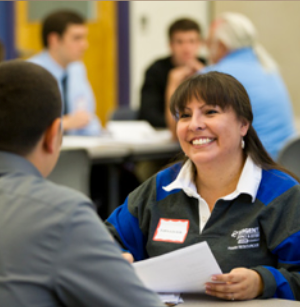 One-Stop partners with manufacturers, PCC and high schools to meet employers' need for machinists
Eighteen high school graduates will work full time this summer with machinists at 10 local manufacturing companies in paid internships designed to lead to community college classes, certification and good-paying jobs by 2016.

This is the second cohort of young people to enter the pilot program created by Pima County One-Stop Career Center and an unprecedented partnership of more than 20 local manufacturers who anticipated a critical shortage of precision machinists.

One-Stop and Southern Arizona Manufacturing Partners (SAMP) have worked with Pima Community College and two local high schools to redesign curriculum to close a skill gap and to convince young people and their parents that machining and other trades are lucrative and satisfying career choices, not dirty, dead-end jobs.

Students from Tucson High Magnet School and Desert View High School participated in interviews with the manufacturers on April 29 for an expected 15 internships. After the interviews, the manufacturers decided to place 18.

One-Stop funds will pay the students during the first 160 hours of their internship; the employers will pay them for the next 160 hours and agree to hire them at least part time while they work toward a certificate in Machine Shop Technology at PCC.

Ten young people who took this step last summer are attending PCC and working toward certification and a full-time job by year's end.

"It has been nothing short of life changing," said Kimberly Bailey, Career Technical Education Career Adviser at Tucson High Magnet School. "Kids are asking to get into machining. When parents see there are job opportunities, the perception changes."

Cesar Gutierrez, drafting and machining instructor at Desert View High School, said there weren't very many avenues for his students before the pilot program.
The promise of good pay and fulfilling work "has opened their eyes."

The pilot program is leading to more efforts to help the students succeed and fill the skilled-employee pipeline for employers.

Thirty students have applied to be in a 15-student computerized-machining class Gutierrez is starting this summer that will lead to National Institute for Metalworking Skills (NIMS) certification next May. Gutierrez asked the SAMP group for job-shadowing opportunities for these students.

"I want them to fall in love with what they're doing or decide it's not for them," he said. One of his students "was going to work at Arby's for the rest of his life until he got a piece of steel in his hand and then he knew what he wanted to do."

The companies that have taken on interns this summer are:
Abrams Airborne Manufacturing
AGM Container Controls
American Turbo Systems
B/E Aerospace
FLSmidth
Hi-Tech Machining & Engineering
Industrial Tool, Die & Engineering
Johns Manville
Sargent Aerospace & Defense
Zygo Corp.
"Trying to make Tucson a mecca for manufacturing is what it's all about," said Bill Assenmacher, president of CAID Industries, a SAMP member.
One-Stop is interested in working with more employers in this and other industries to identify and address skill gaps, training needs and other workforce issues. For more information, please visit the One-Stop website or contact Jim Mize, head of the One-Stop Business Services team, at 520-243-6703 or Jim.Mize@pima.gov.